Mobile Phone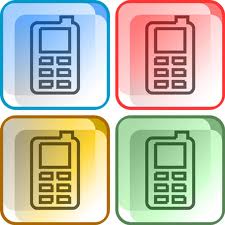 Brief Introduction of Mobile Phone
A mobile phone (also called mobile, cellular telephone, cell phone or handphone) is an electronic device used for full duplex two-way radio telecommunications over a cellular network of base stations known as cell sites. Mobile phones differ from cordless telephones, which only offer telephone service within limited range through a single base station attached to a fixed land line, for example within a home or an office.
A mobile phone allows its user to make and receive telephone calls to and from the public telephone network which includes other mobiles and fixed-line phones across the world. It does this by connecting to a cellular network owned by a mobile network operator. A key feature of the cellular network is that it enables seamless telephone calls even when the user is moving around wide areas via a process known as handoff or handover.
In addition to being a telephone, modern mobile phones also support many additional services, and accessories, such as SMS (or text) messages, e-mail, Internet access, gaming, Bluetooth and infrared short range wireless communication, camera, MMS messaging, MP3 player, radio and GPS. Low-end mobile phones are often referred to as feature phones, whereas high-end mobile phones that offer more advanced computing ability are referred to as smartphones.
The first handheld cellular phone was demonstrated by Martin Cooper of Motorola in 1973, using a handset weighing 2 kg (4.4 lb).In the year 1990, 12.4 million people worldwide had cellular subscriptions. By the end of 2009, only 20 years later, the number of mobile cellular subscriptions worldwide reached approximately 4.6 billion, 370 times the 1990 number, penetrating the developing economies and reaching the bottom of the economic pyramid.
Mobile Phones in Society
Market share
The world's largest individual mobile operator is China Mobile with over 500 million mobile phone subscribers. The world's largest mobile operator group by subscribers is UK-based Vodafone. There are over 600 mobile operators and carriers in commercial production worldwide. Over 50 mobile operators have over 10 million subscribers each, and over 150 mobile operators have at least one million subscribers by the end of 2009 (source wireless intelligence). Other manufacturers include Apple Inc., Audiovox (now UTStarcom), CECT, HTC Corporation, Fujitsu, Kyocera, Mitsubishi Electric, NEC, Panasonic, Palm, Matsushita, Pantech Wireless Inc., Philips, Qualcomm Inc., Research In Motion Ltd. (RIM), Sagem, Sanyo, Sharp, Sierra Wireless, SK Teletech, T&A Alcatel, Huawei, Trium, Toshiba and Vidalco. There are also specialist communication systems related to (but distinct from) mobile phones.
Media
In 1998, one of the first examples of selling media content through the mobile phone was the sale of ringtones by Radiolinja in Finland. Soon afterwards, other media content appeared such as news, videogames, jokes, horoscopes, TV content and advertising. Most early content for mobile tended to be copies of legacy media, such as the banner advertisement or the TV news highlight video clip. Recently, unique content for mobile has been emerging, from the ringing tones and ringback tones in music to "mobisodes," video content that has been produced exclusively for mobile phones.
In 2006, the total value of mobile-phone-paid media content exceeded Internet-paid media content and was worth 31 billion dollars (source Informa 2007). The value of music on phones was worth 9.3 billion dollars in 2007 and gaming was worth over 5 billion dollars in 2007.
The advent of media on the mobile phone has also produced the opportunity to identify and track Alpha Users or Hubs, the most influential members of any social community. AMF Ventures measured in 2007 the relative accuracy of three mass media, and found that audience measures on mobile were nine times more accurate than on the Internet and 90 times more accurate than on TV.
The mobile phone is often called the Fourth Screen (if counting cinema, TV and PC screens as the first three) or Third Screen (counting only TV and PC screens). It is also called the Seventh of the Mass Media (with Print, Recordings, Cinema, Radio, TV and Internet the first six).
Related Software
Video Converter Factory Pro; it is an all in one video converter, it can help you convert both video and audio format and it is powerful, fast, reliable and easy to use. Just go for one, you will enjoy more!
Related Source
iPad iPod iPhone Apple TV PSP PS3 XBox Zune Creative ZEN BlackBerry Palm Nokia Mobile Phone Android Symbian Windows Mobile Windows Phone 7
Related External Source