Video Editing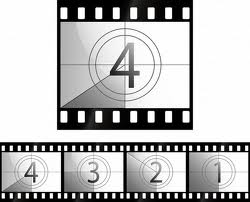 Background of Video Editing
Video editing is the process of editing segments of motion video footage, special effects and sound recordings. Motion picture film editing is a predecessor to video editing and, in several ways, video editing simulates motion picture film editing, in theory and the use of non-linear and linear editing systems. Using video or film, a director can communicate non-fictional and fictional events. The goals of editing is to manipulate these events for better or for worse communication. It is a visual art.
Early video recorders were so expensive, and the quality degradation caused by copying was so great, that 2 inch Quadruplex videotape was edited by visualizing the recorded track with ferrofluid and cutting with a razor blade or guillotine cutter and splicing with tape. Improvements in quality and economy, and the invention of the flying erase head, allowed new video and audio material to be recorded over the material already recorded on an existing tape. This technique was referred to as linear editing. If a scene closer to the beginning of the videotape needed to be changed in length, all later scenes would need to be recorded onto the tape again. In addition, sources could be played back simultaneously through a vision mixer to create more complex transitions between scenes.
Editor in linear VCR suite
There was a transitional analog period using multiple source VCRs or LaserDisc players, but modern non-linear editing systems use video digitally captured onto a hard drive from an analog or digital video source. Content is ingested and recorded natively in the appropriate codec which will be used by software such as Sony Vegas, Avid's Media Composer and Xpress Pro, Apple's Final Cut Pro, and Adobe's Premiere to manipulate the captured footage. High definition video is becoming more popular and can be readily edited using the same software along with related motion graphics programs. Clips are arranged on a timeline, music tracks and titles are added, effects can be created, and the finished program is "rendered" into a finished video. The video may then be distributed in a variety of ways including DVD, web streaming, Quicktime Movies, iPod, CD-ROM, or videotape.
Video Editing Software
Video editing software, also known as Non Linear Editing (NLE), is application software which handles the editing of video sequences on a computer. NLE systems replace traditional flatbed celluloid film editing tools and analogue video tape-to-tape machines.
NLE software is typically based on a timeline interface paradigm where sections of moving image video recordings, known as clips, are laid out in sequence and played back. The NLE offers a range of tools for trimming, splicing, cutting and arranging clips across the timeline. As digital NLE systems have advanced their toolset their role has expanded and most consumer and professional NLE systems alike now include a host of features for colour manipulation, titling and visual effects, as well as tools for editing and mixing audio in conjunction with the image.
Once a project is complete the NLE system can then be used to export to movie in a variety of formats in context which may range from broadcast TAPE formats to compressed formats for the internet, DVD and mobile devices.
Video Converter Factory Pro; it is the powerful and professional video converter. It also would help uers to edit videos with advanced video editing functions (merge, clip, crop and effects).
Related Source
QuickTime Windows Media Player The KMPlayer HD Video MPlayer Video Converter
Related External Source