Nokia - Connecting People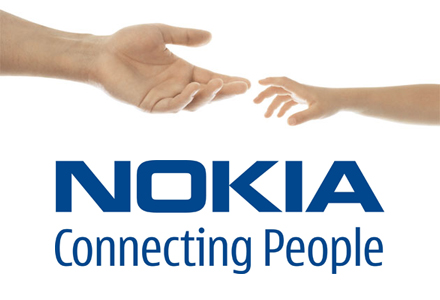 Brief Introduction of Nokia
Nokia Corporation is a Finnish multinational communications corporation that is headquartered in Keilaniemi, Espoo, a city neighbouring Finland's capital Helsinki. Nokia is engaged in the manufacturing of mobile devices and in converging Internet and communications industries, with over 123,000 employees in 120 countries, sales in more than 150 countries and global annual revenue of EUR 41 billion and operating profit of €1.2 billion as of 2009. It is the world's largest manufacturer of mobile telephones: its global device market share was 30% in the third quarter 2010, down from an estimated 34% in the third quarter 2009 and an estimated 33% in the second quarter 2010. Nokia's estimated share of the converged mobile device market was 38% in the third quarter, compared with 41% in the second quarter 2010. Nokia produces mobile devices for every major market segment and protocol, including GSM, CDMA, and W-CDMA (UMTS). Nokia offers Internet services such as applications, games, music, maps, media and messaging through its Ovi platform. Nokia's subsidiary Nokia Siemens Networks produces telecommunications network equipment, solutions and services. Nokia is also engaged in providing free digital map information and navigation services through its wholly-owned subsidiary Navteq.
Nokia has sites for research and development, manufacture and sales in many countries throughout the world. As of December 2009, Nokia had R&D presence in 16 countries and employed 37,020 people in research and development, representing approximately 30% of the group's total workforce. The Nokia Research Center, founded in 1986, is Nokia's industrial research unit consisting of about 500 researchers, engineers and scientists. It has sites in seven countries: Finland, China, India, Kenya, Switzerland, the United Kingdom and the United States. Besides its research centers, in 2001 Nokia founded (and owns) INdT – Nokia Institute of Technology, a R&D institute located in Brazil. Nokia operates a total of 15 manufacturing facilities located at Espoo, Oulu and Salo, Finland; Manaus, Brazil; Beijing, Dongguan and Suzhou, China; Farnborough, England; Komárom, Hungary; Chennai, India; Reynosa, Mexico; Jucu, Romania and Masan, South Korea. Nokia's industrial design department is headquartered in Soho in London, England with significant satellite offices in Helsinki, Finland and Calabasas, California in the USA.
Nokia is a public limited liability company listed on the Helsinki, Frankfurt, and New York stock exchanges. Nokia plays a very large role in the economy of Finland; it is by far the largest Finnish company, accounting for about a third of the market capitalization of the Helsinki Stock Exchange (OMX Helsinki) as of 2007, a unique situation for an industrialized country. It is an important employer in Finland and several small companies have grown into large ones as its partners and subcontractors. Nokia increased Finland's GDP by more than 1.5% in 1999 alone. In 2004 Nokia's share of the Finnish GDP was 3.5% and accounted for almost a quarter of Finland's exports in 2003.
Online Services of Nokia
1. .mobi and the Mobile Web
Nokia was the first proponent of a Top Level Domain (TLD) specifically for the Mobile Web and, as a result, was instrumental in the launch of the .mobi domain name extension in September 2006 as an official backer. Since then, Nokia has launched the largest mobile portal, Nokia.mobi, which receives over 100 million visits a month. It followed that with the launch of a mobile Ad Service to cater to the growing demand for mobile advertisement.
2. Ovi
Ovi, announced on August 29, 2007, is the name for Nokia's "umbrella concept" Internet services. Centered on Ovi.com, it is marketed as a "personal dashboard" where users can share photos with friends, download music, maps and games directly to their phones and access third-party services like Yahoo's Flickr photo site. It has some significance in that Nokia is moving deeper into the world of Internet services, where head-on competition with Microsoft, Google and Apple is inevitable.
The services offered through Ovi include the Ovi Store (Nokia's application store), the Nokia Music Store, Nokia Maps, Ovi Mail, the N-Gage mobile gaming platform available for several S60 smartphones, Ovi Share, Ovi Files, and Contacts and Calendar. The Ovi Store, the Ovi application store was launched in May 2009. Prior to opening the Ovi Store, Nokia integrated its software Download! store, the stripped-down MOSH repository and the widget service WidSets into it.
On March 23, 2010, Nokia announced launch of its online magazine called the Nokia Ovi. The 44-page magazine contains articles on products by Nokia, what Ovi stands for , tips and tricks on the usage of Nokia mini laptop Booklet 3G, latest reviews of mobile applications, news about the mobile maker's services and apps such as Ovi maps, files and mail. Users can download the magazine as a PDF or view it online from the Nokia website.
Related Software
Nokia Video Converter Factory Pro; it is just designed for Nokia, it can help you convert both video and audio format and it is powerful, fast, reliable and easy to use. Just go for one, you will enjoy more!
Related Source
iPad iPod iPhone Apple TV PSP PS3 XBox Zune Creative ZEN BlackBerry Palm Nokia Mobile Phone Android Symbian Windows Mobile Windows Phone 7
Related External Source