What is iPad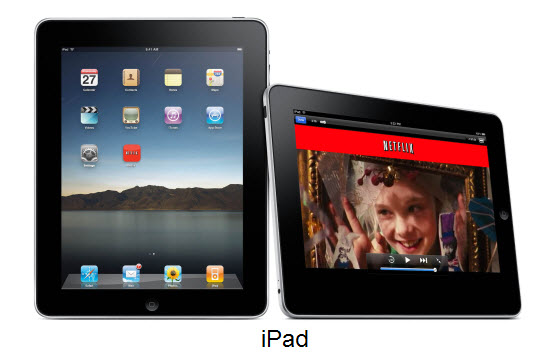 What is iPad
The iPad is a line of tablet computers designed, developed and marketed by Apple Inc. primarily as a platform for audio-visual media including books, periodicals, movies, music, games, and web content. Its size and weight falls between those of contemporary smartphones and laptop computers. Now there are two generations of iPad in the market, iPad and iPad 2. The iPad runs the same operating system as the iPod Touch and iPhone-and can run its own applications as well as iPhone applications. Without modification, and with the exception of websites, it will only run programs approved by Apple and distributed via its online store.
Like iPhone and iPod Touch, the iPad is controlled by a multitouch display-a departure from most previous tablet computers, which used a pressure-triggered stylus-as well as a virtual onscreen keyboard in lieu of a physical keyboard. The iPad uses a Wi-Fi data connection to browse the Internet, load and stream media, and install software. Some models also have a 3G wireless data connection which can connect to HSPA or EV-DO data networks. The device is managed and synced by iTunes on a personal computer via USB cable.
Apple released the first iPad in April 2010, and sold 3 million of the devices in 80 days. During 2010, Apple sold 14.8 million iPads worldwide, representing 75 percent of tablet PC sales at the end of 2010. By the release of the iPad 2 in March 2011, more than 15 million iPads had been sold - more than all other tablet PCs combined.[citation needed] In 2011, it is expected to take 83 percent of the tablet computing market share in the United States.
Details about iPad and iPad 2
The Wi-Fi version of the iPad went on sale in the United States on April 3, 2010. The Wi-Fi + 3G version was released on April 30. 3G service in the United States is provided by AT&T and was initially sold with two prepaid contract-free data plan options: one for unlimited data and the other for 250 MB per month at half the price. On June 2, 2010, AT&T announced that effective June 7 the unlimited plan would be replaced for new customers with a 2 GB plan at slightly lower cost; existing customers would have the option to keep the unlimited plan. The plans are activated on the iPad itself and can be canceled at any time.
Apple Inc. CEO Steve Jobs unveiled the iPad 2, the second generation of the device, at a March 2, 2011, press conference, despite being on medical leave at the time. About 33% thinner than its predecessor, the iPad 2 has a better processor, a dual core Apple A5 that Apple says is twice as fast as its predecessor for CPU operations and up to nine times as fast for GPU operations. It includes front and back cameras that support FaceTime, as well as a three-axis gyroscope. It retains the original's 10-hour battery life and has a similar pricing scheme.
Related Software
iPad Video Converter Factory Pro is a powerful and easy-to-use Video to iPad Converter. It can convert all popular video formats to iPad supported video formats with fast converting speed. iPad Video Converter Factory Pro provide powerful video editing function and video effect. It's a real all-in-one video converting tool.
iPad Video Converter Factory Pro does not just support to convert video to iPad and iPad 2, it also allows you to edit video with few clicks. Then you can enjoy videos or share the video that made by yourself to your friends conveniently.
Related Source
iPad | iPod | iPhone | Apple TV | PSP | PS3 | XBox | Zune | Creative ZEN | BlackBerry | Palm | Nokia | Mobile Phone | Android | Symbian | Windows Mobile | Windows Phone 7
Related External Source