What is Apple TV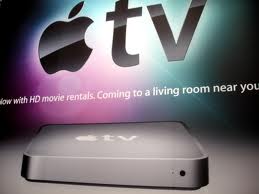 Brief Introduction of Apple TV
Apple TV is a digital media receiver made and sold by Apple Inc. It is a small form factor network appliance designed to play IPTV digital content originating from the iTunes Store, Netflix, YouTube, Flickr, MobileMe or any Mac OS X or Windows computer running iTunes onto an enhanced-definition or high-definition widescreen television.
Apple offered a preview of the device in September 2006 and began shipping it the following March. It initially shipped with a 40GB hard disk; a 160GB version was introduced two months later and the earlier model was ultimately discontinued.
In September 2010, Steve Jobs announced a second-generation version of the Apple TV. About a quarter of the size and one-third of the price of the original Apple TV, the new device can stream rented content from iTunes and video from computers or iOS devices via AirPlay. The new version has 8 gigabytes of flash storage, possibly for caching purposes. However, all content is drawn from online or locally connected sources.
Main Limitations of Apple TV
1.Functionality
Apple TV does not contain a TV tuner, nor a personal video recorder. Both capabilities can be applied to the connected home computer through various third-party products; allowing PVR software, for example, to connect to iTunes and enable scheduled HDTV recordings to automatically play via Apple TV for playback.
The Front Row interface lacks some iTunes functionality, including rating items, synchronizing from more than one computer, full Internet radio support, and games.
The Movies search box only searches the iTunes Store, not local hard drives and networks.
Movies rented on Apple TV must be watched on Apple TV, unlike iTunes rentals, which can be transferred to any video-enabled iPod, iPhone or Apple TV. Movies purchased on Apple TV can be moved to a video-enabled iPod or iPhone via iTunes.
2.Photos were required to be synced to the device until an iTunes update enabled streaming
The February 2008 release of the 2.0 ("Take Two") software update allowed users to rent standard-resolution or HD movies with Dolby Digital 5.1 surround. Previously, Apple TV had officially supported only Dolby Pro Logic simulated 5.1,though the full 5.1 Surround Sound digital discrete worked if a 5.1-capable receiver was connected via the optical cable to Apple TV and the audio content was encoded as lossless. QuickTime and Apple TV did not ship with an AC-3 codec, and iTunes Store content only supported 4.0 surround sound. News sites were reporting that some users had worked out how to add AC-3 (Dolby Digital) 5.1 channel support by hacking the unit.
Before the 2.3 update, the Apple remote could control sound volume and Front Row navigation via a Macintosh computer, but only volume via Apple TV.
Critics claimed that Apple TVs TV-based interface was "cluttered" and difficult to browse or search for a specific movie, requiring Netflix-like queues and "watched" flags or dates. Apple released movie wish lists, video playlists, and "watched" flags in Apple TV software versions 2.1 through 2.4.
The first-generation Apple TV uses the older QuickTime 7 engine, so it cannot play videos which use H.264 Sample Aspect Ratio (which requires QuickTime X).
3.The Limitation of Video and Audio Format
It is a common problem that all Apple products have, like they can not support AVI, although Apple Company has stated that they have been able to support AVI now, it can only support AVI files that are purchased on iTunes, if you see wonderful video or movie on the internet and you want to download them and play them on your Apple TV, I can surely tell you that it will not work. We hope Apple company will improve this disadvantage in the future.
Related Software
Apple Video Converter Factory Pro; it is just designed for Apple Products besides iPhone, iPod, iPad and Apple TV, its powerful converting function and fast converting speed will make your converting process easily, what's more. Compared with other video converter, its lower price and security are popular with the users.
Just go for an Apple Video Converter Factory Pro, you will enjoy more!
Related Source
iPad iPod iPhone Apple TV PSP PS3 XBox Zune Creative ZEN BlackBerry Palm Nokia Mobile Phone Android Symbian Windows Mobile Windows Phone 7