Convert Video to BlackBerry Storm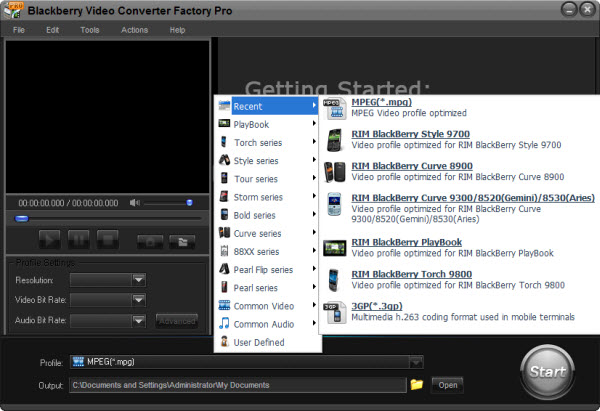 With more and more people choose the BlackBerry especially the BlackBerry Storm series as their cell phone; I think that there is a certain reason about this. But what is the reason lead to the result in the end? Will, let me analyze several factors.
Successful Factors of BlackBerry Storm
The BlackBerry Storm is developed by Research In Motion (RIM). It is part of the 9500 series of smartphones. At the same time, it is also the RIM's first touchscreen smartphone and first device without a physical keyboard. Since the BlackBerry Storm was released, it has been considered to be Apple's rivals. The BlackBerry Storm comes with 3 significant advantages for enterprise users.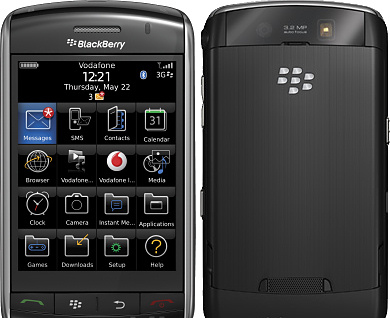 On hardware: BlackBerry Storm Series adopt the MSM7600 from Qualcomm, the dual core CPU with ARM11 400 MHz and ARM9 274 MHz. its memory up to 1GB. Moreover, its expandable memory slot up to an additional 32GB and the Storm2 support WiFi, which will make your job or life more convenience.
Convenient to receive and send e-mail: This is the key success factor for BlackBerry Storm and this is why many people especially business man choose it. The BlackBerry Storm e-mail function is so powerful that many people don't carry the computer to receive and send e-mail, just take the BlackBerry Storm, it can totally take place the e-mail function of computer. And many IT folks are already familiar with BlackBerry's e-mail capabilities, making it easy to integrate the device into existing setups.
Micro-computer: Another significant advantage of the BlackBeryy is DataViz's Documents To Go, thus you can view and edit Word, Excel and PowerPoint documents on it.
From the last two features, it can be considered to be a Micro-computer, it can take place computer. In addition, in the terms of entertainment, the effects of the video and audio playing are both excellent, watch movie and listen to the music on BlackBerry Storm is a wonderful thing. But it also has its shortcomings.
What are the Main Disadvantages of BlackBerry Storm
The main disadvantage of BlackBerry Storm is lack of enough video formats that can be supported. It just supports few video formats, such as MPEG4 H.263, MPEG4 Part 2 Simple Profile, H.264, and WMV. if you want to play a FLV or SWF video on it, you will be disappointed. Will, from this point, this problem is a common problem that often occurs on portable devices includes BlackBerry Storm. To deal with this problem, you just need related software to convert video to BlackBerry Storm.
The Most Professional Video to BalckBerry Storm Converter Help You Convert Video to BalckBerry Storm
For the disadvantage of BlackBerry Storm, here I suggest the BlackBerry Video Converter Factory Pro; it is special designed for BlackBerry, including BlackBerry Storm. No matter what the video format is, this BlackBerry video converter can easily convert video to BlackBerry Storm and other BlackBerry smartphones with lossless video/audio quality. Fast and stable converting process can save your time, high video quality make you better experience the movie world. In other words, BlackBerry Video Converter Factory Pro can solve all the problems about BlackBerry of limitation of video/audio formats. So what are you waiting for? Don't hesitate to download it.
Screenshot of BlackBerry Video Converter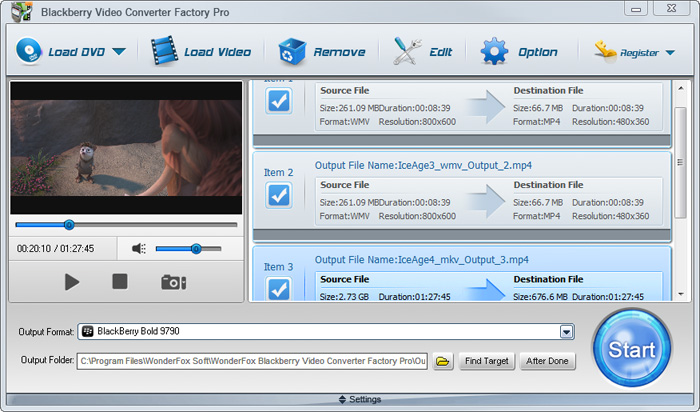 BlackBerry Video Converter Factory Pro can Help you Do More – Related Tips and Tutorials
Like the passage mentioned above, BlackBerry Video Converter Factory Pro is specially designed for BlackBerry devices, it can convert virtually all video and audio files to nearly all BlackBerry devices with optimized presets. (More details about BlackBerry Video Converter Factory Pro and its Format References >>)
In the below passage, I will show you how to convert Flash videos, including FLV videos and online YouTube videos to BlackBerry supported videos.
For users who want to enjoy FLV videos on BlackBerry devices, BlackBerry Video Converter Factory Pro can help you convert FLV to BlackBerry Style 9670, convert Flash video to BlackBerry Storm series, convert flash video to Blackberry 9700 and much more.
And, for users who want to play MKV files, including HD MKV files, BlackBerry Video Converter Factory Pro can easily help you convert MKV to BlackBerry PlayBook supported video, help you effortlessly convert MKV to nearly all BlackBerry cell phones, such as converting MKV to BlackBerry Curve 8900 and converting MKV to BlackBerry Bold 9700.
In conclusion, BlackBerry Video Converter Factory Pro is definitely the best chocie for you to convert video to BlackBerry devices supported videos. If you want to know more tips and tutorials about BlackBerry Video Converter Factory Pro, please see the BlackBerry video converting tips center.