What is Creative Zen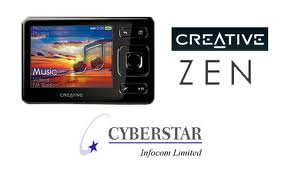 Brief Introduction of Creative ZEN
The Creative ZEN (formerly known as Creative NOMAD Jukebox Zen) is a range of digital audio players (DAPs) and portable media players (PMPs) made by Creative Technology. The players evolved from the now-defunct NOMAD brand through the NOMAD Jukebox series. Three of its players won the Best of CES award from 2004 to 2006 in their respective categories, with one winning the overall award. The ZEN series has a strong foothold in Asian markets, especially in Singapore, the company's headquarters.
All players are compatible with MP3 and WMA, while various models support WAV and Audible files. They are bundled with device drivers and Creative MediaSource, a media player that includes transferring and syncing abilities exclusively for the players. Some models are PlaysForSure-certified for being compatible with Windows Media Player via Media Transfer Protocol (MTP) and supporting the Janus DRM. They are natively compatible with Windows, while the current players exclusively support Windows XP and Vista.
Software of Creative ZEN
Official software
Creative distributes official software with many of their players to help users manage their player.
* Creative MediaSource
* Creative Media Explorer - Each player has their own version of Media Explorer to comply with format compatibility.
* ZENcast Organizer - A Podcast organizer
* Creative Video Converter
Alternative software
1. Free software:
Amarok, a Linux media player
Rhythmbox, a Linux music player
Banshee, another media player for Linux
Gnomad2, which can transfer files to ZEN players with an FTP-like interface for Linux
KZenExplorer, a synchronization tool for KDE
XNJB, a synchronization tool for Mac OS X
A generic USB mass storage device driver allows hassle-free transfer of music on older OSes
ZenRecover, a file recovery tool built for the Creative Zen proprietary filesystem, complete with a technical analysis of the filesystem itself
2. Proprietary software:
Legacy OS Driver, a Creative driver that gives compatibility to PlaysForSure-certified ZENs for Windows 98 SE, Me, and 2000.
MediaMonkey, a media player that syncs with ZEN players. While the basic edition is freeware, the commercial Gold version has the ability to automatically convert media formats.
Notmad Explorer, a software suite from Red Chair Software that allows for file and playlist management for ZEN players.
Related Software
HD Video Converter Factory Pro; it is an all in one good video converter; it is fast, powerful and reliable, you will surely enjoy more with this powerful video converter.
Related Source
iPad iPod iPhone Apple TV PSP PS3 XBox Zune Creative ZEN BlackBerry Palm Nokia Mobile Phone Android Symbian Windows Mobile Windows Phone 7