Free iPhone Video Converter, Convert Video to iPhone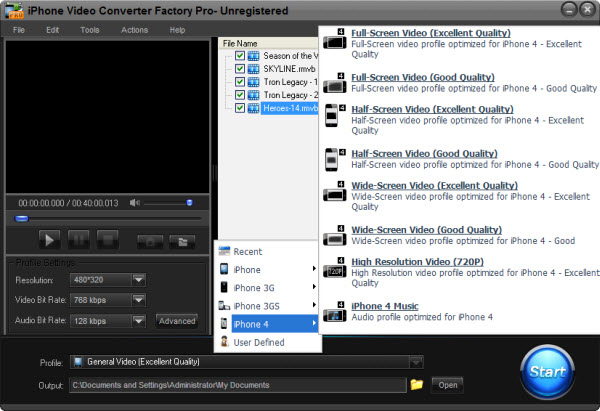 How to Deal with the Image Problem on iPhone

How to deal with the image problem on iphone? That's the problem which is concerned by some iPhone users. They point out that after they convert their video to iPhone with some free iPhone video converter, the output video is blurry and unsmooth. If we are going to solve the problem, we have to make clear of the reason.
What Cuases The Problem
1. The Problem of Smoothness - When the video is playing, it seems that the video is not played in the right rate; the speed seems to be slower, the actions of the heroes in the video just like the robot. That's just because of the encoders. Different iPhone video converter concerns different encoders, and the encoders are concerned to the quality, especially the playing rate. For free iPhone video converter, it just supports some normal encoder, and the output video under such encoder will in a low quality. So the video is unsmooth after converted.

2. The Problem of Blur - That may because of converting. Conversion is from one format to another format, but during the converting process, there will be some loss more or less. That's the common problem of free video converter. The video effect in different format is different, and the loss of quality may lead the blur.
Free iPhone Video Converter to Solve such Problems
For smoothness, we just have to choose the right free iPhone video converter which supports good encoders such as MPEG-4, H.264. But for blur, we cannot solve it completely. We can just cut down the loss of quality as we can as possible.
Then you just have to select a suitable iPhone video converter which contains what we concerns about. Here I suggest Free iPhone Video Converter Factory. It supports MPEG-4 and H.264 for iPhone video. It produces less loss of quality than usual. It is easy to use and under a friendly interface. You can have a try.
After you make clear of the problem and solve it, you can enjoy your video with iPhone freely and comfortably.
Screenshot of Free iPhone Video Converter