What is iPod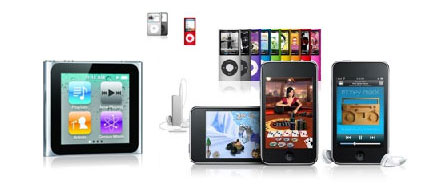 What is iPod
The iPod is a portable media player designed and marketed by Apple and launched on October 23, 2001. The product line-up currently consists of the hard drive-based iPod Classic, the touchscreen iPod Touch, the iPod Nano, and the compact iPod Shuffle. iPod Classic models store media on an internal hard drive, while all other models use flash memory to enable their smaller size (the discontinued Mini used a Microdrive miniature hard drive). As with many other digital music players, iPods can also serve as external data storage devices. Storage capacity varies by model, ranging from 2 GB for the iPod Shuffle to 160 GB for the iPod Classic. All of the models have been redesigned multiple times since their introduction. The most recent iPod redesigns were introduced on September 1, 2010.
Main Features and Functions of iPod
The iPod is really just a simple music player. Depending on the model, it can also play videos, audio books, and can display photos. It has games, a contact menu, clocks, calendars, alarms, notes, and other things. The iPod supports MP3, M4A, M4P, AAC, AAC+, and Apple Lossless music formats. It is unique because it has a gorgeous design and it is the only music player that supports M4P, iTunes' purchased music format. The iPod touch also supports WiFi, maps, e-mail, YouTube, a built-in web browser, a built-in iTunes store, and MANY other features. I have an old iPod Nano myself, and it works like a charm. You can also add radio on it and they have pictures that you can put on them my Nano works like a charm too.
Related Software
iPod Video Converter Factory Pro; it it is a powerful and all in one video converter, which can help you get free iPod music in various legal ways like converting the free music that in the audio format your iPod can not support, extracting music from your videos or movies and getting free music through your friends even these music is in the wrong audio format.
Related Source
iPad iPod iPhone Apple TV PSP PS3 XBox Zune Creative ZEN BlackBerry Palm Nokia Mobile Phone Android Symbian Windows Mobile Windows Phone 7
Related External Source