The Android platform supports a variety of decoders to decode the most common media files, making it super easy to play movies and music on devices running the Android OS. But sometimes, you may still not be able to play some videos on your Android device due to unsupported video formats. What to do when such a problem occurs? Simple. You just need to convert the video to Android format. But first, we need to know what video formats Android supports.
Tips. Want to convert video format to Android preset in one click? Let's skip to #Part 3 to learn the steps directly.
All Android versions support common video file types such as 3GP, MP4, and MKV encoded by H.263, H.264, and MPEG-4 with AAC audio. The latest versions also support H.265, VP9, and AV1 codecs. But note that a particular Android device may support other formats. Generally, here are the video formats Android supports:
Video file type: 3GP, MP4, MKV, TS (AAC audio only), WebM
Video codec: H.263, H.264 AVC, H.265 HEVC (Android 5.0+), MPEG-4 SP, VP8 (Android 2.3.3+), VP9 (Android 4.4+), AV1 (Android 10+)
Audio codec: AAC, AMR, MIDI, MP3, PCM/WAV, FLAC (Android 3.1+), Opus (Android 5.0+), Vorbis
If your Android device doesn't support your video, you can convert the video to the best Android format (MP4 with H264/AAC) for smooth playback. For this, all you need is an Android video format converter. Get the best video to Android format converter in the next part.
Note: Video conversion, especially large or high-definition video conversion, is usually resource-intensive and can easily slow down your device. That's why we always recommend performing this type of file conversion on a PC rather than a mobile phone. In the next part, we will show you a professional Windows-based video converter that can fast convert your videos to Android phone with hardware acceleration. Just read and follow.
WonderFox HD Video Converter Factory Pro is a professional and powerful video converter that can help you easily convert videos to your desired formats or devices. With support for various Android devices, it makes one of the best Android video format converters, allowing you to convert videos to Android mobiles, tablets, and TVs with one click. Also, it can convert videos to iPhone, iPad, and other 500 formats.
It provides high quality and fast conversion speed with GPU acceleration. But the program is easy to use. Now, free download free download this program and follow the tutorial to convert video for Android.
Step 1. Add a video to the converter program
Launch the software and select the Converter module. Next, click Add Files to add your unplayable videos to the converter. You can also drag the media files into the program interface directly.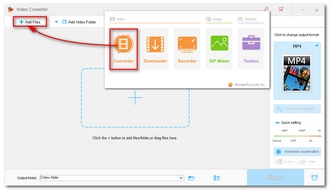 Step 2. Choose an Android preset
Press the format image on the right side of the program to unfold the output format page. Then browse the Device section and navigate to your Android device. Or you can open the Google category and choose Android Phone/Android Tablet/Android TV as a generic Android profile.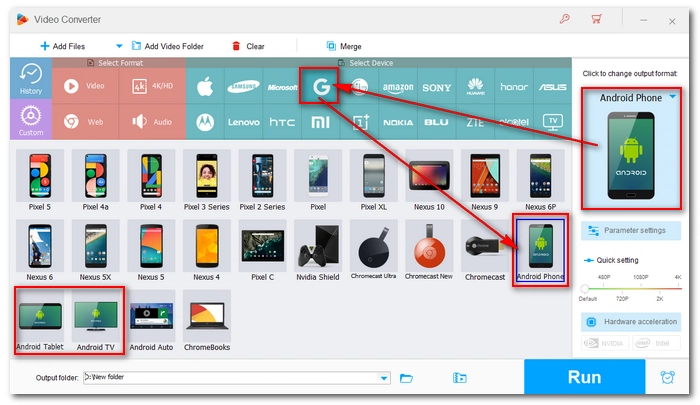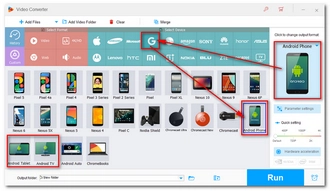 Step 3. Convert video to Android format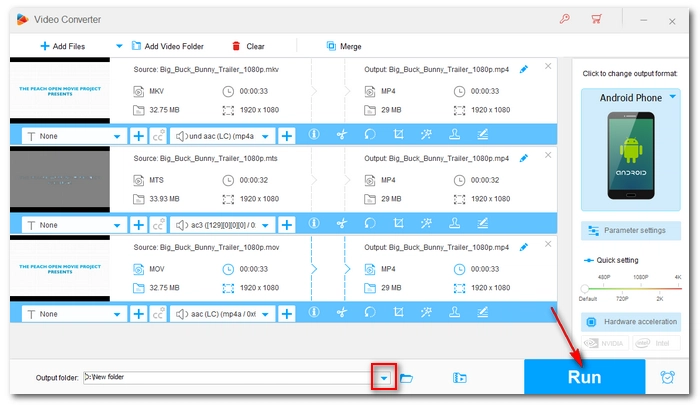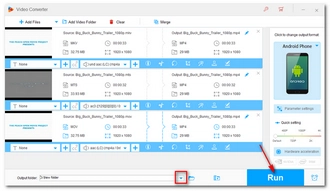 Converting video for Android with WonderFox HD Video Converter Factory Pro is easy and efficient. But the unregistered version of the software allows you to convert only the first five minutes of each video for free. If you need to convert longer videos, you need to buy a license, which will unlock all functions at the same time and you can enjoy more advanced features like unlimited video downloads, screen recording, GIF making, and so on. Currently, the 50% off coupon for this software is still available.
That's all I want to share about Android video formats and how to convert video to Android format for smooth playback. Follow these steps and you are able to convert video and other files to desired formats effortlessly. I hope this article is useful. Thank you for reading. Have a nice day!
1. Does Android not support MP4?
Android supports MP4 encoded by MPEG-4 or H264 with AAC audio out of the box. But if your Android version is old, it may not support MP4 HEVC (Android 5.0+) and MP4 AV1 (Android 10+).
2. Which video player supports all the formats in Android?
VLC media player is a universal video player on Android that can play virtually all video formats without any problem.
3. Can I change video format on Android?
Yes, you can change video format on Android as long as you have a proper video format converter. You can search for a video converter app in your App Store or use a video converter online. But since video conversion is a heavy task, it is recommended that you convert videos on a PC with a desktop video converter like the one introduced in this article.
4. How to play unsupported video on Android?
There are three ways to play unsupported videos on Android:
Install codecs to play unsupported videos.
Convert video to Android supported video format.
Use a third-party media player.