Free AVI to iPhone, Convert AVI Video to iPhone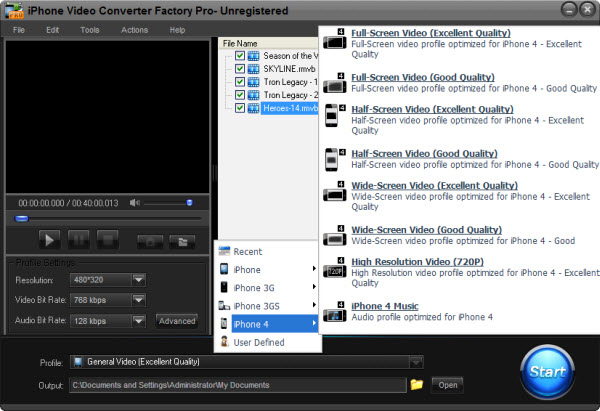 Free AVI to iPhone conversion software, that's what can make the classics be popular again.
The Popular iPhone

For three years' running, iPhone has swept all over the world; now it's fashion, it's popular. iPhone could be worldwide famous, just because of its unique design, cool and beautiful interface, even the operation system which is easy to operate. Furthermore, as a cell phone, its powerful multimedia (audio & video) playing function is attractive for most young persons. It allows one to enjoy video or audio files anywhere anytime as he wants. That's why the iPhone can lead the trend and become so popular.
The Classical AVI
We all know that, AVI is one kind of video formats. It is old but classical. Most people would like record or keep videos in AVI. Along with the developing, many new video formats for different use come out; but AVI video still hold its status. So, for video converting between AVI and some other video format, some AVI video converters are developed out such as free AVI to iPhone video converter. And the appearance of the new video formats and AVI video conversion software didn't shake the status of AVI video, but just stable its classic in contrary.
Free AVI to iPhone to Tied Up Classics and Fashion Together
iPhone is fashionable and popular, AVI video is classical. If we want to tie up them together, which means we are going to play AVI video on iPhone. But before we do the process, we have to do something extra - prepare some free AVI to iPhone video converting software.
iPhone hold the powerful multimedia function, but it still a cell phone; there lies some limitation of video playing on cell phones - AVI videos cannot be played on most portable devices including cell phone. So, if we want to make the classical videos with iPhone to be popular again, some free AVI to iPhone converter is necessary.
Free iPhone Video Converter Factory is the professional video conversion software for iPhone video converting. It supports to convert all popular formats to iPhone video. The software I easy to use, and under a friendly interface it provides better video quality with fast conversion speed. It is worth trying.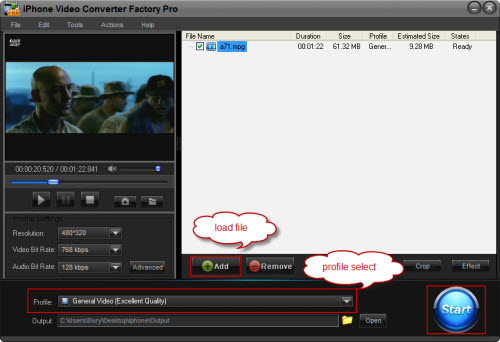 How to Conver AVI to iPhone with the iPhone video converter: 1. Download and install the software > 2. Click "Add" to import videos > 3. Select output format in "Profile" setting > 4. Click "Start" to begin converting process > 5. Open output profile to get the output video. Then, with the free AVI to iPhone conversion software, make the classics be popular again won't be a problem anymore.
Screenshot of Free iPhone Video Converter