Convert MKV to Blackberry Bold 9700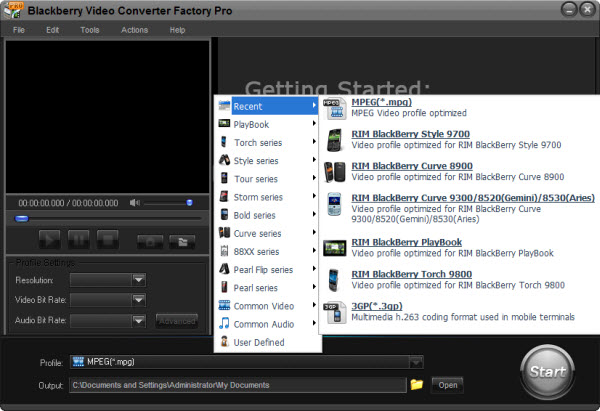 Something about MKV
MKV, a new video and audio container format similar to AVI is one of the compression formats. MKV has some new features that the former video formats do not have such as it can support OGG audio and Variable Frame rate Video. It aims to become the standard of multimedia container formats. It was derived from a project called MCF, but differentiates from it significantly because it is based on EBML (Extensible Binary Meta Language), a binary derivative of XML. EBML enables the Matroska Development Team to gain significant advantages in terms of future format extensibility, without breaking file support in old parsers. Matroska (MKV) is an open standards project. This means for personal use it is absolutely free to use and that the technical specifications describing the bitstream are open to everybody, even to companies that would like to support it in their products. The source code of the libraries developed by the MDT is licensed under GNU L-GPL.
Can MKV be Played on Blackberry Bold 9700?
As we know, Blackberry Bold 9700 is a very popular and powerful cell phone, we may have doubt that is Blackberry Bold 9700 powerful enough to support the new video format MKV? I can surely tell you that the answer is negative. As a portable device, it also can not avoid the shortcoming the limitation of the video and audio formats. The video formats that Blackberry Bold 9700 can support are MP4, 3GP, H.264 and AVI, as we can see it can not support MKV, so if you have some MKV video resources and you want to play them on your Blackberry Bold 9700, choose a MKV to Blackberry Bold 9700 video converter is necessary.
How to Convert MKV to Blackberry Bold 9700?
If you have decided to convert MKV to your Blackberry Bold 9700, I think you must want to know how you can do this task. Actually, you do not have to worry about that, what you need is a good MKV to Blackberry Bold 9700 video converter and then your entire task will be finished. However, some people may be confused by how to choose a good related video converter, they may have a related video converter but it may have low quality. Luckily, here I can suggest a good one for you, it is Blackberry Video Converter Factory Pro, it is has a lot of advantages compared with other lower quality video converters.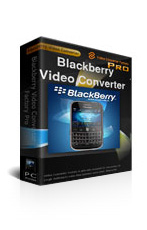 1.It has powerful converting functions, which will help you get good converted video files in a high speed.
2.It has rich parameter settings; you can control your videos' bit rate, frame rete, resolution and encoder and so on so that you can get the videos that you really need.
3.It is safe. It is a good video converter that without any virus, spyware and adware, you can use it without any anxiety.
4.It is easy to use. Within a few seconds, you will easily understand how to use this video converter.
5.Lower Price. Compared with other related video converters, its price also makes it popular with the users.
These are the main advantages of Blackberry Video Converter Factory Pro; you will surely enjoy more after you get it!
Screenshot of BlackBerry Video Converter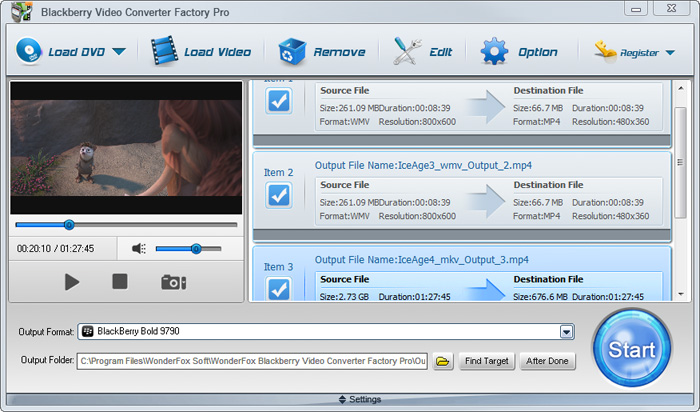 What else We can Do with BlackBerry Video Converter Factory Pro
BlackBerry Video Converter Factory Pro has nearly all BlackBerry devices as its output choices with optimized profile, that is, you can convert video/audio to BlackBerry devices directly without figuring out the right video format, display resolution, bitrate, frame rate and encoder for BlackBerry devices. This BlackBerry Video Converter completely supports the latest BlackBerry Strom 2, BlackBerry Bold 9700, Blackberry Storm 9530, BlackBerry Storm 9500, BlackBerry Tour 9630, BlackBerry 8800, 8830, 8820, BlackBerry Pearl 8100, BlackBerry Curve 8300 and more other Blackberry series.
The below passage will show you some hot topics, hot tips and useful tutorials. I hope they will be useful to you.
For users who want to enjoy FLV videos on BlackBerry cell phones or PlayBook, BlackBerry Video Converter Factory Pro can help you convert FLV to BlackBerry Curve 9300, convert FLV to BlackBerry Style 9670, convert flv to BlackBerry Strom 9520 and much more.
And, for users who want to play MKV files, including HD MKV files, BlackBerry Video Converter Factory Pro can easily help you convert MKV to BlackBerry PlayBook supported video, help you effortlessly convert MKV to nearly all BlackBerry cell phones, such as converting MKV to BlackBerry Curve 8900 and converting MKV to BlackBerry Bold 9700.
In conclusion, BlackBerry Video Converter Factory Pro is definitely the best chocie for you to convert video to BlackBerry devices supported videos. If you want to know more tips and tutorials about BlackBerry Video Converter Factory Pro, please see the BlackBerry video converting tips center.