Top 8+ Best DVD Shrink Alternatives for Windows 10/11
Disclaimer: WonderFox doesn't advocate any illegal duplication and distribution, all information provided in this article is presented for instructional purpose and personal fair use only. Please refer to the DVD copyright laws in your country before you rip any DVD. Ripped content CANNOT be used for unauthorized reproduction, distribution, or any commercial use.
#1. WonderFox Free DVD Ripper Speedy
One of the top contenders in the realm of free DVD Shrink alternatives is WonderFox Free DVD Ripper Speedy. With its user-friendly interface and remarkable speed, this software offers an exceptional DVD ripping experience. As the name implies, it is primarily developed for fast DVD decryption and full content backup with regular and constant updates, no matter whether they are homemade DVDs or newly-released commercial DVDs.
WonderFox Free DVD Ripper Speedy employs advanced algorithms to maintain the original video quality while reducing the file size. As a free DVD ripper without watermark, it only needs two steps to finalize a full-length DVD video in 5 minutes or so, which definitely deserves its title "the Fastest Free DVD Ripper". Get the best free DVD Shrink replacement free download, then let's jump in how to fast copy and back up a DVD.
How to Make a Quick DVD Copy in TWO Steps?
Step 1 - Load DVD Content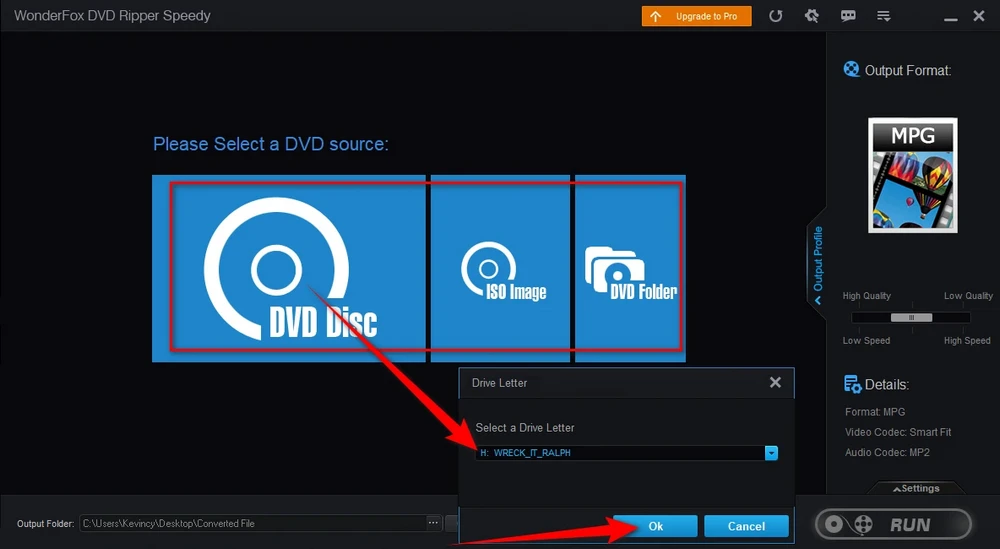 Step 2 - Start Fast DVD Conversion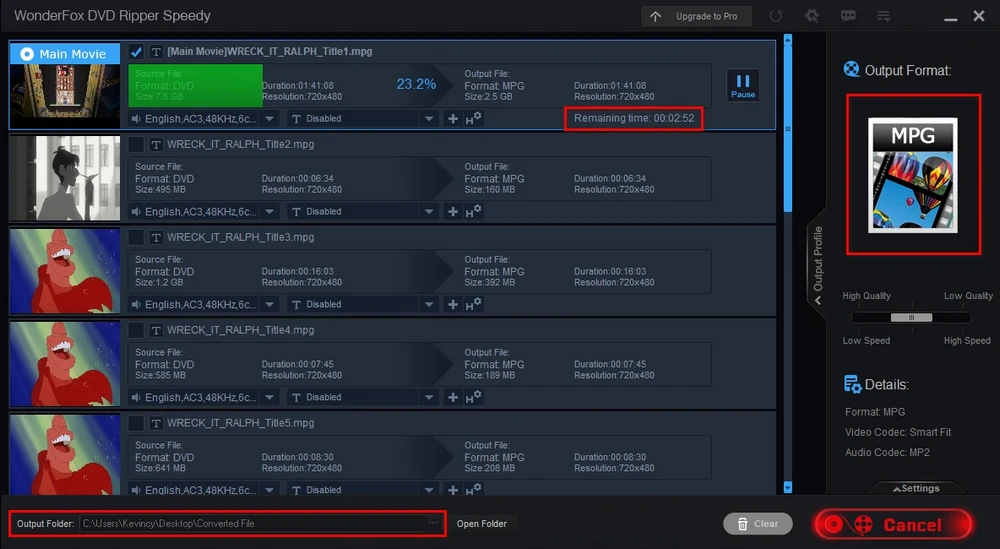 Optional - Customize Parameters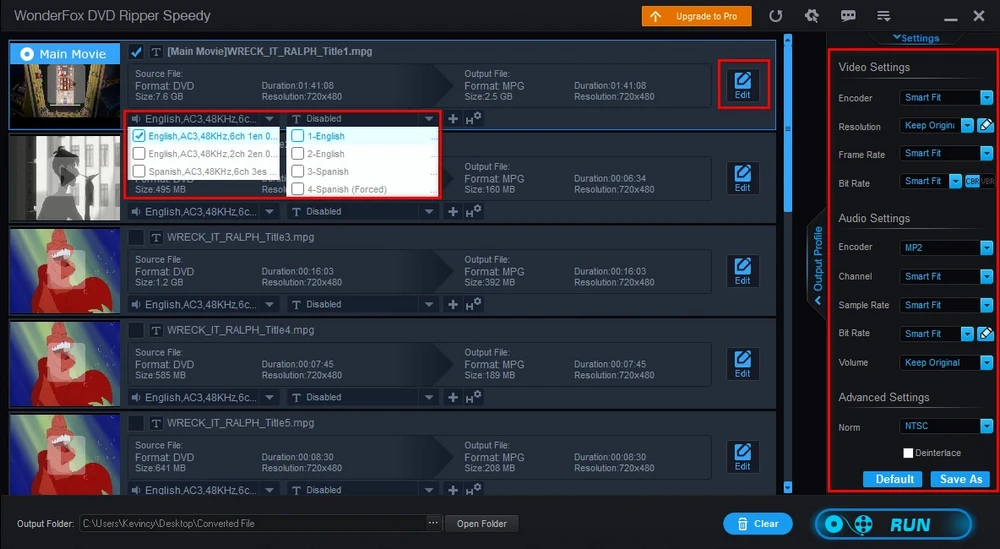 Tips.
You're able to play MPG video smoothly with nearly all modern media players and devices, but if you're interested in other mainstream formats like MP4 or any other specific device model, you can choose either option below:
#2. HandBrake
If you're seeking a feature-packed DVD Shrink alternative, HandBrake is a name you should know. This open-source software has garnered a reputation for its extensive array of customization options and cross-platform compatibility.
Despite a functional video transcoder, HandBrake also works for ripping unprotected DVDs and even some encrypted discs with the help of the libdvdcss library, so that you can rip DVD to MP4, MKV, or WebM format and even optimize them for specific devices, such as smartphones and tablets. The intuitive user interface of HandBrake makes the DVD ripping process a breeze.
However, if you are unlucky to get stuck in some unexpected problems, such as libdvdcss not working, HandBrake won't scan DVDs or HandBrake won't rip entire DVD, etc., give it another shot on other options in the list.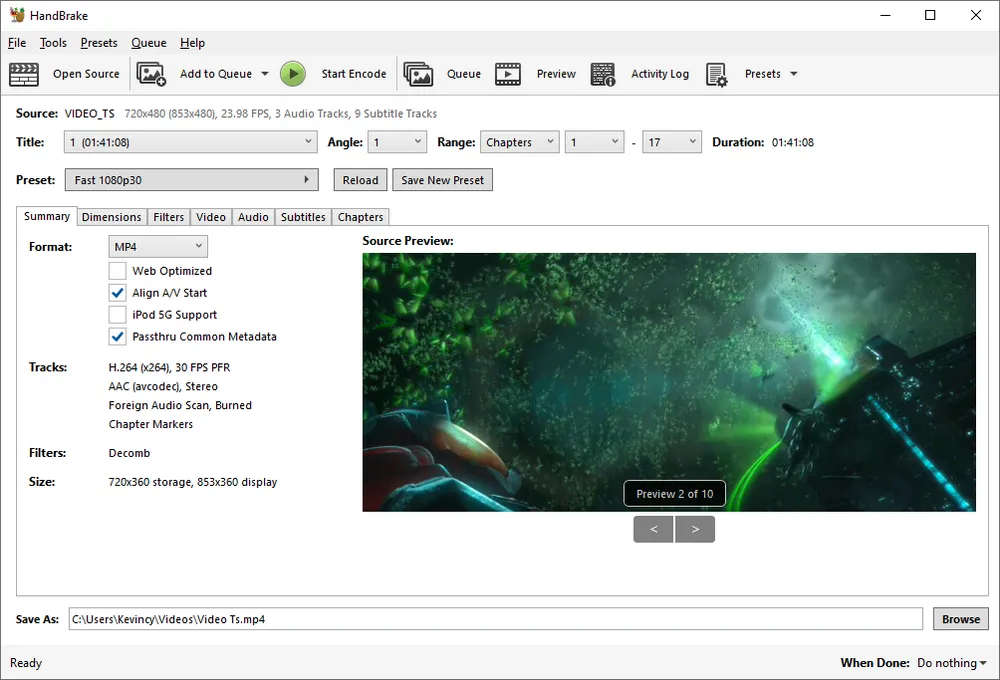 #3. MakeMKV
MakeMKV strikes the perfect balance between simplicity and functionality, making it an ideal DVD Shrink alternative for users who prefer a straightforward approach. This software specializes in converting DVDs and Blu-ray discs to the MKV format, while preserving the original audio and video quality. MakeMKV's minimalistic design and ease of use make it accessible to users of all skill levels.
By visiting MakeMKV's official website, you can download and install this powerful free alternative to DVD Shrink. Its straightforward interface allows you to convert your DVD to MKV file with just a few clicks. MakeMKV is free during its beta stage, but it requires a license key for continued usage, and you can get it on the official forum every month. Despite the occasional "MakeMKV failed to open disc DVD" error, its exceptional functionality makes it well worth the exploration.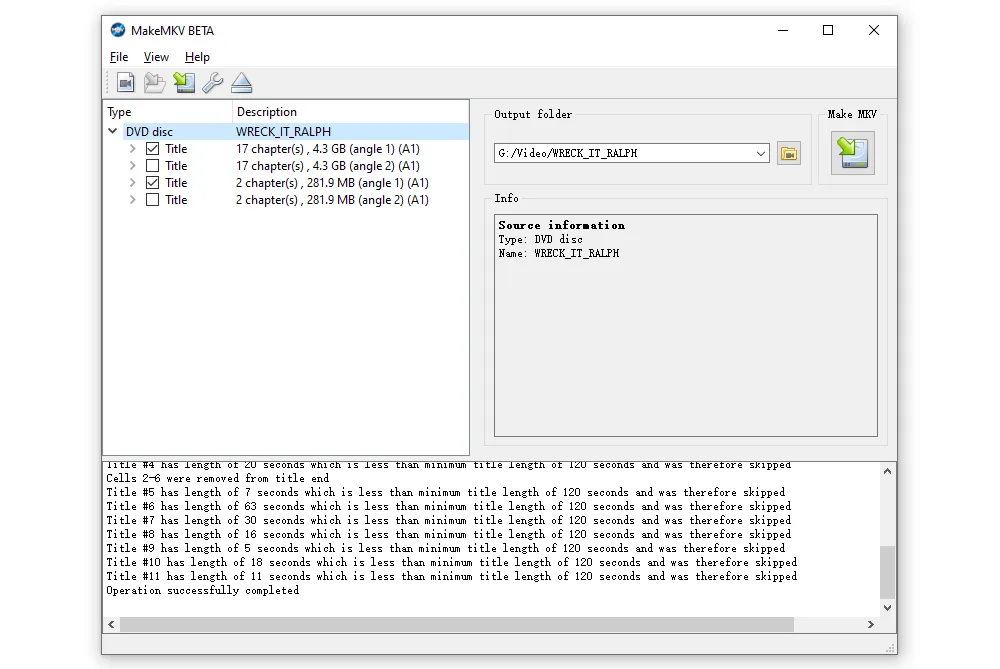 #4. VLC Media Player
VLC, a renowned media player, also offers an impressive range of features, including DVD playing and ripping capabilities. This makes VLC an unexpected yet highly effective option. With its broad format support and cross-platform compatibility, VLC stands out as a reliable choice for those seeking an all-in-one media player solution. For users who are already familiar with VLC, this alternative provides a convenient way to back up DVDs.
Using VLC media player as a DVD Shrink alternative is straightforward. To start, insert the DVD that you want to shrink into your computer's DVD drive. Then, open VLC media player and click on the "Media" menu. From the drop-down menu, select "Convert / Save" and switch to "Disc" tab to choose the DVD option. Make sure that the correct DVD drive is selected and click "Convert / Save". Then choose an output format and specify an output folder. Finally, click "Start" for VLC DVD ripping process.
However, it's important to note that VLC's DVD ripping feature might not be as user-friendly and powerful as dedicated software solutions, which may cause VLC rip DVD no audio, halfway failure, or other errors.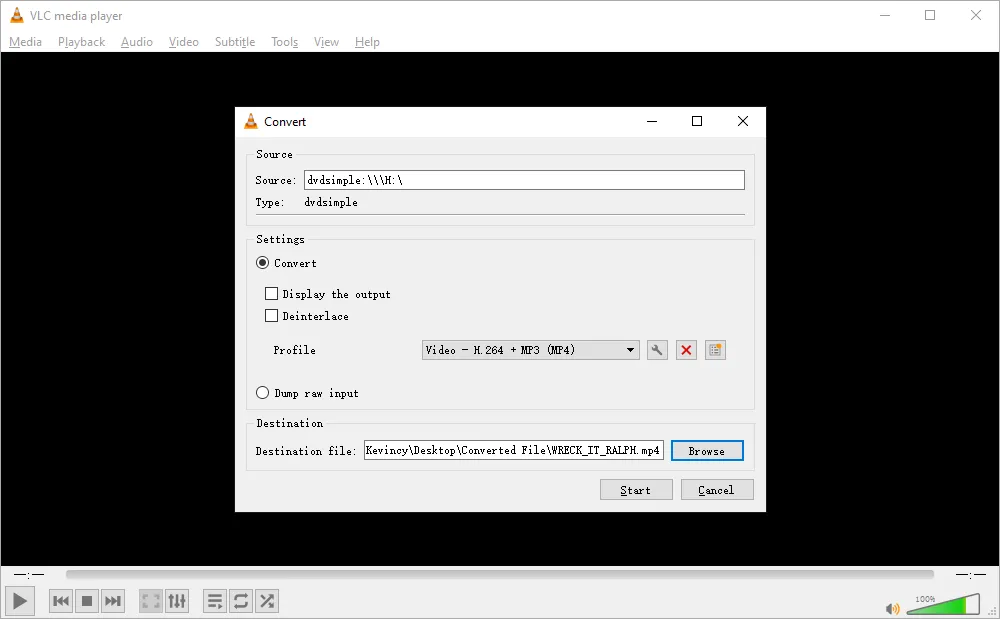 #5. DVD Decrypter
DVD Decrypter, though no longer developed, remains a viable option due to its powerful features and ease of use. DVD Decrypter boasts a simple and intuitive interface, making it accessible to both beginners and advanced users. This software allows you to copy DVDs to your hard drive, bypassing various copy protections, such as region codes, CSS encryption, and other copy restrictions, which makes it a favorite among enthusiasts looking to preserve their DVD collections.
Although the official website for DVD Decrypter is no longer available, you can still find the software on its mirror site or some reputable download platforms. However, as you may know, like DVD Shrink, DVD Decrypter was also shut down starting from 2005 and development on it halted. The final version is 3.5.4.0, so it may not function well to handle the emerging DVD copy-protections, which always ends with errors like "InterfaceThread Runtime Exception! Message = EAccessViolation" or "Failed to Set Data For". Try to use it for your old DVD discs.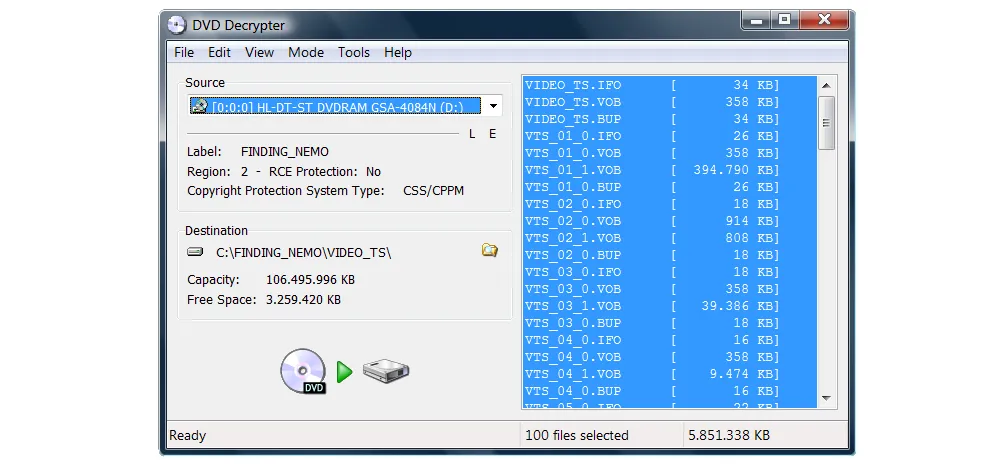 #6. Freemake Video Converter
When it comes to versatility, Freemake Video Converter shines as an exceptional DVD Shrink alternative. This software allows you to convert your DVDs to various output formats effortlessly. Whether you prefer popular video formats or specialized ones for specific devices, Freemake Video Converter has got you covered. Its intuitive interface and straightforward conversion process make it accessible to users of all levels of expertise.
As a comprehensive multimedia toolkit that goes beyond DVD ripping, Freemake Video Converter also offers additional features like video editing, DVD burning, creating photo slideshows, and even online video downloading.
However, Freemake Video Converter now has switched to a freemium monetization model, which implants multiple limitations during the use unless you upgrade for all limits unlocking. In addition, it is also bundled with some irrelevant software from sponsors, resulting in a low reputation. Nevertheless, it's still a worth-trying alternative to DVD Shrink.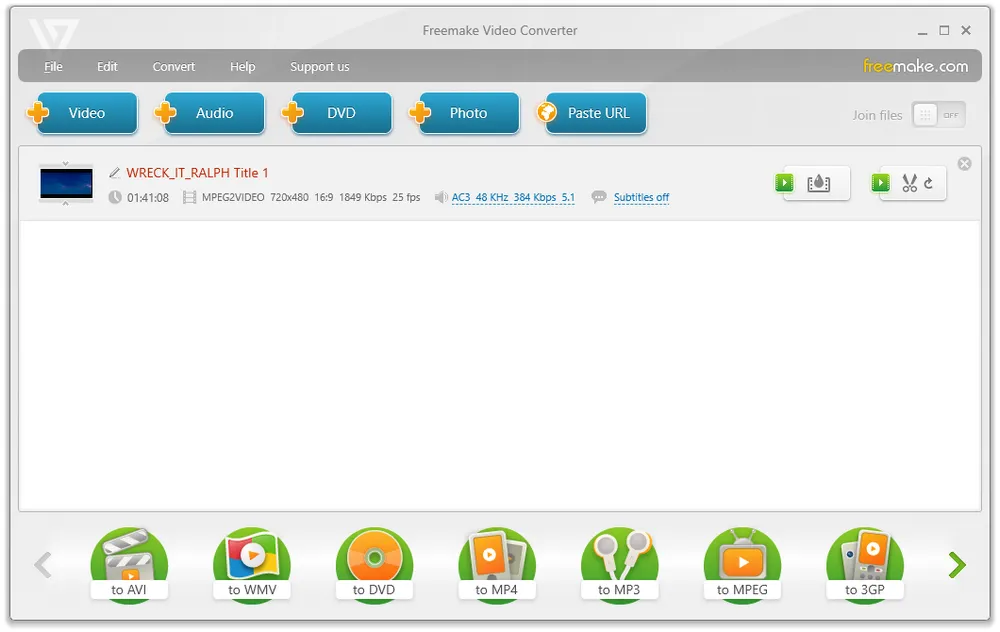 #7. DVDFab DVD Ripper
DVDFab is a comprehensive software suite that offers a wide range of DVD-related functionalities, making it a noteworthy DVD Shrink alternative. From DVD ripping and copying to video conversion and creation, DVDFab covers all aspects of DVD management. This feature-rich software ensures a seamless experience for users who desire a comprehensive solution.
By visiting the official DVDFab website, you can explore the various modules offered by this software suite. DVDFab's user-friendly interface and extensive customization options provide users with unparalleled control over their DVD backups. Whether you're a casual user or a professional seeking advanced features, DVDFab offers a solution tailored to all your needs.
The only drawback of DVDFab software suite can be the exorbitant price, that's why many people spend much time on finding DVDFab Crack regardless of security concerns. Instead, you can try the free version of DVDFab DVD Ripper.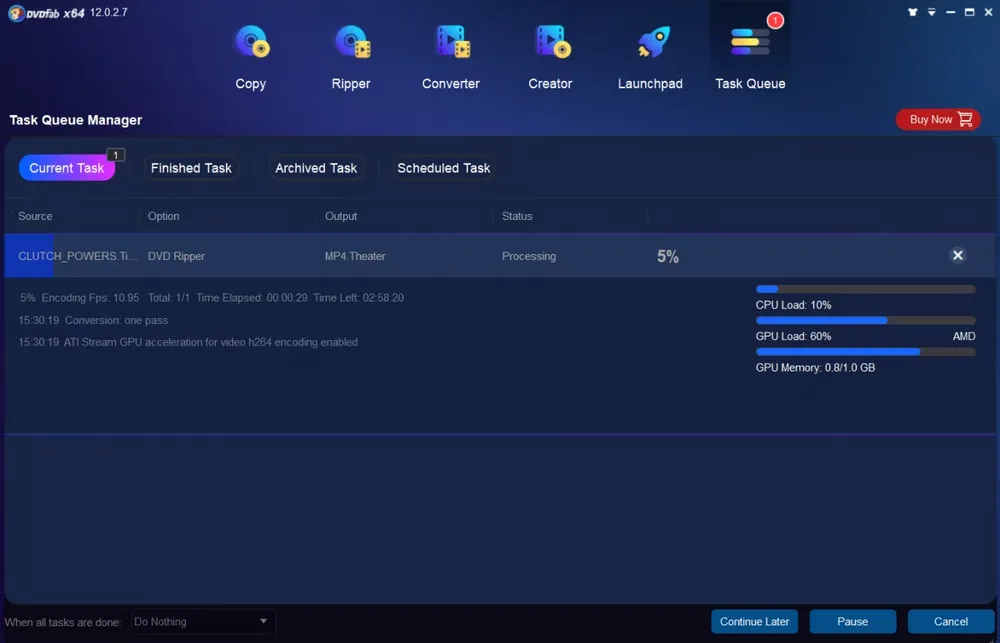 #8. WinX DVD Ripper
WinX DVD Ripper is another excellent DVD Shrink alternative that specializes in ripping DVDs to various popular video formats. With its industry-leading level-3 hardware acceleration technology, WinX DVD Ripper excels in delivering lightning-fast ripping speeds without compromising on quality. WinX DVD Ripper offers a user-friendly interface that allows even novice users to rip DVDs effortlessly.
Additionally, it supports a wide range of output formats, ensuring compatibility with various devices and media players. It also offers a range of customization options, allowing users to adjust settings like DVD resolution, bitrate, and audio quality to suit their specific needs. With its combination of speed and quality, WinX DVD Ripper is an excellent choice for users who value efficiency.
Some people may complain WinX DVD Ripper only rips 5 minutes of a DVD because they're likely to use the trial version of WinX DVD Ripper Platinum. Try to download the free version below.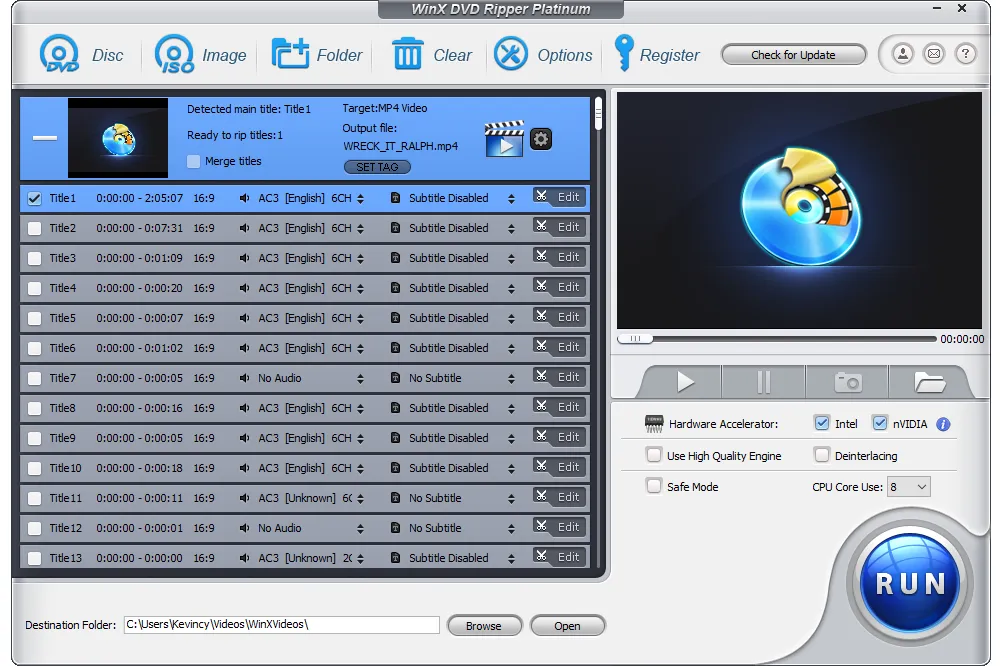 Exploring Other DVD Shrink Alternatives
While the DVD Shrink replacements mentioned above are among the most popular and feature-rich options available, there are other noteworthy solutions worth considering. Here are a few additional alternatives that offer unique features and functionalities:
AnyDVD HD: This software specializes in removing copy protections and region codes, allowing you to back up your DVDs without restrictions. AnyDVD HD is a powerful tool for DVD enthusiasts who desire complete control over their backup process.
Leawo DVD Ripper: It's a comprehensive software tool designed to rip DVDs (commercial and homemade) and convert them into a wide variety of video and audio formats. It's a part of Leawo's larger Prof. Media suite, but is also available as a standalone product. >> Learn The Best Leawo DVD Ripper Alternatives
CloneDVD: With a focus on simplicity and ease of use, CloneDVD provides users with a straightforward solution for backing up their DVDs. This software offers an intuitive interface and a range of customization options to cater to various user preferences.
Magic DVD Ripper: Magic DVD Ripper offers an all-in-one solution for DVD ripping and copying. With its ability to remove copy protections and region codes, Magic DVD Ripper ensures a hassle-free DVD backup process.
RipIt: Another DVD Shrink similar software for Mac that allows you to rip DVDs to digital formats such as MP4 or MOV with ease. The software is equipped with compression technology that allows you to reduce the size of your video files without losing quality.
Each of these DVD shrink alternatives comes with its unique set of features and capabilities. Exploring different options will help you find the perfect solution that meets your specific needs.
Frequently Asked Questions
Q1: Is DVD Shrink still available for download?
A: No, DVD Shrink is no longer actively maintained or available for download on official website unless you donate. However, you may find archived versions of the software on many websites, but we recommend downloading it from some trust-worthy websites or using alternative software to ensure compatibility and support.
Q2: Are DVD Shrink alternatives legal to use?
A: DVD ripping and backup software can be used legally for personal purposes, such as creating backups of DVDs you own. However, it's essential to adhere to copyright laws and avoid unauthorized distribution or sharing of copyrighted material. Figure out if it is legal to rip a DVD in your country beforehand.
Q3: Can I compress DVDs with alternative software?
A: Yes, most DVD Shrink alternatives offer compression functionality, allowing you to reduce the size of your DVD files while maintaining acceptable video and audio quality.
Q4: Are DVD Shrink alternatives free?
A: Many DVD Shrink replacements offer free versions with limited features, including slow ripping speed, poor decryption capacity, or limited output format, etc. However, if you require advanced functionality or unrestricted access to all features, you may need to purchase a premium version or license.
Final Words
Preserving your DVD collection has never been easier, thanks to the wide array of DVD Shrink alternatives available today. Whether you prioritize speed, customization options, or simplicity, with a range of options at your disposal, there is a solution that suits your needs.
Remember to always respect copyright laws and use these DVD Shrink alternatives responsibly. Safeguard your precious DVD collection, enjoy your favorite movies and TV shows hassle-free, and embrace the convenience of digital media with confidence!