DVDFab Alternative to Rip DVD to H.264 AAC in MP4 or MOV
I have been trying the three most prominent processes I need to achieve. I am converting all my 57 VHS, 28 8MM Video tapes that range from 1985 to present (well 1997 until I went digital media 1080p cam). First converted all tapes to DVD. People are not very aware that the DVD's they purchase are biomaterial and sadly, in 10 years they will find purple dye crumpled in the bottom of a jewel case and if they do not have their VHS tape, it will be lost. Of course you can have them commercially burned, but with so much software out there to RIP to DVD, people just don't know the ones they burn on their home PC's are essentially food coloring. They think they are like CD's, which will indeed last some 50 years or more. This is why I have converted to DVD, and now are ripping them to H.264 AAC in MP4 or MOV for a RAID 6 NAS, one of many pro SMB Workgroup NAS devices I Have.
DVDFab Failed to Rip DVDs to MP4 H.264 AAC and MP3
I had been using DVDFab to copy DVDs to ISOs. Certain tracks however, I would like MP4 H.264, AAC versions. DVDFab fails at both codecs in the current version as of this date. The Mp4 H.264 AAC and MP3. One can do a pass through DVD to VOB that VLC can read, but no MP4, and no .mov mp4 output. I have to find an alternative. 

I am running the latest version of Windows 10, and in addition, I am an IT guy, So I know a bit about codecs.  This really shouldn't be difficult. MP4 is fairly easy. I have been through the formal specification for Mp4svc, and there the parallel methodology of I-Frame vs loss, when I first read the spec, originally a company called Vidyo was the only one with a SVC codec. They worked 3+ years on it, and got to VC B level funding, only for Google, when they came out with Android, for "shits and giggles" made a H.264-SVC video available because for the first time, as I predicted and reason I left and cashed out of the last company, a ubiquitous device put a camera on the "Correct side of said ubiquitous device". Phone had camera on both sides and at that years CES they were doing VC between WIFI Android phones. (That I didn't see coming from Google, but I did see the end in a way to stand-along executive Telepresence when an everyday device could do hi-def, (at least 720p), with 2% or 5% frame loss and no negative impact, versus the requirements for H.264, where my network designs for a stream encoded at 7 I-frames per transport stream, H.264, 96Khz sampled directional audio required a maximum jitter rate of under 2.8ms.
DVDFab Alternative to Rip DVD to H.264 AAC in MP4 or MOV
Anyway, off on a tangent, I found your product, WonderFox DVD Video Converter and I assume it is the best DVDFab alternative. I can selectively rip a title to h.264 AAC .mp4, or an h.264 .mov. I can create an AVI file, and I can create a copy of interim VOB files. I can even convert the VOB file to an h.264 MP4 AAC. WITH ZERO Problems! To be honest, the DVDFab has been a horror. The best DVD to MP4 or DVD to MOV ripper, say WonderFox, should work such way of ripping DVDs flawlessly without any problems.
Moreover, the program works as a YouTube downloader, iPhone ringtone maker, video converter and editor.
Quick Guide on How to Rip DVDs to H.264 AAC in MP4 or MOV
While you're going to rip and convert DVDs to H.264 AAC in MP4 or MOV with WonderFox, the DVDFab alternative, the quick guide is right here for you. Ripping any DVD with WonderFox is easy with just a few clicks.
Step 1. Getting Ready for Ripping. The MP4 Ripper is almost for all Windows, including Windows 10, Windows 8/8.1, Windows 7, Vista and XP. Feel free to download and install it here. Insert your DVD to your DVD drive.

The 4.5 Star DVDFab Alternative
The DVD & video converting software provides the better solution to rip any copy-protected DVD to digital video and hot phones, pads...
More features>
Step 2. Open the program and load the DVD to the program. Click the DVD disc button to load the DVD in your drive, click OK to confirm. Alternatively, you are free to load an DVD ISO Image or VIDEO_TS folder o your hard drive.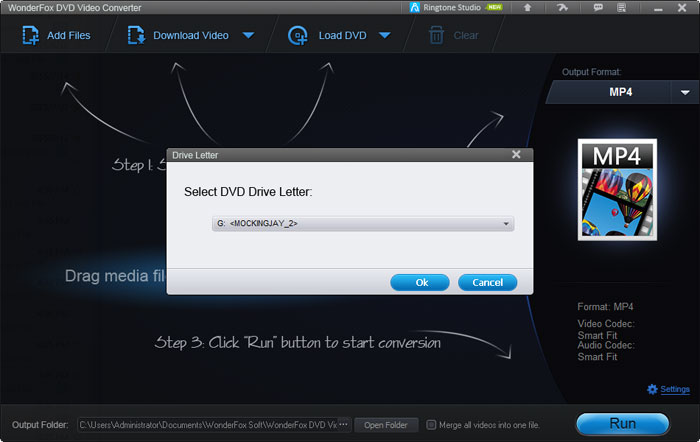 Step 3. As you can see on the right side, MP4 comes default as the output format if this is your first time you open the DVD to MP4 ripper.  Or, it will keep the last profile you choose for ripping, say if you convert DVDs to MOV H264 last time, you won't have to choose MOV again as it remembers your settings.
In order to rip DVDs to H.264 AAC in MP4 or MOV, we have to go settings and specify the video and audio codec instead of the default smart fit.
Step 4. You are now ready for ripping. Click the big run button and leave the program do the rest for you.
Tips: The default output folder is C drive. If you have external drives or NAS like me to store the movies, click browse to set.
Still have problem on DVD ripping?
Related Resource
Special Offer: WonderFox DVD Video Converter
One software helps you solve all of problems such as DVD ripping , video converting, YouTube downloading...