What Does DVD Interlaced Problem Look Like and What Is It
Have you ever gotten such experience that when you watch a piece of video or a DVD movie, there are dense misaligned horizontal lines on the screen that dramatically decrease the output quality? This phenomenon comes from a technical word called "interlacing".
Interlacing is applied to some earlier videos and DVDs. To make the output look smoother and more successive and reduce transmission bandwidth, the videos are split up into two fields to scan every single frame in the image - the first field contains the odd numbered lines and the second field contains the even numbered lines. All frames will be scanned one by one in an alternating way in the sequence of the odd, the even, the odd and then the even... In this way, successive footages are created.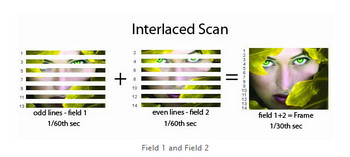 The even lines and the odd lines
Modern displays only work in deinterlacing mode. To deal with some interlaced videos and DVDs, some DVD players and TVs are embedded with the function to handle the interlacing problem. But if your digital players have no such function, here is another way to deinterlace DVD once-and-for-all.
How to Deal with the DVD Interlaced Issue with the Best DVD Deinterlace Tool
As I have mentioned above, the technical relic of interlacing badly affects the output quality of DVD videos.DVDs are based on MPEG-2 encoding, which allows for either progressive or interlaced sequences. It means DVD can be encoded as either progressive or interlaced. However, nowadays most DVDs are made in the progressive DVD form in which frames get scanned line by line from top to bottom. But what if you still wanted to watch old DVD films to recall some memories of your past ages? Then, it is necessary to find an effective tool to deinterlace those old DVDs.
WonderFox DVD Ripper Pro is a multifunctional DVD ripping tool that features a DVD deinterlace mode designed to remove misaligned horizontal lines during DVD ripping process. It can convert deinterlaced DVD to progressive digital videos in simple clicks. It supports all DVDs and can even deal with Disney movies. It's simple to use this software.

How does deinterlacing work
Now, free download the most effective DVD deinterlacer to improve your DVD quality by removing horizontal lines.
How to Fix Horizontal Lines Caused by Interlaced DVDs
Step 1. Load DVD into the DVD Program
Firstly insert the DVD to DVD-ROM drive and then launch WonderFox DVD Ripper Pro. Preset the output folder ant the bottom of the interface and click on "DVD Disc" and hit "Okay" to load to analyze the DVD.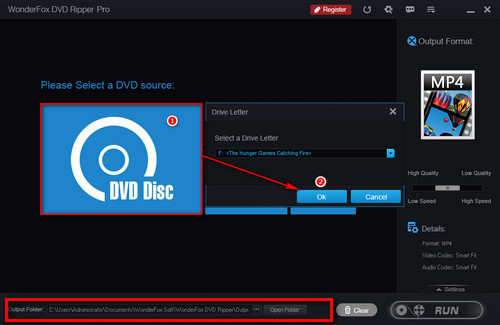 Begin to ananlyze your DVD
Step 2. Adjust Output Settings
After the analysis, your DVD is successfully decoded and the main movie which you need will be colored by blue. Then, click on "Settings" on the right and press "Deinterlace" button to deinterlace DVD.
Then, if you need to change the output format to meet the requirement of your player, you can click on "Output Format" on the right side and find the desired format under the corresponding tag. Tips: You can preset the output parameters after clicking on "Settings", including frame rate, bit rate, resolution, etc...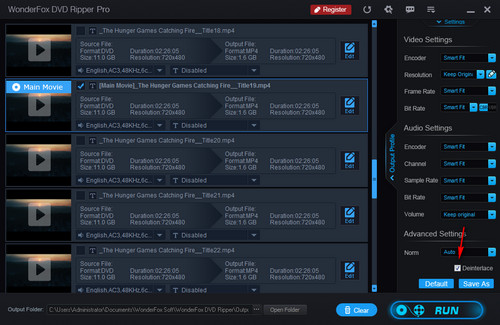 Deinterlace your DVD
Step 3. Start Deinterlacing and Ripping
Click on "Run" to start conversion. Waiting a few minutes and then you will find the output video in the folder you previously preset.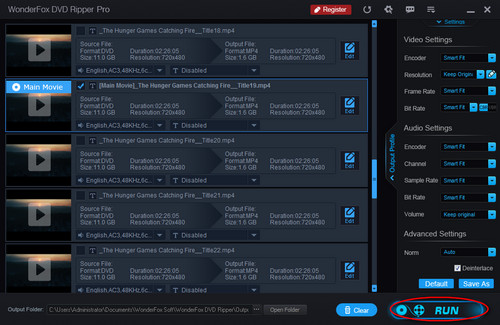 Begin conversion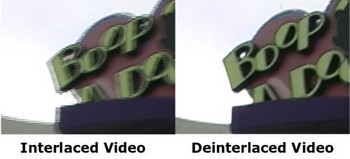 Comparison between interlaced and deinterlaced videos
Here you can see what a difference deinterlacing has made by comparing the two pictures.
How to Edit a DVD Video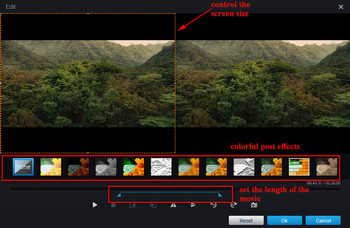 Edit the DVD video
Besides deinterlacing videos of DVD, WonderFox DVD Ripper Pro is also a DVD video editor.
After analysis of your DVD is finished, you can click on "Edit" of the main movie then you will see another interface where you can trim your videos or add post effects. You can crop the video by dragging the red-yellow frame to control the output screen size. Or relocate the clip bar to decide the length of the output video. 11 post effects from "blurred" to "old movie style" are available as well.
Now, please download the DVD Ripper Pro to complete your jobs.