Tips. You can download MakeMKV on your PC if you haven't installed one.
Step 1. Insert a DVD into your computer's optical drive.
Step 2. Open MakeMKV. It will auto-detect your DVD and display the disc information.
Step 3. Press the DVD icon to scan the DVD. MakeMKV can bypass DVD encryption (if there is one) and open the disc with all the DVD titles.
Step 4. Select the title or chapter you want to rip. By default, MakeMKV selects all titles. If you only need the main movie or main title, choose the one that has the largest size.
Step 5. Unfold the selected title and you can choose which audio and subtitle tracks to keep.
Step 6. Click the yellow folder icon to define an output path.
Step 7. Click the Make MKV button to rip the DVD to MKV with transcoding.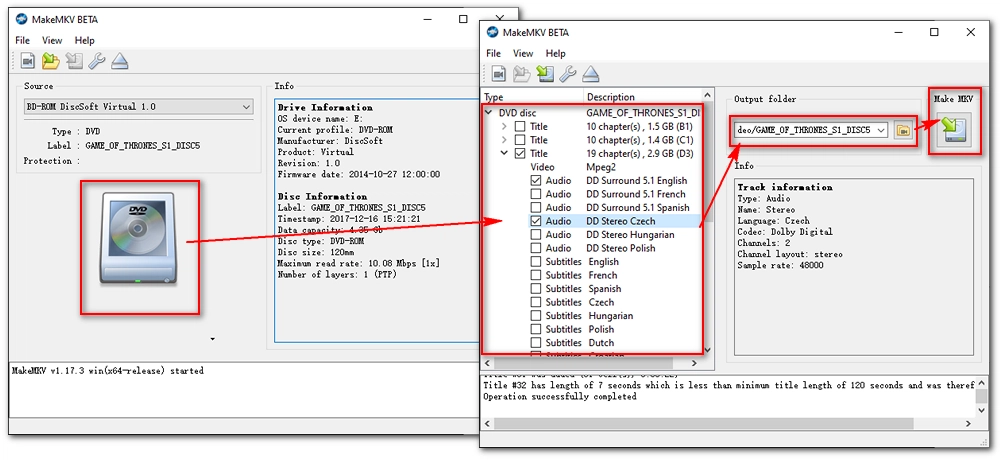 Note:
1. MKV is the only output format in MakeMKV.
2. The output video is of original quality and size.
3. It takes about 2 -30 minutes to rip a DVD depending on the speed of your drive and CPU.
While MakeMKV rips DVDs without transcoding, it generates files way too large. If you don't have enough space, you are recommended another way to rip DVD without compromising quality.
WonderFox DVD Ripper Speedy is a dedicated program to convert DVDs to MPEG-2 MPG video without losing quality. With its 1:1 quick copy mode, it can copy the MPEG-2-encoded DVD files with little transcoding. Compared with MakeMKV, this program finds a perfect balance between quality and size, outputting the video with a near-lossless quality and tiny size. Moreover, it removes the latest DVD encryptions to let you rip every DVD disc successfully.
It takes as less as 5 minutes to convert a two-hour-long DVD to MPG. Best of all, it is absolutely safe and free to use this program. Right now, let's free download free download this DVD ripper and follow the steps to rip a DVD without losing quality.
Before start, please insert a DVD into your computer.
Step 1. Load DVD to the Program
Launch WonderFox DVD Ripper Speedy on your PC desktop. Next, click DVD Disc to load your DVD into the program. You can also load your DVD files from an ISO image or a VIDEO_TS Folder.
Tips. The main title/main movie is auto-marked for you.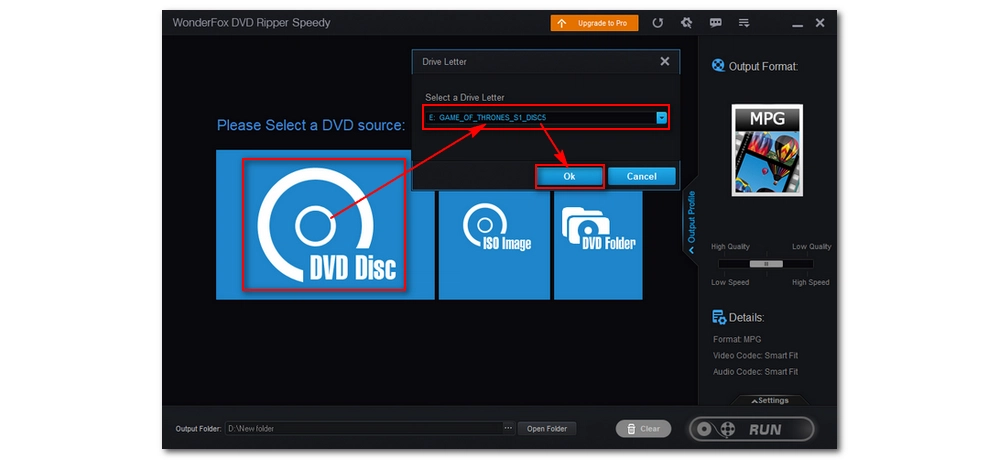 Step 2. Rip DVD to MPEG-2 MPG at Once
Before ripping, you can click the audio and subtitle track options to choose the audio and subtitle you want to keep. Finally, click the three-dot button to select an output folder and press Run to start ripping the DVD to MPEG-2 without losing quality.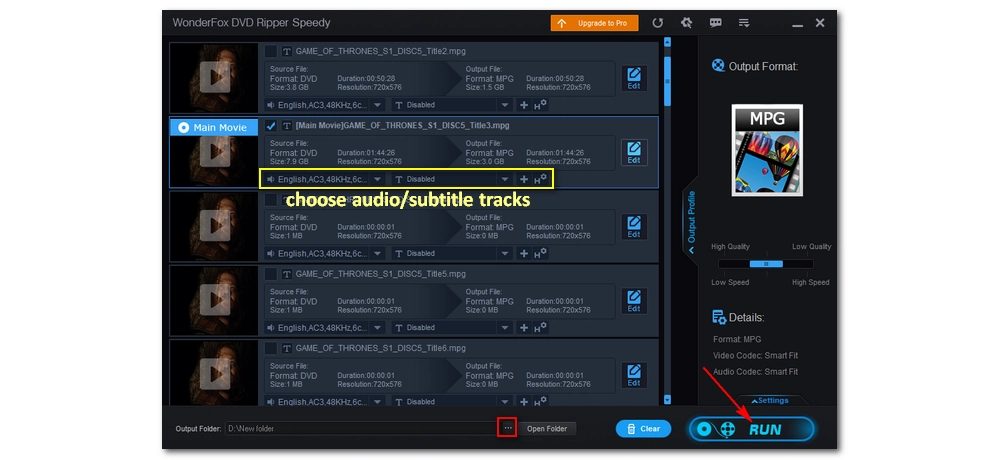 1. Can you convert DVD to MP4 without losing quality?
No, you cannot convert DVD to MP4 without losing quality because the encoding method is changed. DVD files are encoded with MPEG-2 codec, while MP4 is often encoded with MPEG4, H264, or HEVC/H265. Converting MPEG-2 to another codec involves transcoding, which is a lossy process. However, the quality loss won't be severe and you probably won't notice any difference.
2. Do you lose quality when ripping DVDs?
In most cases, you will lose quality when ripping DVDs to MP4, AVI, WMV, and other videos. But you can convert DVD to MPEG-2 videos (wrapped in MPG, VOB, TS, or MKV containers) to avoid transcoding, so you can rip DVD without losing quality.
3. How do I rip high quality video from a DVD?
You need to use a proper DVD ripping tool like MakeMKV and WonderFox DVD Ripper Speedy that can preserve most information of your DVD during the ripping process to rip lossless or high-quality video from a DVD.
We have shown how to rip DVD without transcoding and quality loss. It's time for you to try these methods. We hope this article could be of some help to you. That's all for now. Thank you for reading. Have a good day!
Disclaimer: WonderFox does not advocate any illegal duplication and distribution of DVDs. All information provided in this article is presented for general informational purposes and personal fair use only. Please refer to the DVD copyright laws in your country before you rip any DVDs.