Case 1 - DVD Has Different Audio Tracks
VLC rip DVD no sound issue sometimes arises from the original DVD with multiple audio tracks. When using VLC to rip a DVD, many people may not notice the audio track selection, and leave all the settings as default, which probably results in no sound issue.
To fix it, when you load up your DVD disc and select the DVD device, type in the number of the audio track under "Audio and Subtitles" section and then proceed the remaining steps. If don't know which audio track is the one you want, try to play the DVD in VLC and navigate to "Audio" menu > "Audio Track" to check it out. However, sometimes the numbers are inconsistent, so you may take a longer time to do some trial and error to figure it out.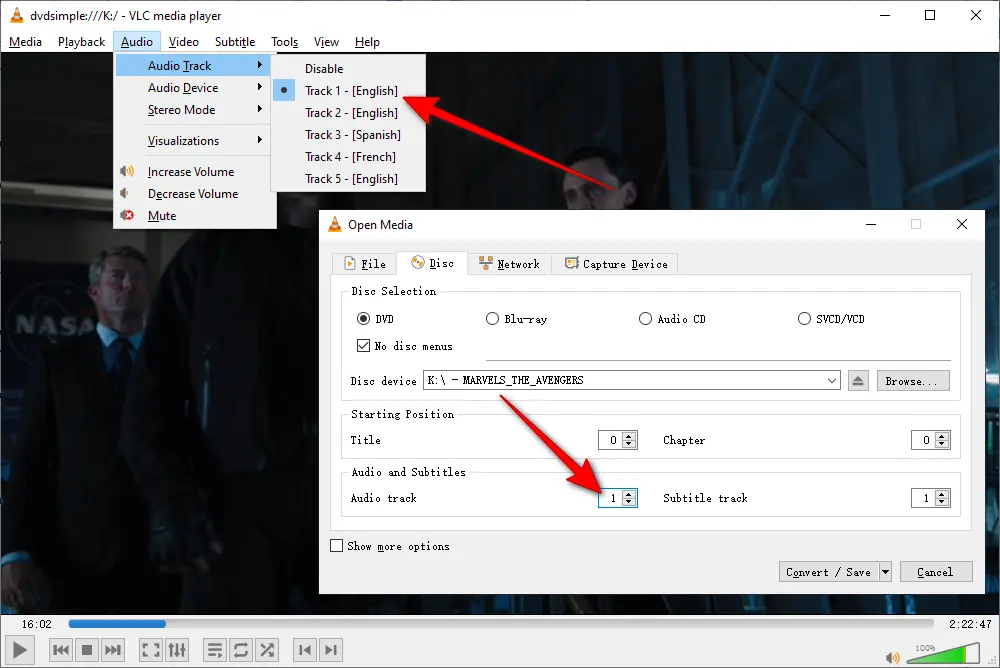 Case 2 - Change Audio Encoding Parameters
Inappropriate audio encoding parameters can also make VLC convert DVD to MP4 no audio. So the problem can be fixed by modifying the settings. We have no idea about the rationale, but it has been proven to work.
After you select an output profile, "Video - H.264 + MP3 (MP4)", for instance, click on the "Wrench" icon to open "Profile edition" window. Under "Audio codec" tab, try to select "MPEG 4 Audio (AAC)" or another option in the drop-down list of "Codec" section, change "Sample Rate" to "48000 Hz" or enable "Keep the original audio track" option to tackle VLC convert no audio issue.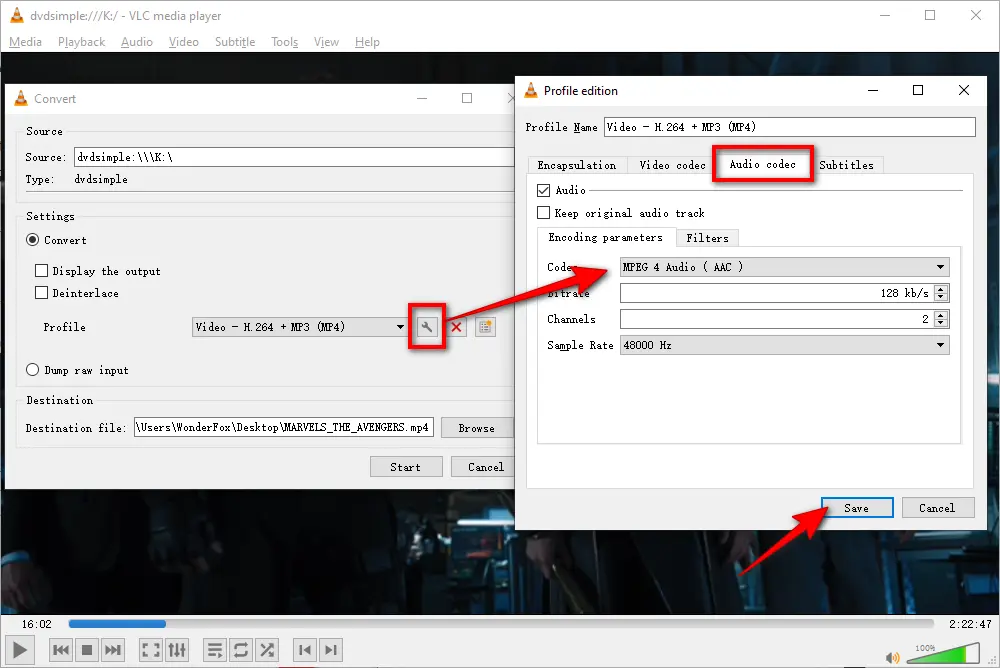 Case 3 - DVD Is Protected by Cinavia Watermark
VLC DVDrip no audio problem is also commonly found in Cinavia-protected commercial DVDs. The sound will disappear either immediately or after a set duration. Since Cinavia is an advanced anti-piracy technology designed to prevent illegal DVD copying, as a common media player, not surprisingly, VLC is powerless. To remove Cinavia from DVD, just leave the professional job to the right application. Next, I'll recommend a powerful yet simple DVD ripping tool to fix VLC rip DVD no sound issue.
Best Solution to DVD Rip with VLC No Audio Problem
WonderFox DVD Ripper Pro is primarily designed to make digital copies of your own DVDs and build a digital DVD library for convenient playback on different devices. It specializes in bypassing or removing all sorts of DVD protection, such as DVD CSS, Region Code, CPRM, Multi-angle, RCE, Sony ARccOS, UOP, Disney X-Project DRM and Cinavia Protection, no matter whether it is a commercial DVD, homemade DVD or recorded DVD.
Free downloadFree download this amazing program and follow the steps below.
Step 1. Insert a DVD disc into DVD drive, launch WonderFox DVD Ripper Pro, click the blue "DVD Disc" button. You can also load DVD content from a DVD ISO image file or a VIDEO_TS folder.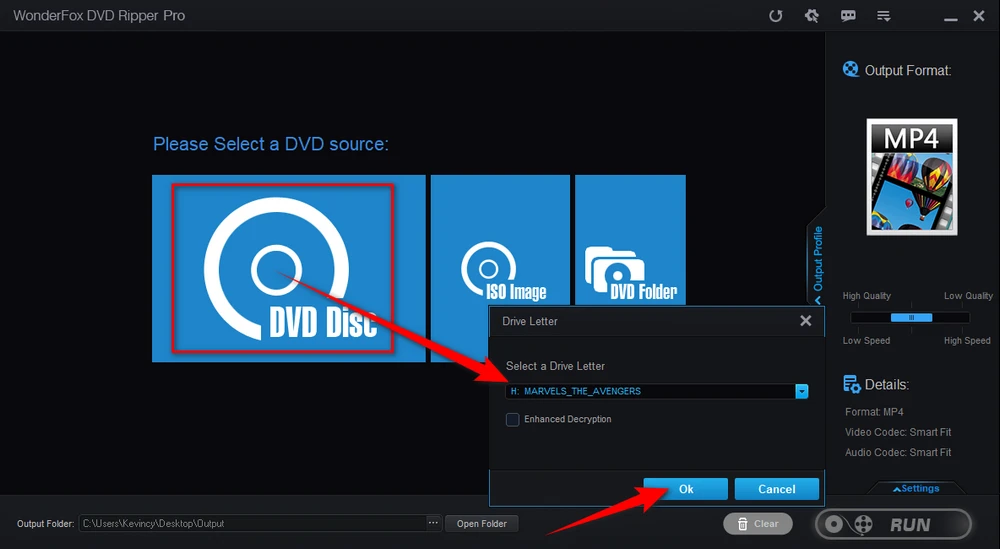 Step 2. The program will intelligently remove all DVD encryption and select the main movie title.
Optional. You're able to select preferred audio track and subtitle as you wish.
Step 3. Select an output format from 300+ presets on the right side. BTW, you're advised to convert DVD to MKV with multiple audio and subtitle tracks.
Step 4. Click "three-dots" icon to choose a destination folder. Finally, press "RUN" button to fix VLC rip DVD no sound issue.
Also Read: VLC Won't Play DVD | Rip CD with VLC | Burn DVD with VLC | Play Blu-Ray with VLC | VLC Extract Audio from DVD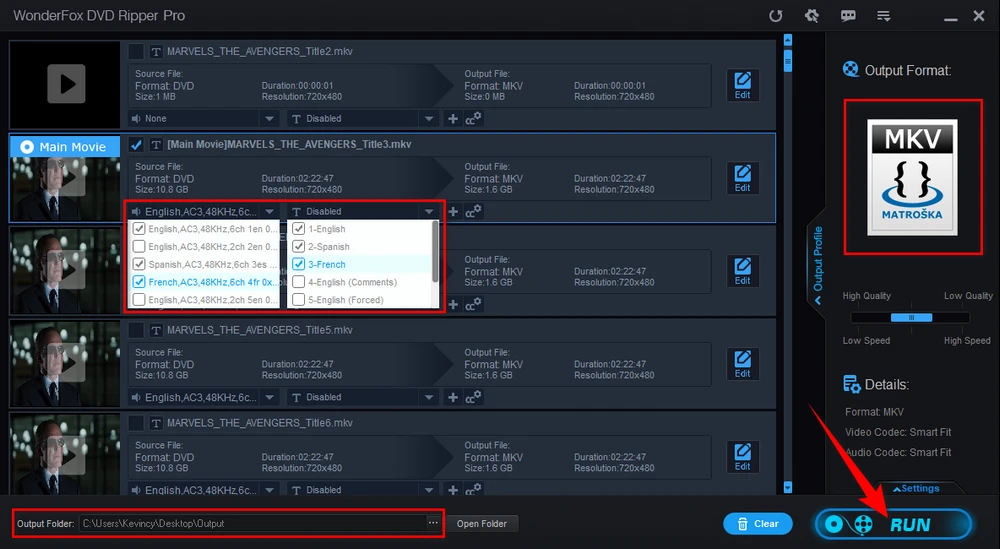 Final Words...
That's all about how to address VLC convert DVD to MP4 no audio problem. In addition to that, you may also run into VLC audio sync or VLC subtitle delay issue as well, but you cannot expect too much, after all, VLC is just a media player, major in video and audio playback rather than DVD ripping.
Free downloadFree download the amazing DVD copy application, you'll never bothered by VLC rip dvd no sound issue. Hopefully this post is of great help to you guys. Thanks for reading!