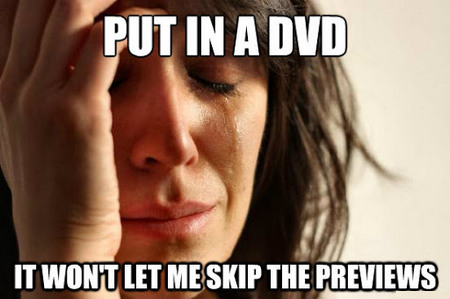 Skip Previews on DVD
Well, it doesn't matter whether your DVDs are purchased in Blockbuster or rented from Redbox, Netflix, etc., when you can't wait to pop in a DVD, it's definitely insufferable to sit through more than 10 boring minutes of the opening animation of film production & distribution company, FBI copyright warning, movie rating warning, several movie trailers and commercials. Come on, are you kidding me! I've almost finished the popcorn in my bowl as well as the snack, what a buzzkill!
It feels like a bone stuck in the throat, a cold shower poured on the intense passion. Stop wasting your valuable life on these trifles, I have rounded up 3 methods to skip previews on DVD so as to directly play the main movie without a hitch. Keep reading and learn the details in the next part. It deserves a big "Bravo!", I promise!