Disclaimer: We discourage the copying and distribution of any copyrighted content. This guide is provided to back up your own purchased Blu-ray discs and is for fair use only.
Many Blu-ray rippers can rip Blu-ray to digital videos. Two of the most popular programs are MakeMKV and HandBrake. They are all open source and free to use. With MakeMKV, you can rip various Blu-ray discs (protected or not) to MKV 1:1. Using HandBrake, you can convert unprotected Blu-ray to not only MKV, but also MP4 and WebM.
Both software are very easy to use and fast. Below, I will introduce in detail how to convert Blu-ray to MKV using these two programs respectively. Please read on.
MakeMKV is the perfect program for ripping Blu-rays. Its advantage is that it can handle encrypted discs and remove copy protection. At the same time, it will rip Blu-ray with original quality and fastest speed. But please note that since MakeMKV will copy data from the original disc 1:1, the output file size will be very large, generally about 20~30G for a movie. You may need to compress the ripped files. But first, let's see how to rip Blu-ray in MakeMKV.
Step 1. Download MakeMKV from https://www.makemkv.com/ and install it on your computer.
Step 2. Start MakeMKV. Then click Help > Register and enter the license key (obtain the registration code from https://forum.makemkv.com/forum/viewtopic.php?f=5&t=1053 )

Step 3. Insert the Blu-ray into your computer's optical drive and restart MakeMKV. It will detect the disc automatically. Just select the disc from the Source option and click on the image below.

Step 4. After loading the Blu-ray disc, you will see the file list on the left. Select the items you want to keep (expand Title and you will see the video, audio, and subtitle tracks). The main title is usually the largest and longest file.
Step 5. Click the folder icon to select the output folder. Keep in mind that the file is large, so choose a folder with enough space.
Step 6. Finally, click the Make MKV button to start the ripping process.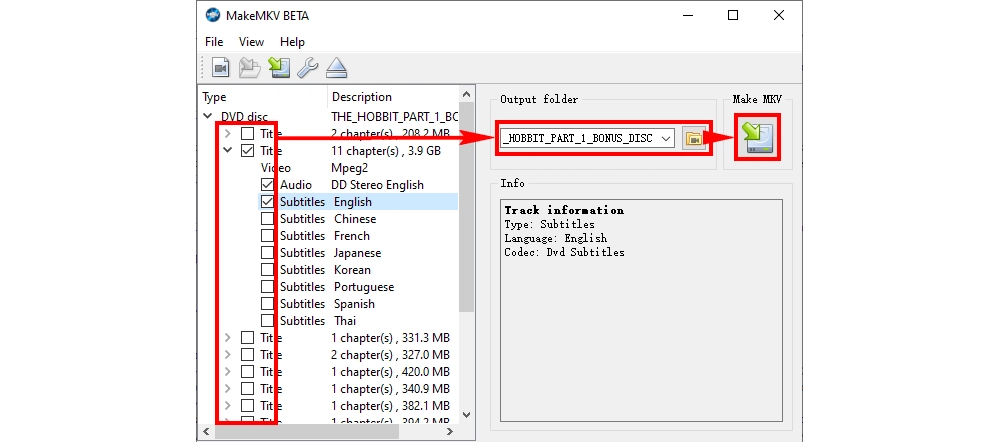 HandBrake can transcode Blu-ray to smaller size videos. But please note that HandBrake can only rip unprotected Blu-ray discs. If you import a commercial Blu-ray disc, HandBrake will display a "No valid source or title found" error. Below is an example of ripping a copyright-free Blu-ray to MKV.
Step 1. Insert the Blu-ray disc into your computer and launch HandBrake. On the left sidebar, click your Blu-ray drive and HandBrake will load your Blu-ray movie.

Step 2. On the top menu bar, click Tools > Preferences > Video. Check for any hardware acceleration available on your PC from the Encoding field to enable hardware acceleration. This will speed up the ripping process.

Step 3. Select the main title from the Title drop-down list. Then click Presets and choose the output profile.

Step 4. Under Summary tab, select MKV from the Format options. Then go to the Video tab and select the Video Codec as H.264 or H.265 to encode the video to small size with good quality.

Step 5. Finally, click Start Encode to start the conversion.

libdvdcss is a library designed by VLC for accessing CSS-encrypted DVDs. libmmbd is another library produced by MakeMKV for decrypting M2TS/SSIF files from Blu-ray discs. Both libraries are licensed under the open-source LGPL license and can be used by any other application. By adapting libdvdcss and libmmbd to HandBrake, you can enable HandBrake to rip encrypted DVDs and Blu-ray discs. If you're interested, follow the instructions to empower your handbrake.
>> Download and install the latest version of MakeMKV. Then run MakeMKV and click Help > Register, then enter the current registration code into the box and click OK.
>> Enter the MakeMKV installation folder (the default path is C:\Program Files (x86)\MakeMKV), find and copy libmmbd64.dll.
>> Download and install the latest version of HandBrake. Open the folder where HandBrake is installed. (the default path is C:\Program Files (x86)\HandBrake). Paste the libmmbd64.dll file you just copied into the HandBrake folder and make another copy of the libmmbd64.dll file (now you will have two libmmbd64.dll files). Rename the two libmmbd64.dll as libaacs.dll and libbdplus.dll respectively.
>> Download libdvdcss from [Libdvdcss download for 32-bit system l Libdvdcss download for 64-bit]. Place libdvdcss-2.dll into the HandBrake folder. Then restart HandBrake and it shall rip encrypted DVDs and Blu-rays.

In addition to the above two methods, you can also use VLC and other paid tools to rip Blu-ray to MKV. But if you want something free and easy to use, these two programs are the best solution. That's all I want to share. I hope the article was useful to you. Thanks for reading!