How to Convert AVI to FLV
The Difference Between AVI and FLV
AVI: it is the old but classical video format. It contains a well image quality but a large file volume. For computer video playing, it's a good choice. So, many people would like to keep and watch videos in AVI. But in the recent years, AVI seems a little hard to catch the trend.
FLV: now is the new internet age. Almost everything around us would have some relation to the Internet more or less. All things may be popular in a short time through the Internet. For some people or some advertisers, they would like to share video or advertising in video on the Internet. But for web video playing, the video format is very limited. Then, FLV comes out. It solves all. The new video format also contains good image but small file volume. It's the stream media format, just for web video playing and become popular in very fast
So, if you want to share videos on the Internet, you may have to convert AVI to FLV. And firstly, you may also have to know how to convert AVI to FLV.
The Way to Select the Right Software for the Process
For the majority, 'how to convert AVI to FLV' is easy; what hard is to get a right video converter for the conversion process.
Then, the following aspects may be considered when selecting converters. 1. Easy to use. Who wants to waste too much time on learning the guide of a complicated control system? No one. 2. Conversion speed. The software should contain a well converting speed for saving the time on conversion process. 3. Image quality. The one should contain a better video quality in comparison; the less loss of quality the better. 4. Functions. The functions of the software and the supported formats - the more the better.
After having a converter, all things are in your control.
Steps to Convert AVI to FLV
About the way to the process on 'how to convert AVI to FLV', here I just take FLV Video Converter Factory Pro as an example. The software is the professional video converter for FLV video converting. It's easy to use and provides fast conversion speed with clear image. It's worth trying.
Steps: 1. Download and install the software > 2. Click 'Add' to import videos > 3. Select output format in 'Profile' setting > 4. Click 'Start' to begin converting process > 5. Open output profile to get the output video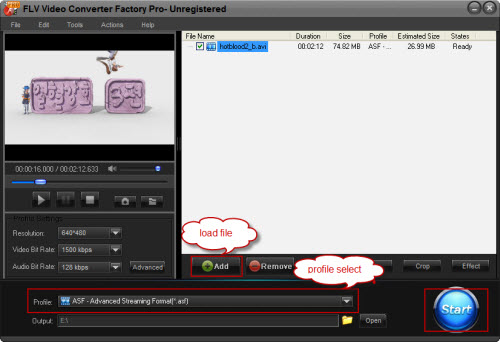 That's all the process. Is it easy? Then after getting the knowledge of 'how to convert AVI to FLV', the next is sharing your videos to others on the Internet.
Screenshot of FLV Video Converter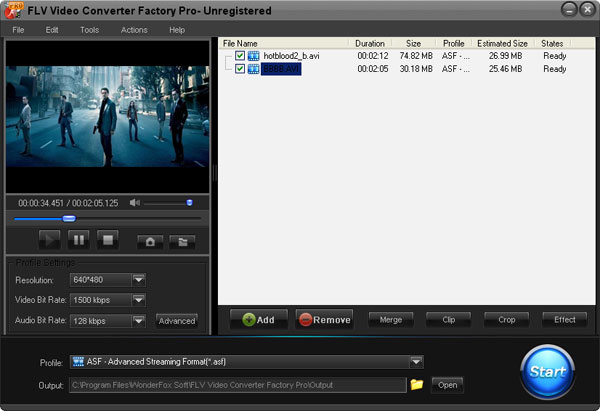 FLV Video Converter Factory Pro can Help You Do More
Apart from convert AVI to FLV, FLV Video Converter Factory Pro can help you do more. This professional video conversion software can help you convert virtually any videos to FLV video.
The input video file supported by this video converter software include all frequently used video files, such as AVI, MKV, MP4, 3GP, Flash video files, MOV, etc.
With FLV Video Converter Factory Pro, you can easily convert any of your video files to FLV either for uploading them to YouTube and some other video sharing sites or simply enjoying them with your FLV video player. FLV Video Converter Factory Pro is an all in one video converting software, it cannot only help you convert video fast, stably and without quality loss, but also it can help you add special effects to videos, cut video clip, crop video and so on.
For more information about FLV Video Converter Factory Pro: Detailed information of FLV Video Converter Factory Pro >>
With FLV Video Converter Factory Pro , you will definitely convert any videos to FLV smoothly and efficiently.
For more tips and how-to guides of FLV/YouTube conversion, please see the tips center of FLV & YouTube >>.