How to Transfer AVI to iPod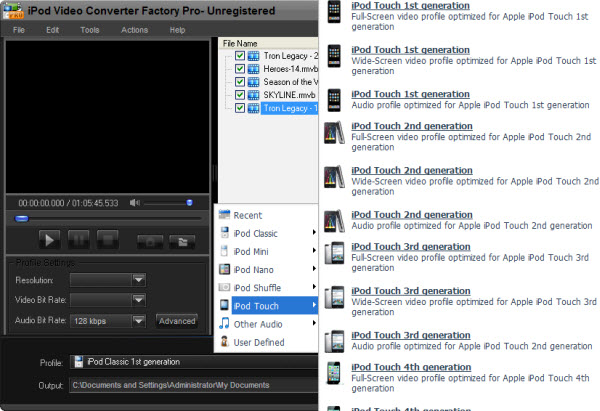 In our daily life, we may have conflicts every moment between different issues. And the impact of classic and popular is quite normal. For video compatibility, there also lies the impact.
We all know that AVI video is old but classical, most of the video we can get may just be contained in AVI format. And for the popular multimedia devices - iPod, there will come out the impact; iPod does not support AVI videos. Then happen to this impact, I think most people will take the video and iPod both but not just choose one. Convert AVI video to iPod, all problems solved. Here, how to transfer AVI to iPod is another problem.
The Way to Select Software for Convert AVI Video to iPod
For transferring AVI to iPod, get some software for help is good choice and a related video converter is necessary. But among the mass of video conversion software, how to get a good one? The following are some useful tips:
1. The supported format. AVI is necessary, but some more supported formats will be better. 2. Operation. The software should be easy to use; a complicated operating will be boring. 3. Speed and Quality. The software should contains fast conversion speed for saving the time, and good image quality is also should be considered. 4. Output Devices. The supported device should contain iPod at least.
Then, just follow the tips you will get a good one and how to transfer AVI to iPod will be solved soon.
The Way to Use the software for transfer AVI video to iPod
Indeed, for using one converter is simple; just follow the user guide. But with some complicated program, the operating also will be complicated. So, "easy to use" is very important.
Here I just take iPod Video Converter Factory Pro as an example. The software is the professional and powerful converting software for iPod. It's easy to use and serves all conversion work. The advanced editing is also available. But all advantages just cost $19.95.
Steps: 1. Download and install the software > 2. Click "Add" to import videos > 3. Select output format in "Profile" setting > 4. Click "Start" to begin converting process > 5. Open output profile to get the output video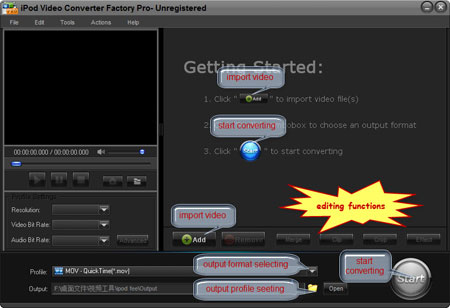 At last, I think just follow the steps above all, how to transfer AVI to iPod will be solved soon.
Screenshot of iPod Video Converter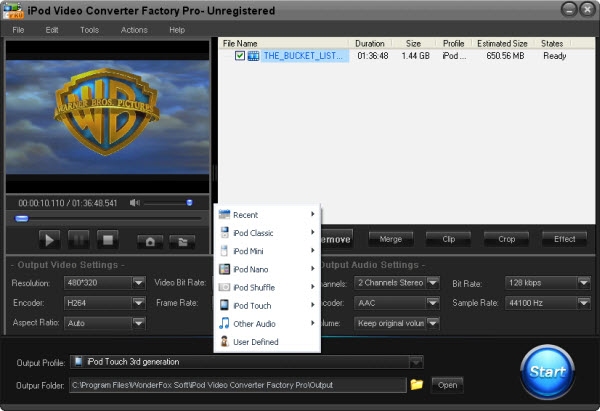 More Tips and Guides about Your iPod
If you want to enjoy more kinds of videos and audios on your iPod without format limitation, the below passage will be very useful to you. These tips and guides include convert video to iPod series and convert audio files to your iPod compatible audio files.
If you want to convert iPod music to MP3 so that you can play your iPod music resources on your other MP3 players, it is necessary for you to know how to convert iPod music to MP3. Also, if you want to enjoy MKV videos on yur iPod, iPod Video Converter Factory Pro can help you easily convert MKV to iPod . This powerful video converter can easily help you convert video to iPod Touch 4 if you have a iPod Touch 4; convert video to iPod Classic if you have a iPod Classic, convert AVI to iPod compatible videos and convert video to iPod Nano , etc. In a word, it can convert nearly all popular videos and audios to iPod series compatible videos and audios.
What's better, with iPod Video Converter Factory Pro, you can convert video and audio to you iPod series with optimized presets, that is, you do not have to figure out what the right video format, audio format, ecoder, bit rate or encoder are for your iPod series like iPod Touch 4, just simply select your corresponding device icon from the output profile. For more information about how to use iPod Video Converter Factory Pro, please see the User Guide of this software.