Convert Video to iPod nano - Enjoy Your Cute Videos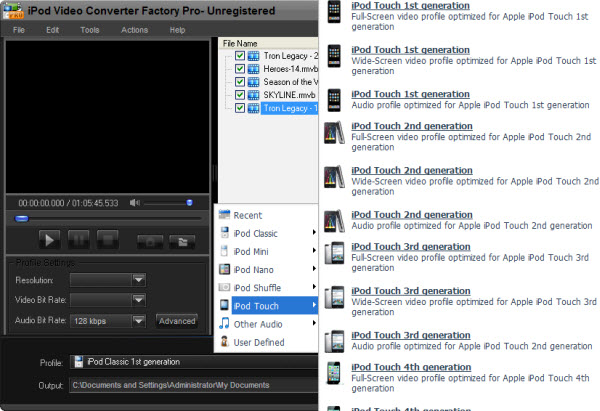 From iPod nano 1 to iPod nano 6, the wonderful multimedia player has changed and updated so much. But there is still one thing staying here - the cute. No matter how the outlook and size of iPod nano change, the cute character of nano will not change. Now we can still have the cute face, cute circle button even the cute screen. It's convenient for us to take it and enjoy multimedia files with it anywhere anytime. But for videos, we may usually try to convert video to iPod nano first.
Why We Have to Convert Video to iPod nano
Even iPod nano is wonderful, it is still a portable media device; not powerful enough as a computer or any omnipotent video playing software. For video playing on iPod nano, there are just some very limited video formats are supported such as MP4 and M4V. But MP4 or M4V is not the main format for most videos. So, convert video to iPod nano with the right format is necessary.
Besides, nano is small and the storage is limited. The processor of it may not allow running too big files. Big files may bring on an over-burden problem and cause some bad influence to the machine. Then, convert video to iPod nano with a less file in volume is necessary.
The Right One for Converting Video to iPod nano
Base on the format limit and considering about the machine maintain, here is the professional and powerful conversion software for iPod video converting - iPod Video Converter Factory Pro. It serves all converting work with advanced editing such as merge, clip, crop and effect. And the software provides fast conversion speed with the least loss of quality. But all this just costs $9.95. It is worth trying.
How to Convert Video to iPod Nano with the iPod Video Converter: 1. Download and install the software > 2. Click "Add" to import videos > 3. Select output format in "Profile" setting > 4. Click "Start" to begin converting process > 5. Open output profile to get the output video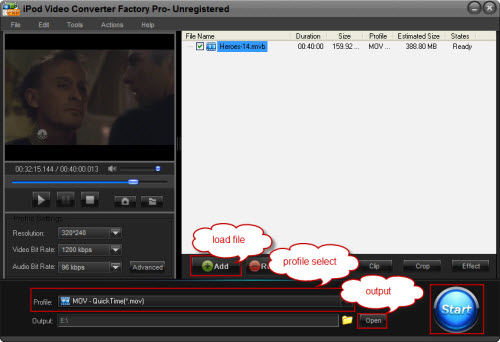 With such an assistant, convert video to iPod nano will get easy and convenient.
Screenshot of iPod Video Converter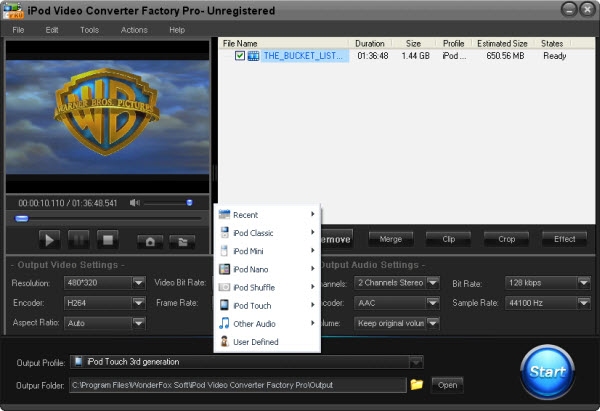 More Tips and Guides about Your iPod
If you want to enjoy more kinds of videos and audios on your iPod without format limitation, the below passage will be very useful to you. These tips and guides include convert video to iPod series and convert audio files to your iPod compatible audio files.
If you want to convert iPod music to MP3 so that you can play your iPod music resources on your other MP3 players, it is necessary for you to know how to convert iPod music to MP3. Also, if you want to enjoy MKV videos on yur iPod, iPod Video Converter Factory Pro can help you easily convert MKV to iPod . This powerful video converter can easily help you convert video to iPod Touch 4 if you have a iPod Touch 4; convert video to iPod Classic if you have a iPod Classic, convert AVI to iPod compatible videos and convert video to iPod Nano , etc. In a word, it can convert nearly all popular videos and audios to iPod series compatible videos and audios.
What's better, with iPod Video Converter Factory Pro, you can convert video and audio to you iPod series with optimized presets, that is, you do not have to figure out what the right video format, audio format, ecoder, bit rate or encoder are for your iPod series like iPod Touch 4, just simply select your corresponding device icon from the output profile. For more information about how to use iPod Video Converter Factory Pro, please see the User Guide of this software.