How to convert FLV to iPad
How to Convert FLV to iPad with a Good Video Converter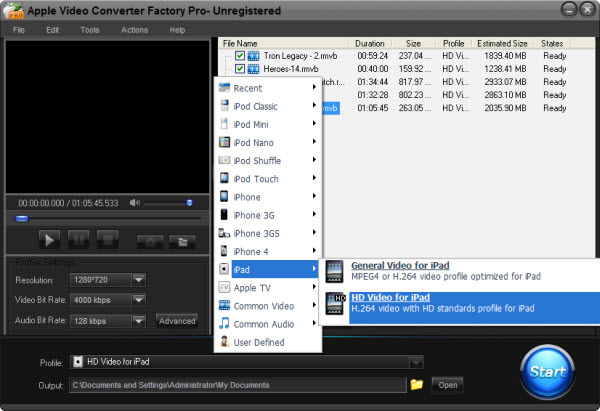 How Much You Know About iPad
In recent months, the key topic of people discussion shifted to the iPad from iPhone. iPad became the most popular word right now. But how much you know about iPad in the end? Let me brief introduction to the iPad. The iPad is a tablet computer designed and developed by Apple. It is particularly marketed as a platform for audio and visual media such as books, periodicals, movies, music, and games, as well as web content and so on. iPad adopt iPhone OS, 1GHz Apple A4 processor, and it's length is just 242.8mm, width is 189.7mm, thickness is 13.4mm. It can be seen as the world's lightest, smallest and most convenient computer.
Here I want to emphasize is its video playback. The iPad's touch screen display is a 25 cm (9.7 inches) liquid crystal display, the pixels up to 1024*768. It can absolute achieve a resolution of desktop computers. When you go on a trip or take a bus watch video on iPad is a wonderful thing. Do you think so?
Apple's Choice of iPad Video Format and How to Convert FLV to iPad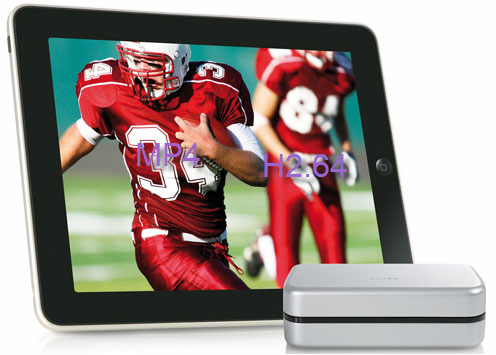 Maybe you know that the iPad play back videos encoded using either the MP4 or H.264 codecs. Apple's reasons for these specific picking codec is possible that they are a quite open, established standard and both of them provide a very high level of video and audio quality for a file. Now the online video is so popular around the world, almost all of these video is FLV format. If you want to play an online video on your iPad, you will be disappointed. Maybe you will ask: How to convert FLV to iPad? OK, don't worry; you just need a video converter to convert video to iPad.
How to convert FLV to iPad or convert other video format to iPad is not a problem. Here, Apple Video Converter Factory Pro can solve the entire problems. This apple video converter is powerful and brilliant. It can convert nearly all popular video formats to iPad, iPod, iPhone and Apple TV. You can easily convert video to iPad or Apple family among popular video/audio formats (including HD video) with lossless video quality. Fast converting speed and batch converting save your valuable time. What's more, it has powerful editing features (Merge, Clip, and Effect). Create your own video is not a dream. The most important is you can save $19.85 with this apple video converter.Why? Apple Video Converter ($29.95) = iPad Video Converter ($9.95) + iPod Video Converter ($19.95) + iPhone Video Converter ($19.95) + Apple TV Video Converter ($9.95). So it is worth owning for you.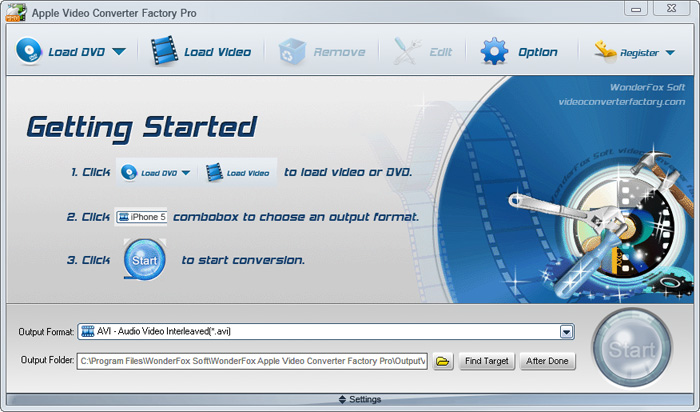 How to Convert Video to Other Apple Devices
If you have several different Apple devices and also want to enjoy videos on them without video and audio format limitation, the below tips or guides may be helpful to you.
If you want to convert iPod music to MP3 so that you can play your iPod music resources on your other MP3 players, it is necessary for you to know how to convert iPod music to MP3. Also, if you want to enjoy MKV videos on yur iPod, Apple Video Converter Factory Pro can help you easily convert MKV to iPod . This powerful video converter can easily help you convert video to iPod Touch 4, convert video to iPod Classic, convert AVI to iPod compatible videos, convert video to iPod Nano and so on. In a word, it can convert nearly all popular videos and audios to iPod series compatible videos and audios.
I hope the above tips and guides will be useful to you, and if you have any problems on using Apple Video Converter Factory Pro, please see the User Guide of this software for more details.