How to Transfer AVI to iPad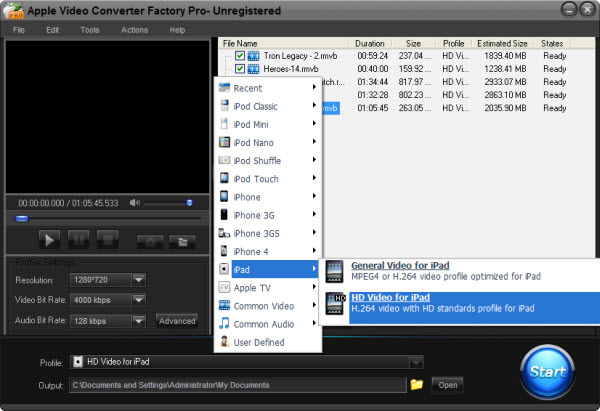 Since the birth of iPad, it attracted the attention of many people immediately. But after a large number of people got an own iPad, a new problem turns up. That is how to transfer AVI to iPad. Don't worry; continue to read you will get the key to solve this problem.
What is AVI

First, AVI is short for Audio Video Interleave, it is a multimedia container format introduced in the early 1990s by Microsoft. AVI files can store audio and video media content in a file that allows synchronous audio-with-video playback.
The Advantages of AVI - AVI format uses convenience, image quality is good and a key advantage of AVI format is its ability to be played on the majority of computers worldwide. These advantages are the reason why AVI can last so many years and still is a very popular video format around the world.
Why We Need iPad Video Converter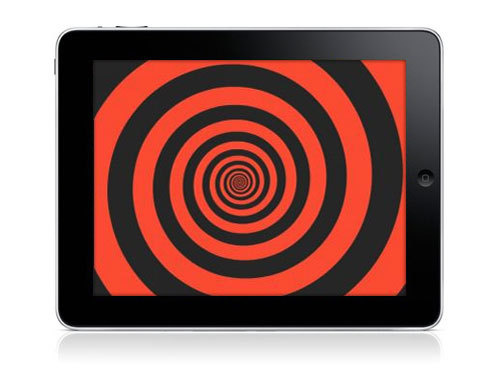 Now you may have many AVI files stored in your computer. If you want to play these AVI videos on your iPad, I am afraid you will be disappointed. You know that video playback is iPad basic function, high-resolution screen can be used to watch any video or movie, and we can say that iPad is the best portable video players all over the world. But it has a fatal flaw, that is it doesn't support AVI video format, iPad only supports MP4, H.264 and MOV formats, so how to transfer AVI to iPad? In fact, it is very easy, you just need iPad video converting software to convert AVI video format to iPad video format before transferring them to iPad.
The Cheapest and Most Professional iPad Video Converter Just for You
Here I recommend to you the Apple Video Converter Factory Pro. On one hand, it is the cheapest video converter to Apple products. Why? It not only can convert video to iPad, but also it can convert video to iPhone, iPod and Apple TV. Just pay for $29.95 you can own it. If you have other Apple products, you don't need to buy other video converter; this apple video converter is ok. (Save Your Money)
On the other hand, it is a real all in one the most professional video converter. You can easily do the converting process with lossless video quality. At the same time, you don't have to figure out what is the right video format or video resolution for your iPad or other portable device; it had categorized output video formats by product's name. What's more, it offers powerful video editing function (merge, clip and crop) and video effect (noise, emboss, mosaic, blur, old film).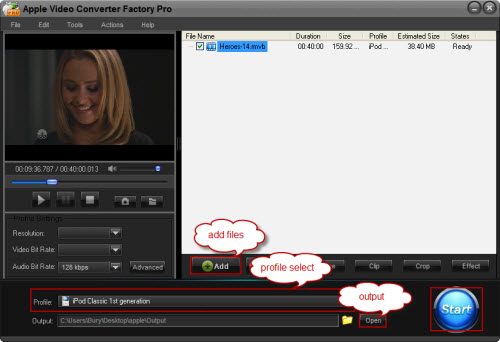 How to Convert Videos to iPad with the Apple Video Converter: 1: Download the Apple Video Converter Factory Pro. Install and run it. > 2: Load AVI files into the Apple Video Converter. > 3: Output Settings. Click "Profile" drop-down list to select iPad video or iPad HD video as your output video format. > 4: Click "Start" button to start your AVI to iPad video conversion.
The whole process is so simple. From now on, how to transfer AVI to iPad is not a problem any more. What are you waiting for? Free try!
Screenshot of Apple Video Converter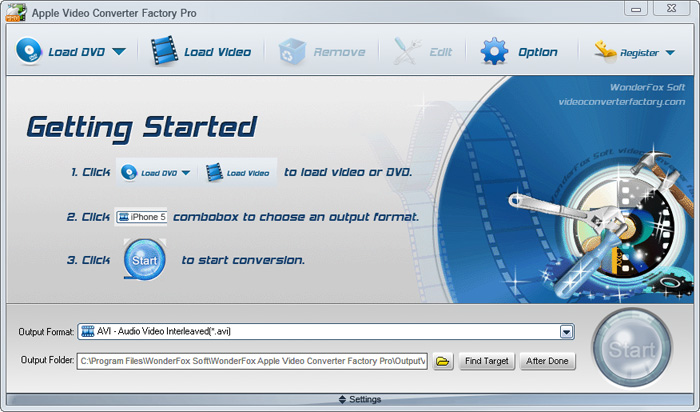 How to Convert Video to Other Apple Devices
If you have several different Apple devices and also want to enjoy videos on them without video and audio format limitation, the below tips or guides may be helpful to you.
If you want to convert iPod music to MP3 so that you can play your iPod music resources on your other MP3 players, it is necessary for you to know how to convert iPod music to MP3. Also, if you want to enjoy MKV videos on yur iPod, Apple Video Converter Factory Pro can help you easily convert MKV to iPod . This powerful video converter can easily help you convert video to iPod Touch 4, convert video to iPod Classic, convert AVI to iPod compatible videos, convert video to iPod Nano and so on. In a word, it can convert nearly all popular videos and audios to iPod series compatible videos and audios.
I hope the above tips and guides will be useful to you, and if you have any problems on using Apple Video Converter Factory Pro, please see the User Guide of this software for more details.