Convert AAC Files to MP3 - Keep the Classical
About AAC and MP3
AAC the standardized, lossy compression and encoding scheme for digital audio, is short for Advanced Audio Coding. The audio compression format is designed to be the successor of the MP3 format. AAC file contains better quality than MP3 at a similar bit rate but with less file volume.
MP3 is also the audio compression format for digital audio files. It is the classical audio format and published in 1993. MP3 is widely used and has tons of fans all over the world. Mostly, when one refers to MP3 he may just means the music. Some people almost regard MP3 as music; MP3 and music are the same. So, someone who gets some AAC music, then he may would like to convert the AAC music to MP3.
But for convert AAC files to MP3, first we have to know how to do it.
The Way to Select Related Software for Convert AAC to MP3
Referring to the conversion work, we may usually need some conversion software; and convert AAC files to MP3 is the same. For how to do the selection, the following is the aspects should be considered about.
1. Operating. This is very basic; the one should be easy to operate for saving some time on learning the guide; 2. Formats. The software should support the popular formats converting; and about the supported format - the more the better; 3. Conversion Quality. The software should serve a fast conversion speed and high quality for enjoying conveniently; 4. Batching Converting. The software should support batch converting; then we don't have to transfer one by one; 5. Free or not is also should be considered. Some software said free but with a hidden fee, that's a kind of cheat.
Steps for Converting AAC to MP3
After having the good software, then is the steps for "how to convert AAC files to MP3". Here I just take Video to Audio Converter Factory Pro as an example. It's the powerful software for audio conversion, and it also support to extract audio from video. The software serves its users to convert in batches and provides fast speed with high quality. And add on some advanced function (merge and clip) just need $9.95. It's cheap and reliable.
Steps: 1. Download and install the software > 2. Click "Add" to import audio/video file > 3. Select output format in "Profile" setting > 4. Click "Start" to begin converting process > 5. Open output profile to get the output audio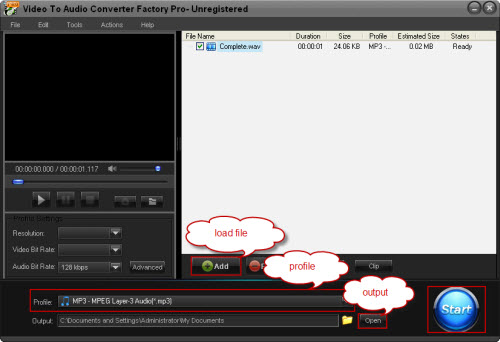 Then, all things get easy for convert AAC files to MP3; if you have a professional and powerful assistant.
Screenshot of Video to Audio Converter