Needless to say, there are different reasons you need free video clip software. Sometimes, you may not need the entire video file and just want to cut out segments from a video.
The Occasions Where We need to Cut Video Clips
1. The video you record is too large and too long. If you are thinking of sharing it with others, you can clip the video.
2. Create a brief publicizing video: impress the viewers with the best part, such as Tourism Promo videos.
3. Collect the classic section: If you don't want to watch the entire video or movie and you just want to watch the classic section, it is necessary for you to know how to cut video clip.
4. Remove unwanted elements. Some videos may contain ads or scences you don't want others to see.
The reasons for trimming, cutting and splitting video are diverse. What you need is a reliable video clipper to cut specific portions. Free while reliable clippers couldn't be better. Here I'd like to share a simple way to clip or split videos with the best video cutter and joiner, WonderFox Free HD Video Converter Factory. There may be various answers to what the best video cutter is, like Window Movie Make, VLC. But if there is a program, totally free and safe, can not only cut video clip in a good way but also join videos and convert video formats to make the video look better, why not use this alternative? Let alone you may spend hours looking for an acclaimed video cutter and converter, only to find it cause you numerous problems.
Some Problems that often Occur When Converting the Clipped Video
1. Go back to the original: Some video converters do have the clip function, but when you get the converted video that you have clipped, it has gone back to the original video - the entire video.
2. Screen and sound are not synchronized: you may often see the image and sound of the converted video are not synchronized even some of them are without sound or image.
3. Low output video quality: Some video converters will make your converted video become foggy with poor quality.
Step-by-step Guide: How to Cut Video Clip
Free download the video clipper and converter here.

Free HD Video Converter Factory
Free download the best video cutter and merger for Windows 10/8/7.You can also use this freeware to convert normal video to HD video without any quality loss! Learn more >
Step 1: Now open the program and navigate to the Converter section. Import videos by pressing "Add Files" or dragging-and-dropping.
Note: Based on tests with different video formats, you are able to clip AVI, MP4, MOV, 3GP videos and any other common or rare formats.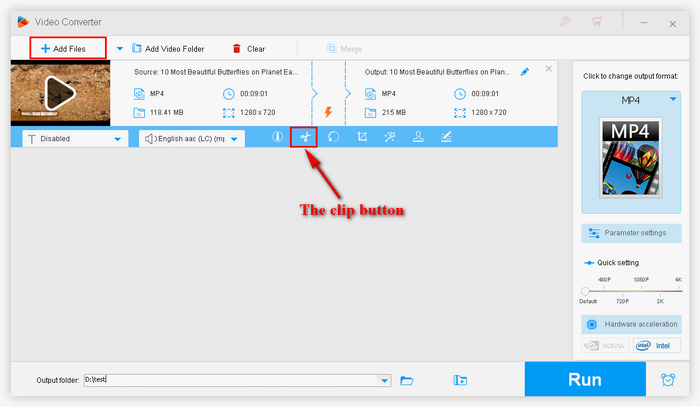 Import video file
Step 2: Click the scissors icon and process the clipping task in the new window. From the image shown below, you can drag the controlling bar to set the start time and end time. To make a precise work, you can input the exact start and end time. Moreover, you are allowed to preview the cutted clip.
Cut video clip
Step 3: Click the green "Trim" button to save the changes and get back to the main interface when you are all set. Press the "Click to change output format" section on the right and select a video format(You can convert original normal video to HD). Or choose a preset device(iPhone, iPad, game console, tablet, 4K TV, etc.) if you want to play the clip on a specific device. Then click "Run" to initiate the clipping process.
Note: You are free to change the original aspect ratio for better watching experience, decrease/increase volume or remove audio, and add subtitles to any video file, etc.
Step 4: Merge video clips into one film(Optional). Click "Merge" on the top of the main interface > select 2+ videos from the video list and click the "Merge" in the middle > repeat to group other clips > click the "Merge" at the bottom > click "Run" and begin the merge process.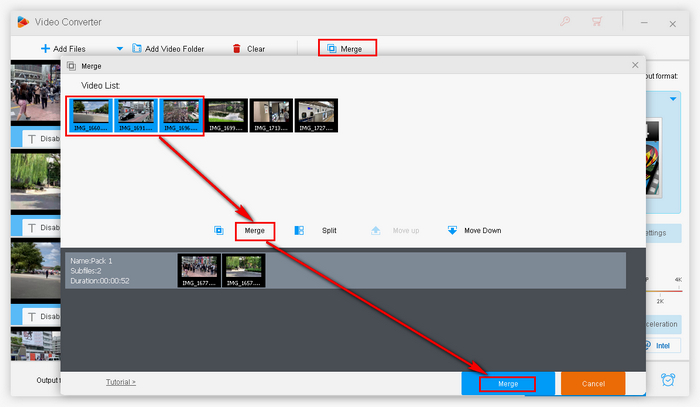 Merge video clips
Tips: How to Choose a Good Video Converter to Clip and Convert Video
If you would like to find another video clipper and converter, here are some suggestions:
1. Most importantly, the video converter has the clipping function or cutting function.
2. Converting functions: output quality and the converting speed should be taken into consideration.
3. Whether it is easy to use and whether it is safe.
There are many video converters that may have the clipping function, but few of them work as they claim. All in all, Free HD Video Converter Factor is highly recommended. It is a versatile and functional video converter, not only can it help you cut video clip, but also can help you convert nearly all popular video and audio formats. If you want to cut clip from a DVD, here's another tip.
More Tips and Guides about Free HD Video Converter Factory
Free HD Video Converter Factory is all in one free video conversion software. This HD Video Converter builds in 300+ video formats and is capable of converting nearly all popular videos besides SD videos and HD videos.
So, it cannot only help you solve how to convert MP4 to MKV, but also assist you in solving nearly all video conversion problems. For example, if you want to convert SD video to HD video, HD Video Converter Factory Pro will help you do it with no effort. And if you want to convert videos from your Camcorders or DV like Sony HD camcorder, Cannon HD Camcorder or some other camcorders, this HD video converter will also give you satisfying results with high converting speed and no quality loss(Featured as Camcorder video converter), for example, it can help you convert MTS video, convert video taken from your DV (Featured as a DV file converter), etc. What's better, with its built-in 300+ video formats, you can convert virtually any video to a wide range of video formats, audio formats and popular digital devices with optimized presets.
Still got question? Submit it to us and get answer within 24 hours.