How to Get Nokia N8 Video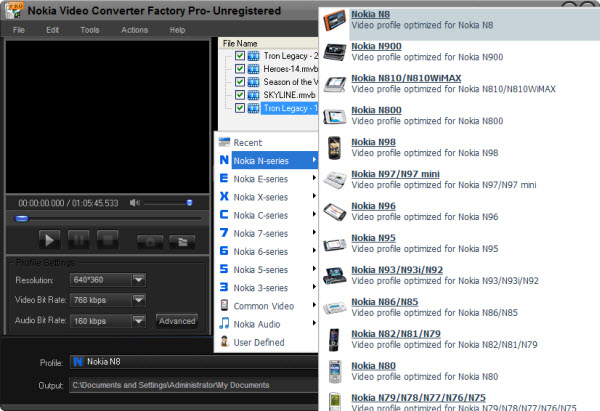 This is Nokia N8
Nokia N8, the first Symbian 3 smartphone from Nokia N-series. Out of its cute outlook, many analyses the phone is powerful and wonderful 256MB RAM, 512MB storage, the up to 32GB memory card etc. Especially the 3.5 inches display, 12 MP camera and 720P HD video playing which are excellent for videos on the phone. But here we may get a problem - How to get Nokia N8 Video?
For getting N8 videos, first we have to clear out what video format does the phone support. Base on some data from the internet, N8 could run MP4, 3GP, AVC, AVI, RMVB, FLV, WMV. Then to get Nokia N8 videos is clear.
Search the Supported Videos Only
After clearing the supported format of Nokia video, for getting video, we just have to search videos on the internet with the right format such as MP4 video, 3GP video. But just searching among the internet blindly?
Here I suggest some Nokia cell phone forum which supplies video with the right format for Nokia such as nokiausers.net. And what's more, the App store for Nokia - Ovi trial is available. All videos there are with perfect format. And I think this is the easy and direct way to get Nokia N8 video.
Some App Supports for Get Nokia N8 Video
Even search the supported videos directly is right, but the resources of the supported forum and Ovi are limited. Such as some new MTV for music which is not updated in the forum or Ovi but just out of the supported format. Then we need the help of some third party software.
Here Nokia Video Converter Factory Pro is available. The software is the professional and powerful conversion software just for Nokia video converting. It is easy to use and support all converting work. Besides, the advanced function (merge, clip, crop and effect) is also available for users to edit videos. But all advantages just cost $19.95.
How to Convert Videos to Nokia with the Nokia Video Converter: 1. Download and install the software > 2. Click "Add" to import videos > 3. Select output format in "Profile" setting > 4. Click "Start" to begin converting process > 5. Open output profile to get the output video. Then, base on the analyses, I think it will be easy to get Nokia N8 video.
More Info and Tips related Nokia Video Converter Factory Pro 4.5
Nokia Video Converter Factory Pro 4.5 is powerful and advanced converter designed to convert all video formats to 3GP and MP4 video formats for X6, X3, N97/N97 mini, N900, N96, N86, N85, N82, N81, 5800, 5230, 5300 and others. It also supports converting and extract audio to your Nokia.
This Nokia video converter provide powerful video editing function such as crop video, cut video, merge video etc.
Nokia Video Converter Factory Pro 4.5 always keep us with the development of Nokia cell phones, will add new profiles for new Nokia cell phones. Now, Nokia Lumia and N series are new and still popular with people, for users who want to convert video to these popular cell phones, Nokia Video Converter Factory Pro can easily help you do that, see the related tips here: How to convert video to Nokia N8, how to convert video to Nokia N9, how to convert video to Nokia Lumia 800, how to convert video to Nokia Lumia 900, how to convert video to Lumia 710
Actually, Nokia Video Converter Factory Pro 4.5 can help you convert any video to nearly all Nokia cell phones models with optimized presets, so you do not have to figure out what the video settings for your Nokia cell phones, you just need to select the device name from the output profile and then all the settings are optimized beforehand. For more tips and how-to tutorials related Nokia Video Converter Factory Pro, please see the Nokia video converting tips center >>.
Screenshot of Nokia Video Converter