Play Video on Cell Phone Make You Enjoy an Easier Life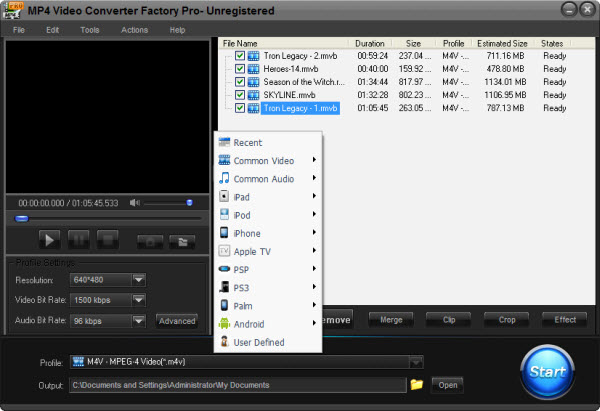 Why is the MP4 Video Format So Popular
When you heard the MP4, I think you must know it. Maybe everybody knows it, but do you really comprehend it? I believe most of people will say no. OK, let me tell you why the MP4 is so popular. MP4 has many advantages. From the audio, MP4 audio quality is more perfect and the compression ratio is greater (15:1-20:1). It adds the perfect reproduction of the stereo, the bit stream scan, multimedia control; reduce the noise which MP3 doesn't have, after the audio compression it is still equipment a perfect CD audio quality. From the video, MP4 video is as clear as DVD, but the volume is only a fraction of the DVD files. From now on, you should know the main advantages of the MP4. Because of its outstanding advantages, many firms launched a large amount of portable devices, such as iPhone, iPod, PSP, Xbox, BlackBerry,etc.
Why the MP4 is Used on Cell Phone
Now you will find almost all the cell phone can support MP4 video format. Because people are very busy, they have no time watch video on computer or TV. They would like to play video on cell phone with MP4 video format. When they have a rest time, most of them will choose play video on cell phone to relax. Except the advantages of the above, MP4 also has a more important feature, that is saving power. When you play MP4 video on cell phone, your battery will last a longer time. But you must clear one point, not all video is MP4 format, it may be FLV, SWF, MKV,etc. If you want to play video on cell phone, I'm afraid it can't be true. But you don't need to worry about it, just take it easy. Continue to read.
Do You Believe That You Can Play Video on Cell Phone with Any Video Format
If you don't believe it, you are a donkey. Here, there is a MP4 video converter can help you solve all your problems. That is MP4 Video Converter Factory Pro. This MP4 video converting program is a powerful Video to MP4 Converter that can convert various video formats to MP4 format, and it is an all-in-one video to MP4 devices converter, including iPhone, iPod, iPad, Apple TV, PSP and so on. It provide powerful video editing function (merge, clip and crop) and video effect (noise, emboss, mosaic, blur, old film). Thus, you can watch the movie made by you. What a wonderful thing! Fast converting speed and batch converting can save your time, good video quality bring you a better mood. It owns friendly and simple interface, and very easy to control all the functions according to your need.
Do you believe that you can own the MP4 Video Converter Factory Pro just within 20 dollars? Yeah, the MP4 video converter is so cheapest, and once you own it, you can convert any video to MP4 and play video on cell phone or other portable devices. When you go on a trip or you are alone, you will not feel bored or lonely. It is worth doing that for you. What are you waiting for?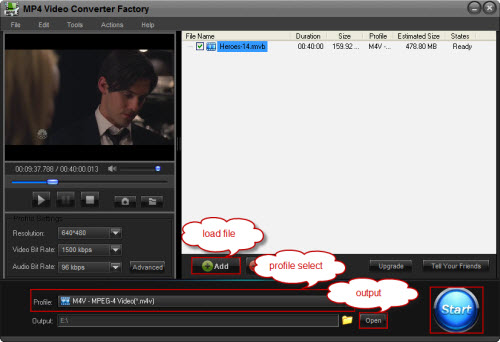 How to Convert Videos to Cell Phone with the MP4 Video Converter: 1. Download and install the software > 2. Click "Add" to import videos > 3. Select output format in "Profile" setting > 4. Click "Start" to begin converting process > 5. Open output profile to get the output video
Screenshot of MP4 Video Converter