Nokia N9 Video Converter, Convert Video to Nokia N9
Play your DVD collection and any video on Nokia N9 or any other Nokia phones with easy steps and preserve high original quality as well.
If you are a big fan of Nokia N9, you know that playing video on Nokia N9 is really great. However, you must have encountered such issue that you can't play all videos on Nokia N9. Even some videos are in the Nokia N9 compatible formats. How did you handle such problem? If you haven't found a good way till now, you must read this article. It will tell you how to convert video to Nokia N9 in a few simple steps. And playing any video or audio file on Nokia N9 is an easy job, even if you travel out without an Internet connection.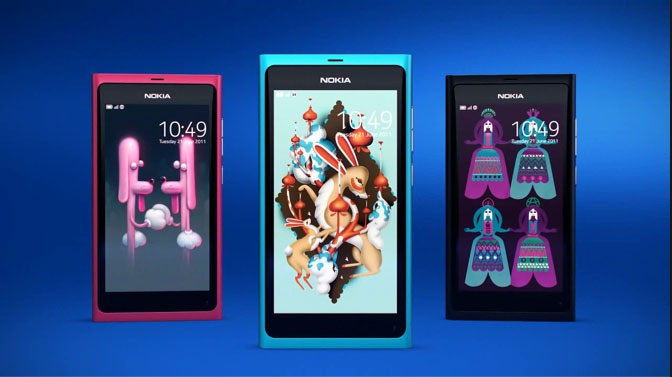 Convert Video to Nokia N9 for Convenient Video Playback
Why We Choose to Convert Video to Nokia N9
No doubt that Nokia N9 is such a great mobile device for enjoying videos. It has a 3.9 inch capacitive touchscreen with a resolution of 854x480 pixels. According to Nokia, it is capable of displaying up to 16.7 million colors. What's more, its 1450mAh batter can support 660min talking time under 3G or 420min under 3G, 50h music playing and 4.5h 720p video playing with the unique MeeGo OS. It's so good to enjoy video on Nokia N9.
But like any other mobile devices, Nokia N9 also holds a problem of video format limitation. The video formats Nokia N9 supports includes MP4, 3GP, AVC, AVI, MPEG-4 etc and the audio formats supported includes MP3, AAC, AAC+, WMA etc. But as you know, there are still many pop video or audio formats outside like MKV, MOV, FLV, FLAC, WEBM, M4A, AIFF and more. That is, you do need a Nokia N9 video converter. Here I'd like to share some useful tips with you.
Tips on How to Choose a Great Nokia N9 Video Converter
It you still don't know how to get a suitable video converter for Nokia N9, you could read these suggestions here. It is pretty simple to find a great one with the following useful tips:
1. An Easy and handy operation mode. Not much experienced skills are required. And even you're the most novice, you can get professional result.
2. Fast conversion speed and high-quality of output video. The video converter can help users convert video to Nokia N9 with excellent video audio quality but in the shortest time.
3. Flexible capability to adjust the media parameters to meet users' various demands for output video effect.
4. Safe conversion process and extra functions. The great video converter should not do any harm to the phone or computer. No viruses, no spywares. Meanwhile it ought to have extra functions, for example, DIY video editing and DVD/video previewing. Users can have more fun.
For these reasons, Nokia Video Converter Factory is really a nice choice for you to enjoy the conversion process. The great Nokia N9 video converter can always convert video at a fast speed without Zero loss.
Steps to Convert Video to Nokia N9 with Nokia Video Converter Factory
This video converter for Nokia can not only convert video to Nokia N9 with fast speed but also preserve high video quality. Besides, it's pretty easy-to-use making users operate the whole conversion process with a few clicks.
Download the Nokia Video Converter Factory and install it.

Step 1 – Add Video Files First
Run the software and click the "Load Video" button to import some videos to the Nokia N9 video converter.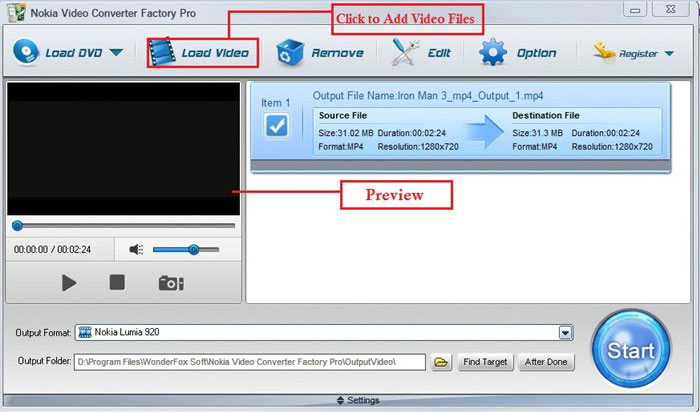 Note: Actually this Nokia N9 video converter also enables you to copy encrypted DVD to your Nokia cell phone as well as convert YouTube to Nokia. In addition, when you input some videos, you'll directly preview them and get the information of their video formats or resolutions, etc.
Step 2 – Choose "Nokia N9"as the Output Video Format
Click the output format dropdown list and select "Nokia N9".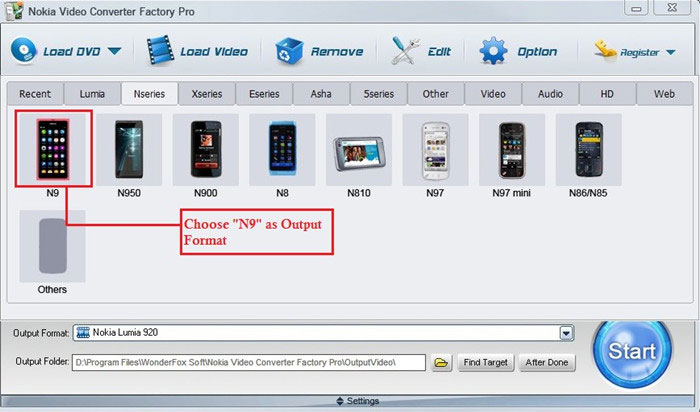 Note: This tool supports not only Nokia N9 but also many other Nokia mobile devices like Lumia 2520, Limia Icon, Lumia 1520, Lumia 800, Nokia N8, Nokia N9, Nokia N97, E Series, X Series, 5 Series, etc. Or you can also convert video to any pop video format including HD videos or web video formats like FLV, SWF or YouTube Video.
Before you convert video to Nokia N9, you are able to edit the video as well. Applying special effects like Brightness, Contrast, Saturation, Mosaic, Sharpen, Emboss, Old Film, etc or cropping video or merge video clips is also available. (Optional)
Step 3 – Choose an Output Folder and Start the Conversion  
If the above two steps are finished, you can now choose an output folder and then click the big "Start" button. Just wait for a few minutes, the task will be accomplished.
Have a Free Trial Now:
Enjoy More with the Advanced Edition of Nokia Video Converter Factory
I use WonderFox DVD Video Converter as the best alternative to Nokia Video Converter Factory as I have more than one portable device. Besides, WonderFox DVD Video Converter is in the Top DVD Ripper list in 2014. It can not only let you convert DVD/video/audio to Nokia N9 or other Nokia devices, but also transfer them to iPhone 5S/C, iPad, Android, Samsung Smartphone and tab, Kindle Fire, Surface, PSP, BlackBerry, HTC, TVs (Samsung TV, Sony TV, Panasonic TV and more are included), etc. The video and DVD converter has added optimized presets for all the devices.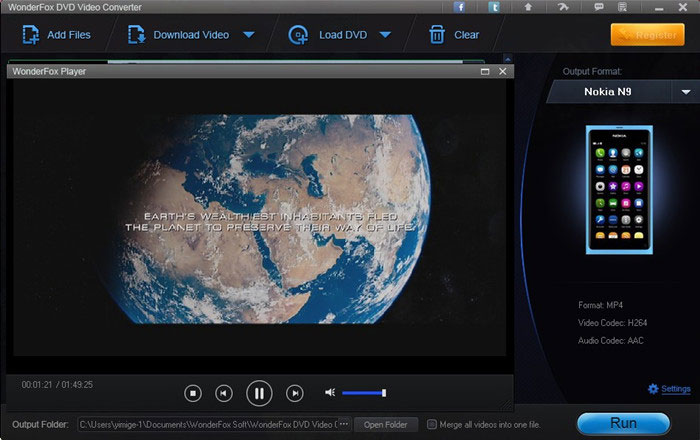 In addition, download video from YouTube, Vimeo, Facebook, Metacafe, Liveleak, etc. Enjoy more on the go. Free download the DVD Video Converter if you need.
Enjoy More with the Advanced Edition of Nokia Video Converter Factory
It is a powerful and advanced converter designed to convert all video formats to 3GP, MP4 or any other video formats compatible with X6, X3, N97/N97 mini, N900, N96, N86, N85, N82, N81, 5800, 5230, 5300 and others. It also supports you to convert between any pop audio format and extract audio from video or DVD to your Nokia. See the related tips here: how to convert video to Nokia N8, how to convert video to Nokia N9, how to convert video to Nokia Lumia800, how to convert video to Nokia Lumia900, how to convert video to Lumia710.
With this software, you do not have to figure out what the right video settings for your Nokia cell phones. What you need to do is to select the device name from the output profile and then all the settings are optimized beforehand. For more tips and how-to tutorials related, please see the Nokia video converting tips center.
The Nokia N9: First released in September 2011, it was the first and only device from Nokia with MeeGo.