What is MOD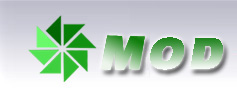 What is MOD
MOD format is more a music than a sound format.A group of digital music files ypes produced by a variety of software applications (trackers). Mod files include sequencing information and waveform samples, and may be compared to XMF files. It is more a music than a sound format. Files of MOD format store digitized instruments and contain a musical score which produces a lengthy composition with a very small amount of data. There have been various extensions to this format, but SoundApp only supports a subset using two different drivers. Among them are Amiga SoundTracker, NoiseTracker, Protracker, Amiga StarTracker (4- and 8-track), Oktalyzer (4-8 tracks), Amiga MED/OctaMED (4-16 tracks, MMD0/1/2 formats), IBM FastTracker (4-, 6- and 8-track), IBM TakeTracker (1-32 tracks). Using the ZSS driver, SoundApp also supports S3M (ScreamTracker 3), MTM (Multitracker) and IT (Impulse Tracker). Playback of XM or 669 files is not currently supported by either driver.
MOD is also a video format, usually from a HDD video camera like a JVC Everio. It is a modified mpeg2.
Applications of MOD
MOD video can be viewed on a computer with a player that is capable of reproducing MPEG-2 video. Renaming the file extension from video.MOD to video.MPEG might help software like VLC Media Player to recognize it as a valid format. This video can be easily authored for watching on a DVD player without recompression, because it is fully compliant with DVD-video standard.
Related Software
Video Converter Factory Pro; it is easy to use; it can convert all popular video\audio formats to MOD. It offers super fast video converting speed, stable converting process and excellent video quality. What's more, its additional features enable you to convert videos more flexibly.
Related Source
AVI MP4 MKV MOV MPEG MPG WMV RM ASF RMVB Real Video Video 3G2 3GP 3GPP M4V VOB DVD FLV VCD CD Matroska