WonderFox DVD Ripper Pro Overview
Open WonderFox DVD Ripper, and you'll see a friendly and intuitive interface shown below. It contains the Toolbar, Preview, File list, Output format, Parameter, Clear and RUN button.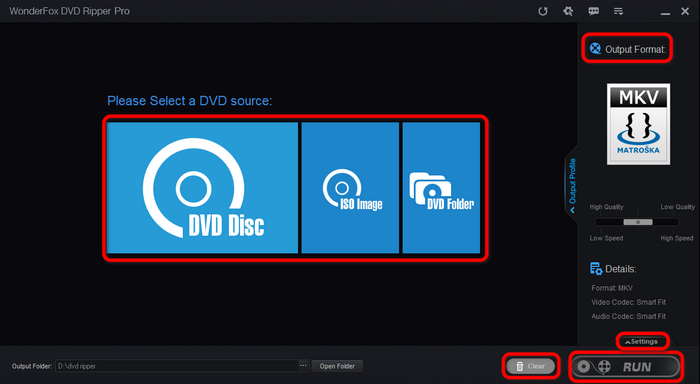 Toolbar:
Toolbar contains three main feature buttons for ripping DVD, including DVD Disc, ISO Image and DVD Folder. Choose one mode to load according to the type of DVD source.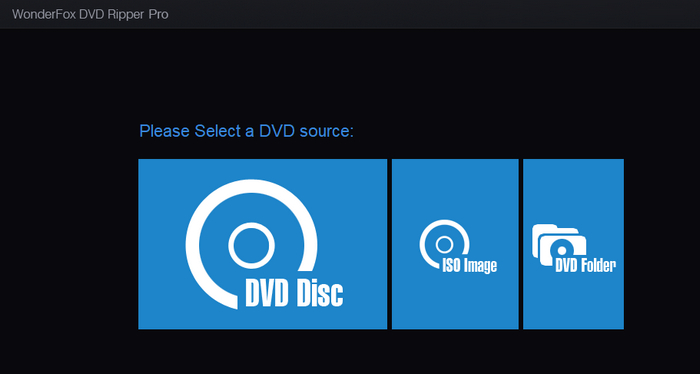 DVD Disc:
Insert the DVD into CD-ROM, and press the DVD Disc button to select the target DVD.
Click OK to load the DVD.
ISO Image:
If you'd like to rip ISO image file, just simply press ISO Image button.
Find the ISO image file on your hard drive, and click OPEN to load ISO Image.
Note: If you want to load DVD ISO, you should have the file in the type of ISO and with the file extension of .iso.
DVD Folder:
DVD Folder feature can help you to load the information from a standard DVD fold including AUDIO_TS and VIDEO_TS stored on your hard drive.
PS, if you want to load DVD from a folder, the DVD's information should be intact, including the files like *.IFO, *.BUP and *.VOB
1. Press DVD Folder button and browse the DVD folder on your hard drive.
2. Click OK to load the information from the folder.
You can also press Clear button to remove the information.
Preview:
The Preview Window enables you to preview the target video. It contains Playblast Window, Timeline, Stop, Previous, Play & Pause, Next, Volume Control.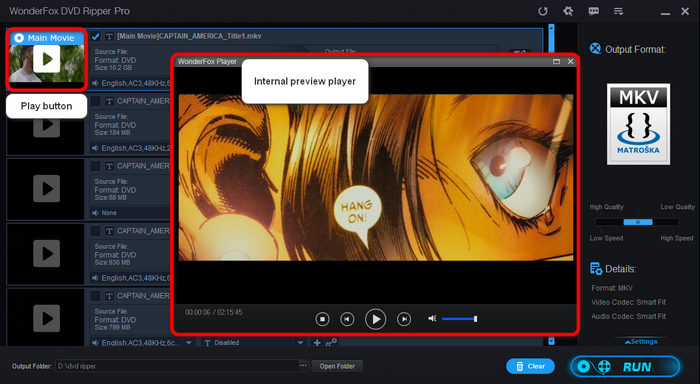 Press PLAY icon on each video, and the Preview Window will pop up. You can preview your video in the Playblast Windows.
File List
File List Window shows the DVD preview, Title, Source File Info, Output File Info, Audio, Subtitle and Edit. You are able to choose every chapter of this DVD disc as you like.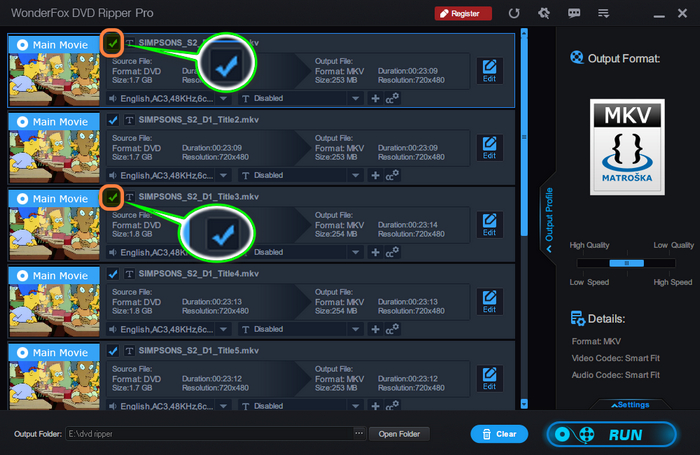 DVD Preview:
The DVD screenshot is automatically captured by WonderFox DVD Ripper. Some files show a black image since the video is located in a black frame at the capture timing.
For Encrypted DVDs, there are up to 99 titles and most of them are fake ones, just to confuse users. WonderFox DVD Ripper will analyze the main movie for you which is marked in blue at the DVD Preview part. You can distinguish between the Main Movie and Other Video easily. The main movie file is selected automatically by the program.
Title
It allows to rename the video title you choose.
1. Click the Text button beside the title to rename it.
2. Type the new name into the input box.
3. Click OK to finish it.
Source File Info:
The source file info shows the original format, duration, original size and resolution.
Output File Info:
The output file info shows the output format, duration, output size and resolution.
Audio
It enables you to define the output audio track.
Subtitle
It enables you to select the subtitle language and add the subtitle.
Edit:
You can personalize your video by clicking Edit button. The built-in editor is able to provide you powerful video editing function.
1. Add rich video effects: Brighten, Sharpen, Contrast, Emboss, Noise, Old Film, Mosaic, etc.
2. Crop Video: Can remove the black bars within DVD. What's more, it enables you to cut off unwanted area to feature a highlight.
3. More edit function: Flip Horizontal, Flip Vertical, Rotate and Snapshot.
4. Provide real-time preview to ensure the optimal video quality.
Output Format:
WonderFox DVD Ripper provides multiple video formats for users to choose. The smart fit feature will set the best parameters for general users. Even computer novices can handle it with ease.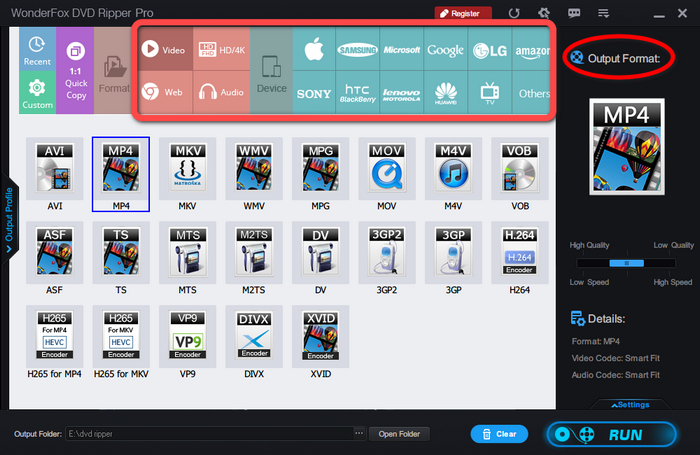 Rip DVD to Popular Videos/Audios.
This professional DVD Ripper enables you to easily rip any DVDs to popular videos (HD 1920*1080 and SD videos) and audios, e.g. DVD to HD AVI, HD MP4, HD MOV, FLV, HD WMV, AVI, MP4, VOB, MKV, WMV, MPEG, MP3, OGG, FLAC, MKA, WMA, etc.
Rip DVD to web video
It is fully compatible with YouTube, Facebook, Myspace, Yahoo video, etc.
Rip DVD to Popular Portable Devices.
WonderFox DVD Ripper supports ripping DVDs to a wide range of portable devices with optimized profile, like, DVD to iPad mini 2, iPad air, iPhone 5S/C, iPhone 4s/4, iPod series, Apple TV, BlackBerry Cell Phones and PlayBook, Sumsung Galaxy series, Tab, Note, Nexus, HTC One M8, Flyer, Vivid, Sensation, EVO 4G, Desire, Nokia Lumia 900, N9, N8, 5800, Sony cell phone and game player, Microsoft Surface, XBox, Zune, etc... (More than 100 mobile devices)
1. Click the Output Format Icon or Output Profile expand button, it will show you the output format combo box.
2. Select the video format or portable device format as you want.
3. Slide to choose the video quality. (optional)
4. Click RUN to start the progress.
Parameter:
The best parameter has been set for general users. You can simply slide to change the video quality.
For advanced users, the detail parameters are displayed on setting panel. The output setting includes video settings, audio settings and advanced settings.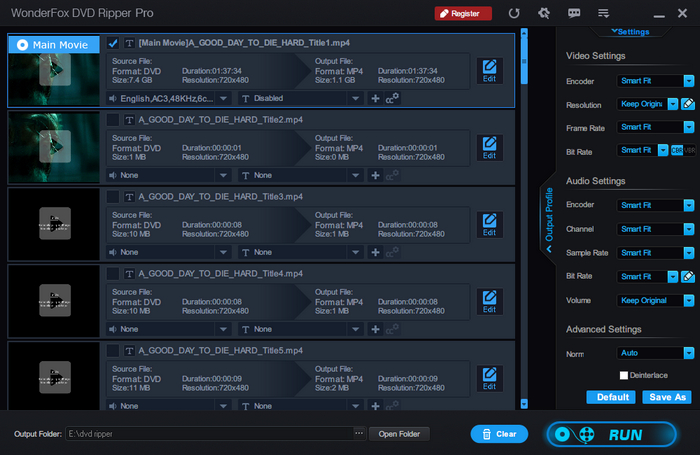 Encoder: it also influences the video quality and compatibility
Resolution: it influences the image size
Frame Rate: it influences the process of video playback
Volume: it's free to charge the volume of the output file
1. Click the Settings button to expand the setting panel.
2. Define the encoder, resolution, frame rate, bit rate (CBR/ VBR), volume and norm according to your need.
3. You can restore the settings by clicking Default.
4. After the parameters are ready, you can click Save As to save the personalized output format to User-defined tab.
You can change the output fold at the bottom tool bar. It's highly recommended to change output folder to non-system partition, like D:\, E:\....
Clear & RUN:
You can empty the file list quickly by click Clear button.
RUN is the button to start your rip progress. And it will turn to Cancel button during the rip progress.
For more information about WonderFox DVD Ripper, please visit:
https://www.videoconverterfactory.com/dvd-ripper/