As we all know that MOV is the video file format which was been designed by Apple in order to compatible with its sorts of digital products, such as QuickTime Player, Mac operating system, iPad and iPhone, etc. However, MP4, as the most popular and commonly applied video file format, is compatible with more devices than MOV. Therefore, it is very natural for us to learn how to convert MOV to MP4. Nevertheless, there are so many different types of converters in this field desiring to have a finger in the pie. In the following part, I will share with you some of my personal suggestions over this converter-choosing task.
Comparing MOV to MP4 Converter with Online Converters
As we can see there are countless online converters widely spreading on the internet. And I have to admit that only a handful option of them can really get your work done, but to be honest, you might be unsatisfied with the outcomes due to several common defects of online programs.
1. Low output video quality
The poor encoders and low bitrates will result in low output video quality, which is definitely not what you want to end up with.
2. Limited available formats
Online converters also provide less useable formats for you to pick than this specialized formats conversion program. It can not only enable you to change MOV to MP4 and vice versa, but also convert WMV to MP4, change SWF to MP4, and so on.
3. Risks of privacy leakages
With the fast development of information technology, we can get much fun from the internet, but at the same time, our personal life are exposed to unfamiliar or even total strangers. But I think all of us really need to protect the bottom line from the internet. And this MOV to MP4 video converter is the best choice to both get your work and protect your privacy.
So, converting MOV to MP4 in a much safer way you need to firstly free download this powerful program and install it on your computer.
Converting MOV to MP4 with Three Simple Steps
Now that you are already have a rough impression on this program, for example, it can help you to convert from MOV to MPV, and also supports other hot formats conversions. Let me show you how to convert MOV to MP4 with simple clicks.
Step 1: Add MOV files
To start your trip to convert MPV into MP4, you are supposed to double-click the left mouse button or click the right mouse button and hit open, then you will see a brief interface appearing in front of you. Select "Converter" on the start-up window. Now, look at the top left corner of the new interface, click the "Add Files" icon to choose your MOV file or you can directly drag MOV video from your desktop.
(Tips: This free converter allows you to convert one file at a time, if you need to convert multiple videos, here is still a Pro version for you to use.)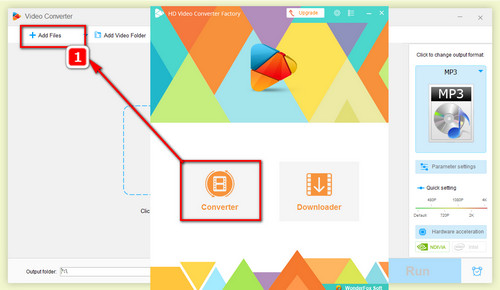 Add MOV File
Step 2: Set MP4 as the Output Format
After inputting the original MOV video into the converter, then you can choose MP4 as the output format by selecting from the output format area on the right side of this interface, and don't forget to choose an output folder in case you can't find the converted video, this is showing in the below image where the red arrow pointing at.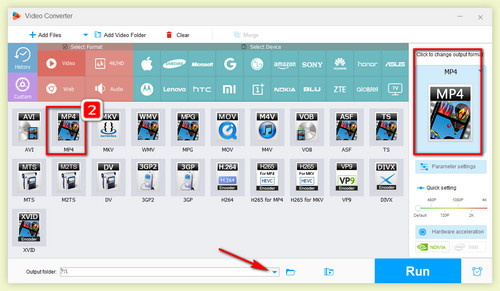 Set MP4 as the Output Format
Step 3: Click "Run" Button
Now, you are arriving at the last step. Clicking the "Run" button at the lower right corner. And waiting a few seconds, you can convert QuickTime video to MP4.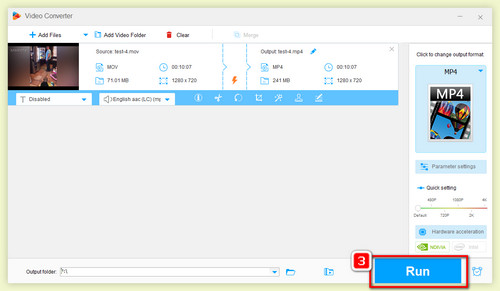 Click "Run" Button
More Featured Functions For You to Try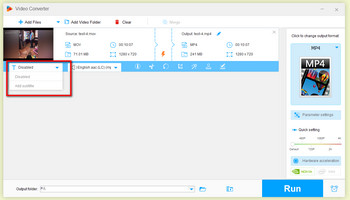 Add or Remove Subtitles
1. Add External Subtitles
As the picture shows, you can add external subtitles to your converted video in order to watch films in your native language. Besides, you can also remove subtitles if they are soft subtitles by hit "Disabled".
2. YouTube Downloader
I have used this feature to download horror movies, download Christian music and download Christmas videos. Of course, you can download whatever you want from YouTube with the help of it.
Warm Prompt: If you want to upload your homemade videos or your special talents shows onto YouTube, then you can turn to its Pro version. As I know one of my friends have converted MP4 video to SWF and uploaded it on YouTube several days back.
3. Video and Audio Combiner
If you are crazy about audio books, then this function is just customized for you. It is really a time-saving method for you to locate the right chapter once you combine MP3 audio books together. Besides, you can also join video clips together making them orderly on your computers or phones.
Now, please download the Free HD Video Converter Factory to complete your jobs.
More Special Features on Free HD Video Converter Factory
Extract soundtracks from film/video
Various media formats, optimized profiles for 220+ hot devices
Download video from YouTube. Freely select output video size before downloading
Provided with an built-in video editor
Can compress video with best quality but smallest size
Fastest conversion speed, 30X speed up supported