How to Remove Region Code from DVD in Several Easy Ways?
Better and faster solutions to remove region code from DVD ever
"I live in U.K., and I came back from holidays from Brazil, where I bought some DVDs. But here is my problem, I cannot play the DVDs that I bought there. Is there any way to make them region-free? And if someone knows something that could work?" This is a typical problem caused by region code which limits DVD playback. In this article , I will recommend some ways to deal with this issue. An amazing software to remove region code from DVD will also be brought in.
Download this powerful DVD region remover to make your DVDs playable wherever you are: https://www.videoconverterfactory.com/download/dvd-ripper-s.exe
Updated on Jan 28, 2021
What is Region Codes for DVD?
Region code for DVD or DVD Region Code is a kind of protection, something like a lock system
enabling film distributors to control aspects of a release (DVD movie content, release date and price according to the region included).
As you can see, there're now six major DVD regions. Region 1 discs won't play on a DVD player which comes with region 2. Region 2 discs won't play in a player of region code 3. In short, the region where the disc has been purchased can 'only' be played on systems manufactured in that very region.
But there are many occasions where we buy a DVD disc, its region code doesn't match where we buy our DVD player and where we live. So we need to find ways to play DVD in other regions. This article is going to give the best method to convert DVD to region free.
DVD Region Code Map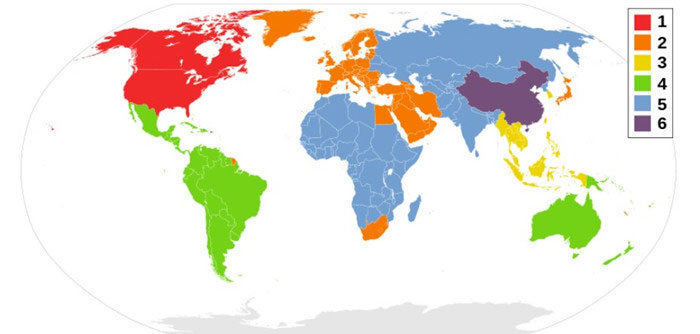 For your reference, below are the countries and region codes they belong: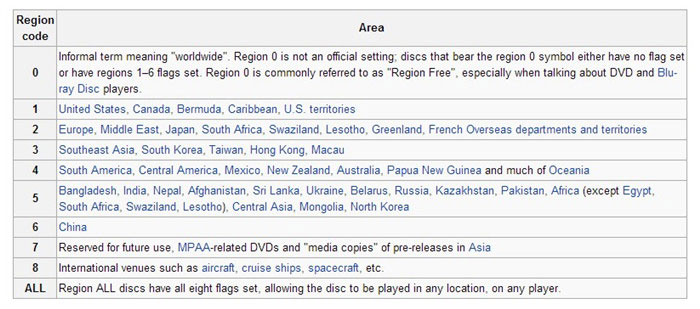 Four Ways to Play DVD in Other Regions
Generally speaking, region code is a necessary method to protect DVDs in their release of aspect and prevent DVDs from damage caused by piracy. But on the other hand, it also cause a relatively big inconvenience. People can only play the DVD whose region code match the DVD player they use. So, people should be wondering if there are any ways or tools to remove region code from DVD or unlock DVD region.
Tip: Want to know whether it is legal or not to rip DVD, read this - Is it legal to rip DVD?
Method 1 – Use a Professional Free DVD Region Code Remover to Remove Region Code from DVD
With a professional DVD region code remover, you can not only remove region code from DVD easily, but also are able to rip the movie content to common format like MP4 and AVI. Thus, we can enjoy DVD movies directly on your laptop without a DVD drive, tablets, or even mobile phones anytime anywhere.
WonderFox Free DVD Ripper Speedy is a highly suggested DVD region converter freeware to convert region 1 to region 2, or convert region 2 to region 1. It has the full ability to make DVD region free. Besides, the DVD region free software is able to remove DVD CSS, RCE, Sony ArccOS, UOPs, and decrypt Disney X-project DRM, Cinavia Protection.

DVD Region Converter Free Download
Download the best DVD region remover to decode region 1 DVD, rip region 2 DVD or convert the DVD to common formats like MP4 and AVI for smooth playback on PC without DVD drive or on portable devices?
More features>
Method 2 – Change DVD Drive on Computer or Laptop
Open My Computer > Right click your DVD drive > Properties > Select the Hardware tab
Under All disk drives select your DVD drive then select Properties > DVD Region tab
Select which region you want to change it to.
Tip: Usually you only have limited times to change region. And once you have set the region five times, it can't be reset anymore.
Method 3 – Use Freeware and Open Source DVD Players
There're many open source software DVD players. You must have heard of or downloaded VLC. Yes, it's one of the most favorable media players at present. VLC ignores region coding that it doesn't attempt to enforce region coding. However, it requires access to the DVD's raw data to decrypt CSS. And such access may not be available on some drives with RPC-2 firmware when playing a disc of a certain region that is different from the drive's.
Method 4 – Buy a Region Free DVD Player
You can buy an all-region player or a multi-region DVD player. It lets you play any DVD without any quality loss. But can you afford to pay for the high price?
Step-by-step Tutorial on How to Remove Region Code from DVD with the Best Region Free DVD Ripper
Preparation: Insert region 1/2/3/4/5/6 DVD into your DVD-ROM. Open DVD region decoder now.
Step 1: Click on the big "DVD Disc" button. You can select a DVD letter from multiple drives including visual drives. Then at the bottom of the interface, preset an output folder for the video your DVD will convert to. At last, click "Ok" to begin DVD analysis (DVD change region code in this process).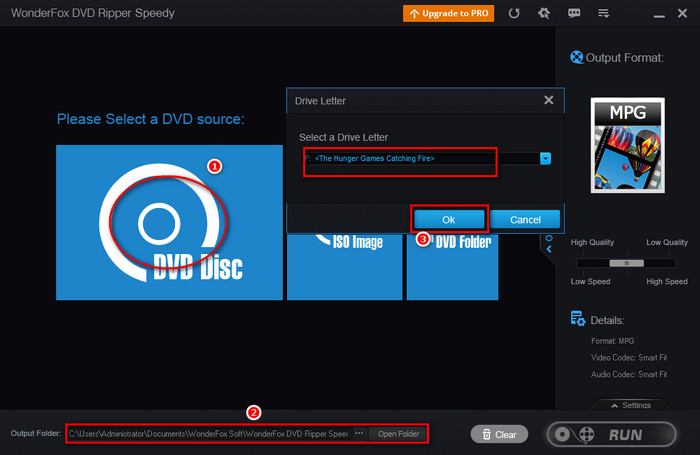 Step 2: The output format is set to MPG. You are able to control output movie quality by simply dragging the quality controlling bar or do more setting on video/audio parameters.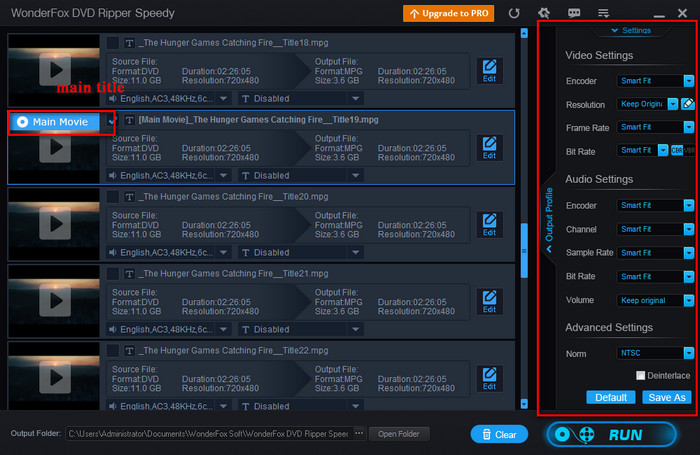 Step 3: Click "Run" to start ripping process. It will take only several minutes before a 10GB size DVD gets completely ripped and compressed. You will find the output video in the folder you preset before.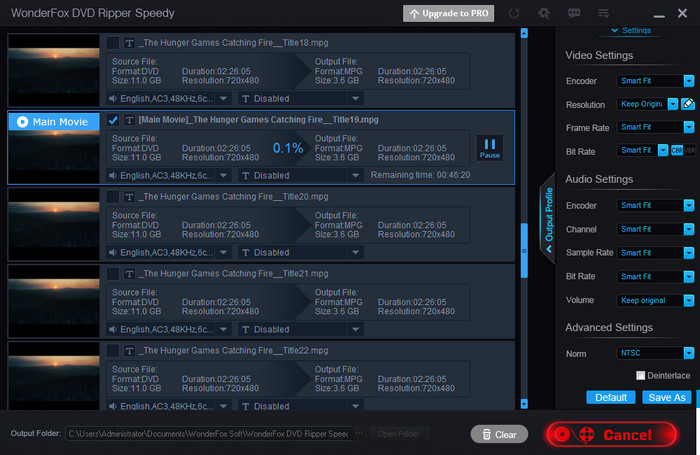 Other Tips:
1. You're able to add subtitles (.SRT and .ASS included) to DVD and video.
2. With a built-in video editor, you can also do many DIY editing to retouch your video, such as add special effects, crop video, and rotate video file.
Still have trouble about region code? Please feel free to
Most Popular Articles
Top DVD Ripper Review in 2021: List top 4 DVD Rippers now and also provides professional reviews.
Rip DVD to MPG(MPEG) to Backup Your DVD Movie - Watching DVD in home theater is a great choice for people who have no time to go to the cinema while it confines watchers to home. As for DVDs, there is much more inconvenience.
Convert SD to HD format: You're able to convert video/audio file to most media formats, including SD video to HD video.
Test Review on Two DVD Region Remover: Deep test in two fast HandBrake Alternatives.
DVD Decrypter Alternative: More Versatile, Faster DVD Ripper: Best DVD Decrypter alternative to rip DVD in Windows, proving you with one-stop solution to convert your impressive DVD collection to your portable device or TVs.
Related Software
WonderFox DVD Video Converter – WonderFox Free DVD Ripper Speedy advanced edition, empowering you remove region code from DVD with 0 quality loss and transfer DVD content to any video formats as well as any of your portable gadgets.
HD Video Converter Factory Pro - equipped with advanced High-Definition (HD) video conversion technology. It can help users convert videos from Standard-Definition(SD) to High-Definition(HD) like HD MP4, HD MKV, HD AVI, HD MTS, HD TRP and also enables users to cut down the video size (convert HD videos to SD videos)
Video Converter Factory Pro - easy-to-use video conversion software inculdes 100+ formats and devices are supported
WonderFox DVD Ripper Pro - A professional DVD ripping tool, bypass encrypted DVD and region code, and convert DVD content to most video formats and handheld devices
Related External Resource
DVD region code: A kind of protection, enabling film distributors to control aspects of a DVD release.
Want to enjoy a complete movie night with your family instead of waiting long time for conversion? WonderFox DVD Video Converter is the best choice, which provides one-stop total solution to Rip DVDs (Disney, Paramount, Sony Included), Convert videos, Download online videos, Edit and Play movies/video with excellent performance.