Q: I have downloaded a VIDEO_TS folder from a torrent site. But the VIDEO_TS folder has various .IFO, .BUP, .VOB files. How can I convert the VIDEO_TS folder into something like MP4 or AVI watchable on my computer?
Q: I am trying to post my DVD to YouTube, but the .vob file needs the other files in the VIDEO_TS folder so I can't just upload the .vob file. I wander if there is a program that can let me convert the whole folder into one MKV or WMV file.
Q: Bought a movie in DVD from a local library which I copied in a blank DVD-RW disc. It didn't copy as a movie file just like a data disc did. So now, I want to convert the VIDEO_TS file into any of the media formats (AVI/MPEG/MOV/WMV). But I don't know how to do that.
What's VIDEO_TS?
A DVD movie usually has two directories - VIDEO_TS and AUDIO_TS. AUDIO_TS folder is a file folder where DVD-Audio would be stored, but usually the folder is empty. And VIDEO_TS folder is a file folder containing all data for a DVD movie. There are three kinds of VIDEO_TS files inside the folder which are required to play a DVD movie: VIDEO_TS.IFO, VIDEO_TS.BUP, and VIDEO_TS.VOB.
VIDEO_TS.VOB - Video and audio data.
VIDEO_TS.IFO - Configuration files with information like menus, subtitles, aspect ratio, languages etc.
VIDEO_TS.BUP - Backup of the information.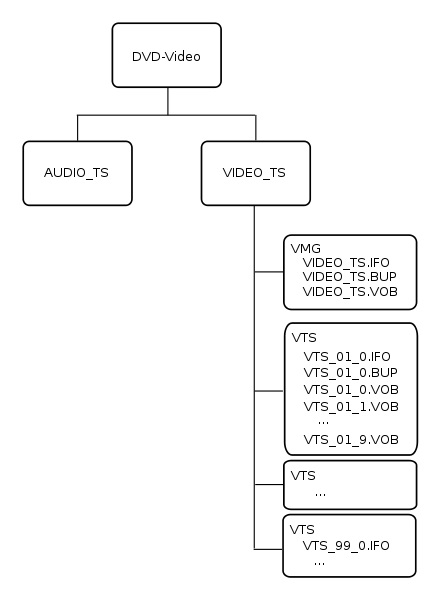 DVD Directories and Structure
Two Simple Methods to Play VIDEO_TS Files
Method One - Convert the VIDEO_TS Folder to MP4
Why convert VIDEO_TS to MP4? Not only is MP4 widely used with good speed, compression, hardware decoders, and video quality, but also it's perfectly compatible with most portable devices. So how to convert VIDEO_TS to MP4? WonderFox DVD Ripper Pro is such a handy and powerful VIDEO_TS converter which enables you to convert DVD folder to a wide range of video audio formats and portable devices for convenient playback. Free download here, install it and follow the step-to-step guide below.

WonderFox DVD Ripper Pro
WonderFox DVD Ripper Pro offers you the best VIDEO_TS to MP4 solution as well as DVD disc and ISO image file so that you can enjoy DVD movies on PC, tablet, smartphone, TV or other devices anytime and anywhere. Learn more >
1. Import VIDEO_TS Folder
Launch this VIDEO_TS to MP4 converter, a cool black interface will appear in front of your eyes. It's important to note that you're supposed to create a new folder and place VIDEO_TS Folder into it since VIDEO_TS Folder cannot be imported individually. Click "DVD Folder" button to import your VIDEO_TS Folder. This VIDEO_TS converter will analyze and mark the main title automatically. You can choose the subtitle in the main movie section or add external subtitles.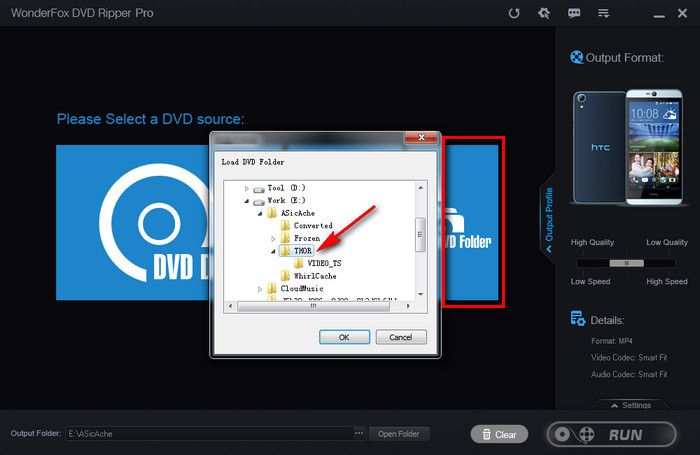 Add VIDEO_TS Folder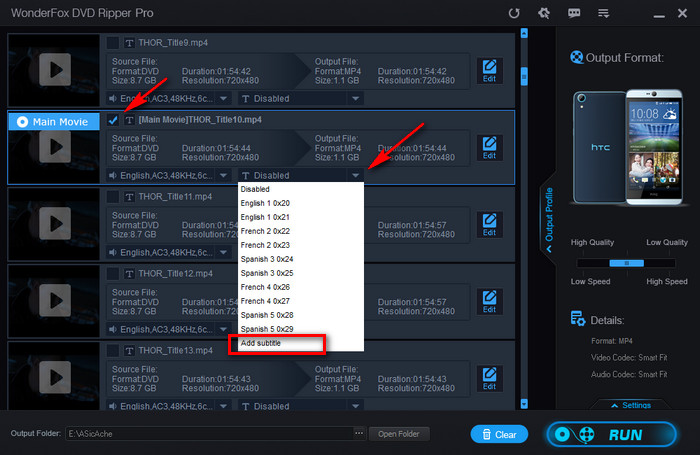 Add Movie Subtitle
Note: You're allowed to load DVD disc directly after inserting DVD to DVD-ROM, or import the ISO image file. With the unique powerful DVD decryption technology, you can handle almost all commercial protected DVDs including the latest DVDs. Except for DVD movie, you can also rip TV series DVDs and fitness workout DVDs like Game of Thrones Series DVDrip, FOCUS T25 DVDrip, P90X DVDrip, etc.
2. Select MP4 as Output Format
A wide range of video audio formats and portable devices will spread out after clicking "Output Format" profile. Choose MP4 under Video tab. After that, you are allowed to click Settings "button" to change resolution, encoder, bitrate, frame rate, boost audio volume, etc. Just keep smart fit if you're not familiar with the parameters.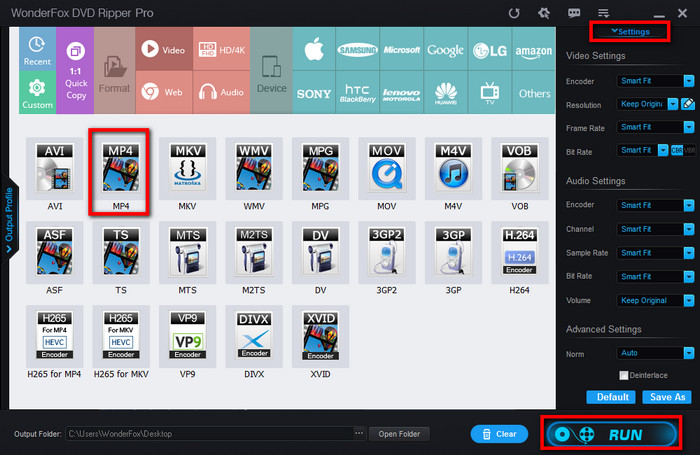 Select MP4 Format & Adjust Settings
Note: Similarly, you can convert VIDEO_TS to AVI, VIDEO_TS to MKV, VIDEO_TS to WMV or any other format or device.
3. Start VIDEO_TS to MP4 Conversion
Set your output folder, and click RUN button to start to convert VIDEO_TS to mp4. It will be finished in the shortest possible time (about 20 minutes to rip a 150 minutes DVD to MP4) to compress a 7.5GB DVD to about 1.3GB with original quality.
Method Two - Play VIDEO_TS Files with VLC
VLC media player is a free and open source cross-platform multimedia player. If you're tired of waiting for video conversion, you can play VIDEO_TS files directly in VLC media player.
Click "Media" on menu bar => choose "Open Folder...", or press shortcut key "Ctrl+F" to load your VIDEO_TS folder => click "Subtitle" on menu bar to select the subtitle while playing DVD movie if needed.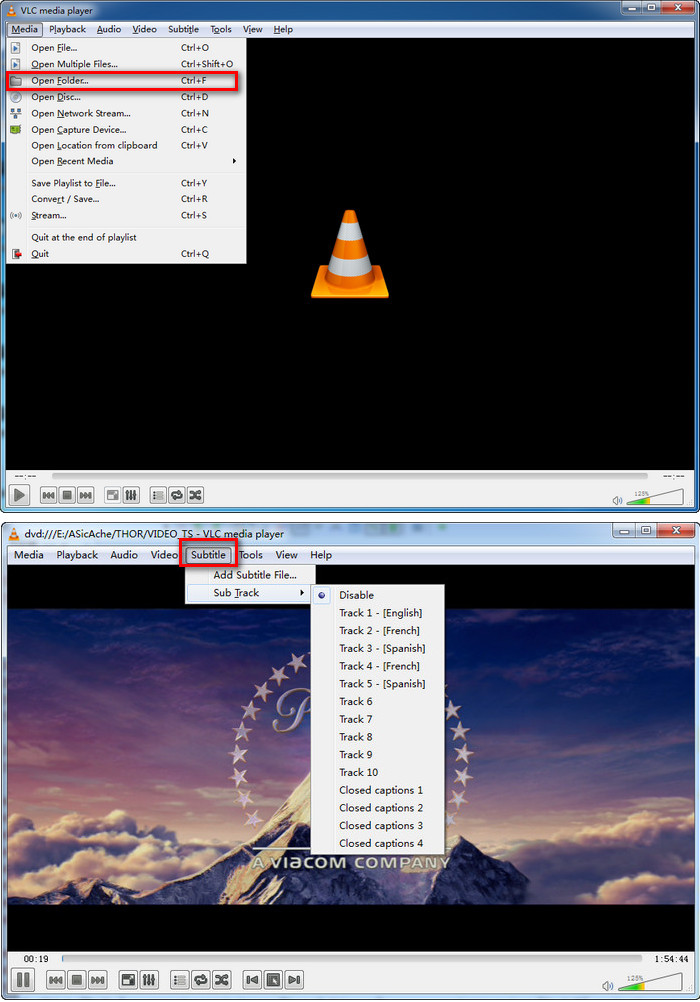 Open DVD Folder & Add Subtitle in VLC

Congrats, problem solved now! Why not keep the full-licensed program for
LIFETIME
at lowest price now!
Still got question? Submit it to us and get answer within 24 hours.