How to Register WonderFox DVD Ripper Pro
You may concern about the following questions regarding registration.
What Benefits are Available if I Purchase Your Products?
The unregistered version is limited to rip 15-MINUTE of each DVD for evaluation purpose. More benefits are offered after purchase.
1. ALL functions are available. (15-minutes limitation removed)
2. Perfectly rip any encrypted DVDs with DVD CSS, region code, RCE, Sony ArccOS and more latest encrypt technology.
3. Enjoy super fast conversion speed; 30x faster conversion speed than ever before.
4. Free technical support service through live chat and email response within 24 hours.
5. Lifetime free upgrades and free retrieve registration code.
6. Get discount for purchasing other products.
Purchase link: https://www.videoconverterfactory.com/dvd-ripper/buy.html
How to Register WonderFox DVD Ripper?
Once you complete the online order, you will receive your license code immediately. Please find the License Code in the email delivered to you, and you can use the license code to register WonderFox DVD Ripper as follows: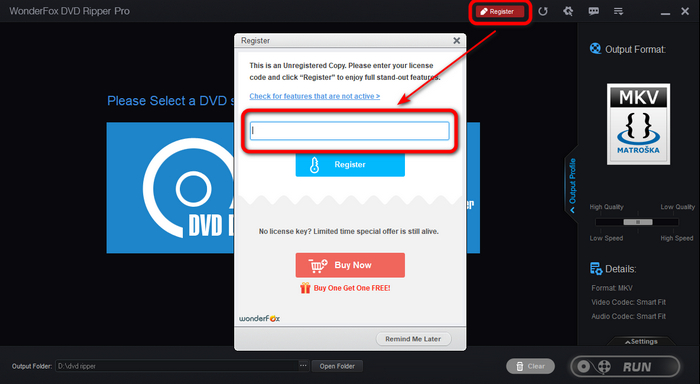 1. Click the Register button at the top navigation bar, and you can see a pop-up window.
2. Click Enter License button at the bottom-left of the pop-up window.
3. Enter, or copy and paste the license code you've got to input box. And click Register Now to activate it.
4. Then, you will get a prompt message to confirm that you have successfully registered our software.
How to Distinguish Between Registered and Unregistered?
There are two ways to check it out.
1. For unregistered status, you can see a Register button on the top navigation bar.
2. For unregistered status, the program will auto-remind you to register it when you start to rip a DVD.
Sales FAQ
1. What thing will I get if I order it?
We have two confidence knowing online order service resellers Reg Now and PayPal. After received payment, system will send registration information to corresponding email address immediately, if you have paid for a backup CD (RegNow only), the CD will be delivered to you by postal mail in few days.
If you place an order via PayPal, you will get reg name and reg code by email immediately.
If you place an order via RegNow, you will get reg name, reg code and download link. In addition, A copy of the CD ROM is available for an additional charge $9.95.
2. How long will I receive the license code after I complete the purchase?
License code sent automatically within minutes after your purchase. Please allow a few minutes for the auto-generated license message to reach your inbox. Check the spam folder if you could not find the license retrieval email. Please click here to let us know if you don't receive the email after 30 minutes. We will resend it within 12 hours.
Tips: Please make sure your e-mail address or order number in the e-mail.
3. Why I didn't receive the license code for several hours after my purchase?
There are several possible reasons:
a) Because of your Email setting, the letter with license code went to Trash directly. Please look for the letter there.
b) Your Email service provider rejects Emails from unknown senders, so the license code cannot be sent to you.
c) You provided invalid Email address when you ordered the software.
Contact us at order@videoconverterfactory.com to get assistance.
4. How to get back lost registration code?
For our paid user, if you lose your registration please do not purchase again, just send email to order@videoconverterfactory.com, we will find it and resend it to you within 24 hours. Please attach below items in email:
1. Registration Email Address
2. Order ID
Aabout valid date
We provide lifetime customer service for our paid user, so you can always retrieve your registration code by email.
5. What is Upgrade Policy?
To make it fair to our purchased/paid customers, free updates are offered only for our purchased/paid customers. And we hope you could understand this. You could enjoy any upgrade, major or minor, without any fee involved after you purchased our software.
You can check the latest version on the product page and download it. If you fail to register the latest version, please contact us by email support@videoconverterfactory.com
Upgrade your paid program to another more powerful program
If you need to upgrade your paid program to another more powerful program,you do so by matching the price difference. Please contact our support team to submit your requirement.
Upgrade your paid program to the discount pack
If you need to upgrade your paid program to a discount pack, you do so by matching the price difference.
How Can I Get the Free Trial Version of WonderFox DVD Ripper
We provide the free trial to help customers have a clear idea about the software before purchase.
You can download WonderFox DVD Ripper from our website and install it. When you perform the conversion, a registration request window will pop up. Please ignore it and directly click Remind Me Later, and then you get the free trial version.
If I still have questions on registration, how to contact WonderFox?
If you still have problem on registration, please feel free to contact us by support@videoconverterfactory.com. Our support team will reply to you within 24 hours.
For more information about WonderFox DVD Ripper, please visit:
https://www.videoconverterfactory.com/dvd-ripper/