What's an ASX File?
Before we jump in how to convert ASX file, it is necessary to have an understanding of this type of file and why you need this ASX converter.
There are two file types using .asx as the extension. The first one is similar to ASF file. You can play it using Windows Media Player, and if you want to convert ASF to other file formats, you may refer to this article about ASF converter.
The second type of ASX file, which is short for Advanced Stream Redirector, is a kind of XML metafile designed to store a playlist of Windows Media files for a multimedia presentation. It is used frequently on streaming video servers where multiple ASF files are be played in succession. This ASX file is widely existing on the Internet, and you can only stream videos via it by using WMP or VLC. Actually, it is written as an XML text file which gives you a path to view online or download corresponding ASF or WMV files. Here is more detailed information on the type of ASX file: What is an ASX File.
Checking the file size is the fastest way to distinguish between the two file types. If file size is larger than 1M, it must be the first type, otherwise, it is the second type. And today, we analyze the second type in detail. Remember, the second type of ASX file is just a text file and contains no video or audio data. Before proceeding with the tutorial below, you will need to download the media files referenced by the ASX file.
And before we start, please free download the professional ASX converter.
Three Steps to Convert ASX file to MP3, MP4, AVI, etc.
To convert ASX files, you should firstly find and download the video source the files point to (as they are text files, you can open them in notepad, copy and open the video URLs into a browser). I have downloaded four files through ASX paths. Two ASF files and two WMA files. Download this ASX converter and install it on your computer and follow the steps.
Step 1 Open ASX Converter
Now, open this ASX file converter, select Converter and add the downloaded videos ASX refers to, into it.
Tips: You can hit the " Add Files" button to choose files, and you may also drag files into the interface. This program allows you to convert formats in batch conversion mode.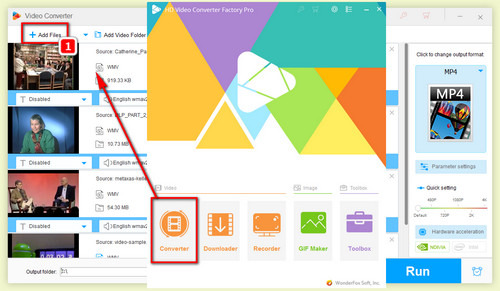 Add ASX files
Step 2 Set Output Format
If you need to convert ASX to MP3, you can choose MP3 under Audio as the output file format. Once you have converted the files into MP3, you can transfer them to your MP3 player or other devices for playback.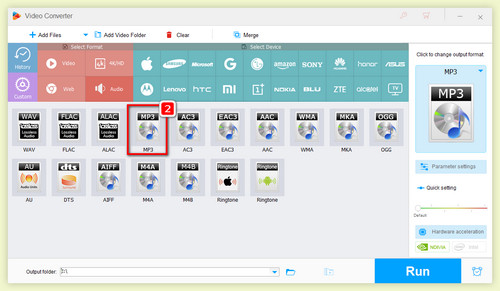 Set MP3 as Output Format
Kindly reminder: This ASX to MP3 converter also allows you to convert ASX to MP4. You only need to set MP4 as the output format. Or, you can set other output formats, like ASX to AVI, ASX to MOV, ASX to WAV, ASX to WMA, etc. You can also convert between other formats, like SWF to MP4, M4B to MP3, WMV to MP4, 3GP to MP4, etc.  Besides, you can change parameters in "Parameter settings" to adjust audio volume, change aspect ratio, cut clips from a movie, and so on.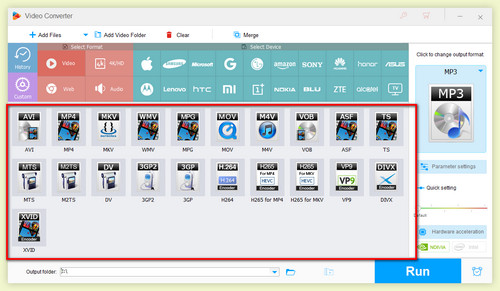 Choose Other Formats
Step 3 Convert ASX Files
In the last step, you may choose an output folder so that you can check the converted files more easily. Then click "RUN" to convert ASX to MP4, MP3, AVI, WAV, MKV, FLAC, etc. The whole conversion process will not take much time, but it does depend on how large your original files are.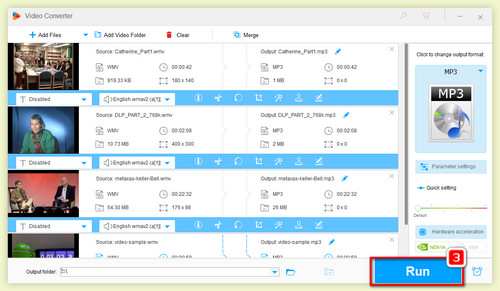 Click Run Button
Extra Feature - Convert Normal Video to HD Video
Besides being a good video/audio converter to convert .asx to MP4, MP3 and other formats, this software also enables you to change standard definition to high definition in order to enhance the quality of the original videos, and at the same time, improving your viewing experience on your HDTV. There are those high definitions for you to choose, such as, 4K(3840*2160),1080P(1920*1080), 720P(1280*720). With this multi-functional tool at hand, you can convert videos in any video formats from SD to HD.
Warm Prompt: For more useful tips, you may refer to other practical articles listed as following. Best wishes for you.
Now, please download the HD Video Converter Factory Pro to complete your jobs.
More Special Features on HD Video Converter Factory Pro
Can convert between standard and high-definition video(4K/1080P/720P/480P) with high quality
Support 100+ output formats and 220+ devices, including iPhone, Android, H265, 4K, FLAC, DTS
Batch compress video files with smaller output size to free up store space on device
Batch convert video files to save a lot of time
Download video of different resolutions from YouTube, Facebook, Vimeo and 1000+ hot sites
Offer a built-in video editor to crop, split, merge and retouch video and boost volume