HD Video Converter Factory Pro
With unique image enhancement technology, this best video resolution converter can help change video resolution for a balanced approach to the most optimization and make sure the least loss of image quality. Learn more >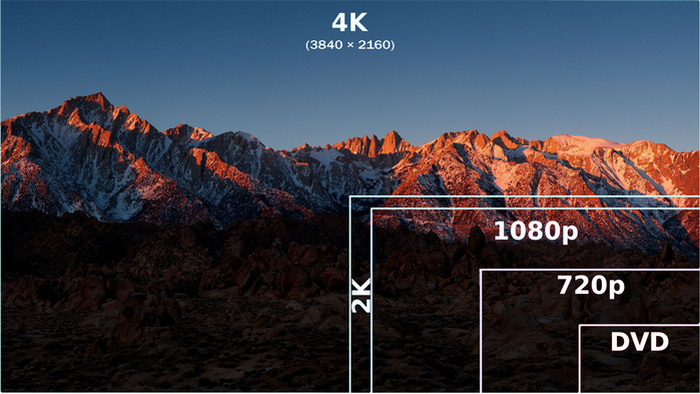 Main Video Resolution
3 Main Types of Video Resolution Nowadays
Video resolution is usually displayed as width x height, with the value given in pixels. For example, "1280x720" means the width is 1280 pixels and the height is 720 pixels. In order to change video resolution, first of all, let's take a brief look at the 3 main types of video resolution at present.
* Standard Definition (SD): The standard resolutions are 640x360 or 720x480 for video, and 720x480 or 720x576 for DVD.
* High Definition (HD): The most popular HD video refers to a resolution of 1280x720 (720P) or 1920x1080 (1080P, aka Full HD).
* 4K (UHD): 4K video is a newly-emerging resolution standard for Ultra High Definition in 3840x2160 (2160P). With no doubt, it will become the mainstream standard in the near future.
The higher the resolution, the sharper the video displays on a much larger screen, and the larger the file size will be.
Why Do You Need to Change Video Resolution?
In our daily life, you can acquire HD even 4K videos downloaded from web, recorded with camcorder or produced by nonlinear editing software. But It doesn't mean higher resolution gives people better experience, you may have to change video resolution to cater to respective specs for various devices. You know, some devices only support specific video resolution for normal playback. For better visual experience and compatibility, you are supposed to increase video resolution or reduce video resolution.

Different Resolutions on Different Devices
Why It Sucks When You Change Resolution of Video from Low to High?
Increasing or upscaling video resolution, converting SD video to HD for instance, refers to scale up the video image to fill a HD format (always with high resolution). It increases more pixels, but the quality will not improve. Meanwhile, the video size may become larger. So a poor original video file (e.g. 320P) is ALWAYS going to get bad result after you change video resolution to HD or 4K. Whatever software you use, it MUST NOT reach your expected results. However, you might be satisfied with the final effect if you convert from 320P to 480P, 480P to 720P, 720P to 1080P, 1080P to 4K.
On the contrary, a huge demand also exists to reduce video resolution (aka downscale video resolution), such as downscale 4K to 1080P, 720P, 480P and so forth. Because the higher resolution means it need higher configuration to run and more space to store. That's the reason someone always wants to convert 4K to 1080P, 1080P to 720P.
How to Change Video Resolution without Sacrificing Quality?
To solve this problem, you can easily change resolution of video files with some professional HD video editing software if you're an experienced user and never mind the costly price. If not, I'll recommend a video resolution changer - WonderFox HD Video Converter Factory Pro. Download and install this video resolution converter on your PC, and follow the simple step-by-step guide about how to convert video resolution below.

HD Video Converter Factory Pro
With unique image enhancement technology, this best video resolution converter can help change video resolution for a balanced approach to the most optimization and make sure the least loss of image quality. Learn more >
1. Click "Add File" or drag your videos into this video resolution changer, even download 4K video from YouTube or download 1080P video via "Download Video" feature.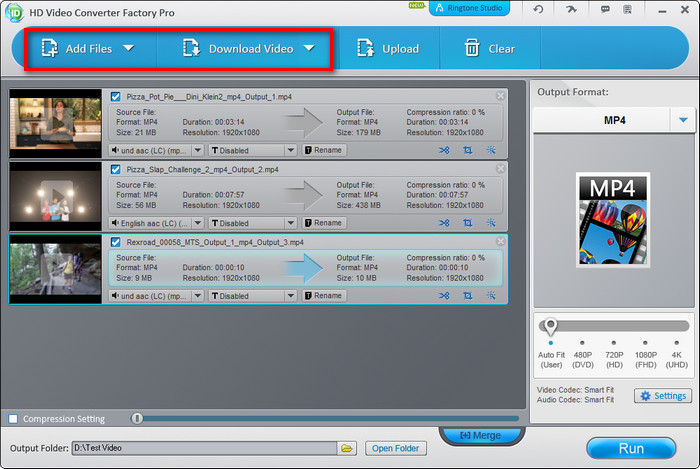 Add or Download Video Files
2. Click on the "Output Format" part on the right. 300+ optimized formats and devices will expand out. Select any format as you wish.
Note: If your PC configuration is good enough, H.265 or VP9 is highly recommended since HEVC video or VP9 video has better compression performance and lower bandwidth utilization ratio with high image quality.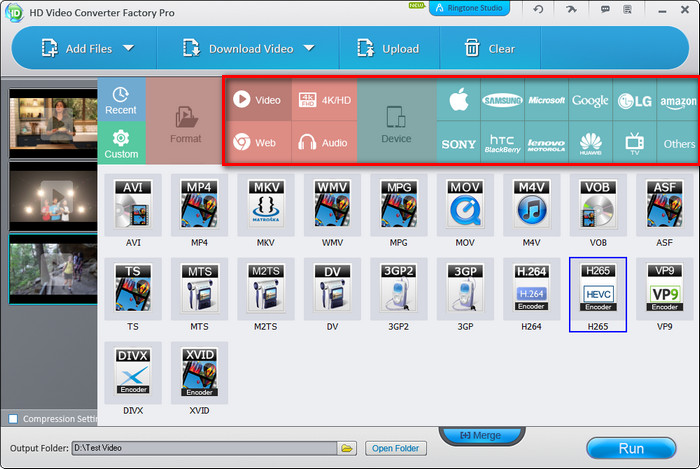 Select Format as You Wish
3. Under output format part, you can drag the slider to change video resolution easily. Or click on the "Setting" button and choose the fixed value in the drop-down list of Resolution or customize your desired value directly. Click OK after done.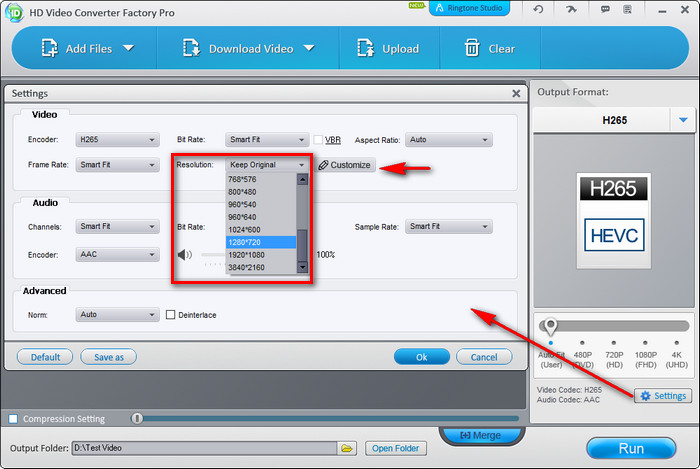 Change Resolution for Video Files
4. Set output file path and hit "Run" button to upscale video resolution or downscale video resolution.
Start the Process after Done
WonderFox HD Video Converter Factory Pro is not only a video resolution changer, but also a simple 4K video editor which enables you to compress and reduce video size, change aspect ratio, split video, join video files, etc and a batch process will save much time for you. This versatile program is really a pretty useful helper for your digital life.

Congrats, problem solved now! Why not keep the full-licensed program for
LIFETIME
at lowest price now!
Still got question? Submit it to us and get answer within 24 hours.