Nowadays, high technology has brought great changes to our daily life. Every little advancement in tech-field has a big impact on the way we live our life. Therefore, to keep up with the trend of times means a lot to every contemporary man. So, today I'd like to share some opinions on mine on two specific formats: SWF and MP4.
1. Something You Need to Know About SWF and MP4
SWF formats are usually used in web designs. It can only be played with a Adobe Flash Player installed in the computer. However, it doesn't provide support for Android 4.1 and higher. Besides, it claimed only to update Flash Player for Google Chrome. And as the Apple disallows Flash to run on iOS, so SWF formats declined in popularity. Thus, MP4 comes out with its mighty compatibility, it plays well on almost every kind of portable devices either iSO or Android operating system. Therefore convert SWF to MP4 is a big issue to be dealt with.
Now that you have a roughly comprehension about these two different file formats, then perhaps you are eager to find out how to convert SWF to MP4. Luckily, here is a free program that will perfectly meet your need. You may call it "SWF to MP4 converter", named after one of its feature, which still owns other amazing characteristics. You can check them out after free downloading it.

Free HD Video Converter Factory
Free HD Video Converter Factory satisfies all of your needs in converting video/audio/web file formats, including SWF, MP4, MKV, MOV, AVI, ASF ; MP3, AC3, AAC, M4A, FLAC; FLV, F4V, HTML5, etc. Learn more >
2. Simple Steps to Convert SWF File to MP4
Step 1: Free download this program and install it in your personal computer. SWF convert to MP4 is no longer a money-wasting or time-consuming matter with the help of this free program. So don't be hesitated to have a try.
Step 2: Open it and click "Add Files" to select your SWF files or you can just drag SWF files into it.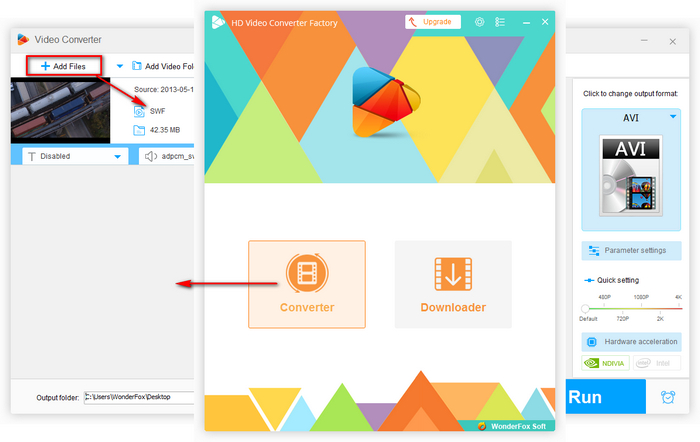 Add SWF Files
Step 3: Click the area under the "Output Format" and locate "video" column. Then choose "MP4" format as the output format.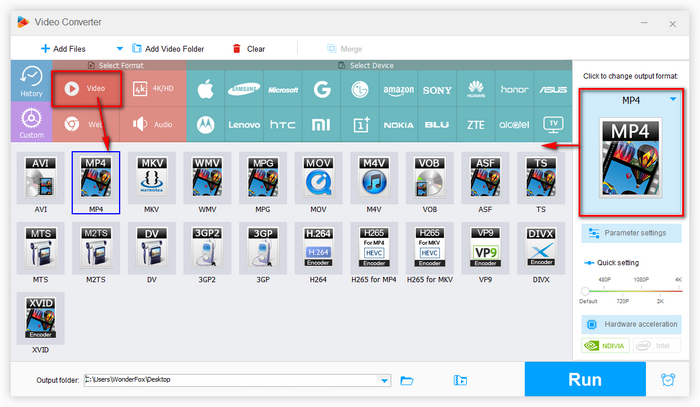 Select MP4 Format
Step 4: You can set the output folder by hitting the small yellow icon below the interface. Finally, click "Run".
Run the Program
Reminder: You can choose any formats suits for your portable devices, such as, Apple, Sony, HTC, Samsung, Blackberry and so on.
3. Extra Free and Practical Designs for You
Except for it is an excellent SWF to video converter, which provides dozens of mutual formats conversion.
1) Video/Audio Player: It also enables users to directly play SWF files without conversion. And other files formats contained in this program, such as MP4, SWF, MKV, WebM, etc.
2) Video/Audio Downloader : We always remember what be seen and heard, and some leave great impression on our minds. Meanwhile, we keep looking for them but without traces. To erase these regrets , we need to store them in a place near us, so downloading them is very important.
3) Editing Function: You can clip a video, or add special effects to your favorite parts of a movie.
4) Merge Videos/Audios: To throw a party on a special time, you really need this merger to make a best dance music mix , to review the memories of the year during the Christmas season, let's combine your lovely and cute family videos together.
5) Add subtitles: You can add subtitles to your downloaded videos and make them easily to enjoy.
Still got question? Submit it to us and get answer within 24 hours.