HD Video Converter Factory Pro
WonderFox FLAC to iTunes converter is a powerful assistant for batch converting FLAC files to iTunes compatible formats like ALAC, M4A, AIFF, MP3, WAV, etc.. Learn more >
Can iTunes Play FLAC?
As same as the WAV, APE, ALAC lossless formats, FLAC (Free Lossless Audio Codec) is also an audio coding format for lossless compression of digital audio. It offers you the sound quality very closed to CD audio, making it extremely popular among the audiophiles. However, you will be disappointed when adding FLAC files to iTunes, and you may find the web is swarmed with similar queries like "Can iTunes play FLAC?":
Q: Can iTunes recognize FLAC files? I got a bunch of FLAC files that I want to simply drag into iTunes music library as I don't want to lose any of the quality. But it just doesn't work and I can't find the songs in my library. It works fine with .MP3 but why not .FLAC?
So does iTunes play FLAC on earth? Unfortunately, NO! It is yet to be supported by iTunes and iOS devices. And it may never be in the future.
Related Topic: iPhone Won't Play Videos | Play MKV on Apple TV | Convert MKV to Samsung TV | Video Won't Play in PPT
What Audio Formats Does iTunes Support?
Since Apple is not willing to expand compatibility and support for non-Apple products and standards, the self-produced lossless codec - Apple Lossless (ALAC) comes into existence. It's an equivalent lossless format that iTunes and iOS devices supports well. In addition, iTunes can read, write and convert between MP3, AIFF, WAV, MPEG-4, AAC and Apple Lossless (.m4a).
Foolproof Steps to Convert FLAC to iTunes in Batches
So, a questions arises: how to play FLAC on iTunes? The direct and effective approach is to convert FLAC file to iTunes compatible formats with a powerful FLAC to iTunes converter. WonderFox HD Video Converter Factory Pro will make your dreams come true. It's a first-rate and one-stop program providing a dual optimal solution for video and audio conversion with a remarkable processing speed. If you have a high requirement for audio quality, it's advisable to convert FLAC files to ALAC. In contrast, if you prefer to smaller file size rather than quality, MP3 is the perfect fit for your choice. No matter what your needs, WonderFox HD Video Converter Factory Pro will work like a charm. Free download and install this software on your PC, then follow the simple instruction below.

HD Video Converter Factory Pro
WonderFox FLAC to iTunes converter is a powerful assistant for batch converting FLAC files to iTunes compatible formats like ALAC, M4A, AIFF, MP3, WAV, etc.. Learn more >
Step 1 - Import FLAC to iTunes
Launch the software, select "Converter", click "Add Files" on the menu bar to add your multiple FLAC files into the workplace, or a simple drag-and-drop for convenience. This program supports the batch processing to save your time.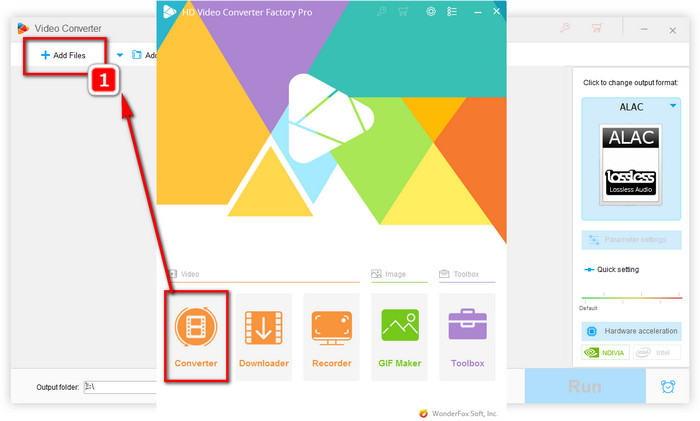 Import FLAC Files in Batches
Step 2 - Select iTunes Friendly Output Format
Spread out the Output Format list on the right, select any iTunes friendly format under Audio Tab. ALAC or MP3 is strongly recommended. Not only that, there are 500+ optimized presets for your need so that you can also convert FLAC to iPhone, OGG to iPhone, DTS to iPhone, etc. All you need to do is just click on your desired profile.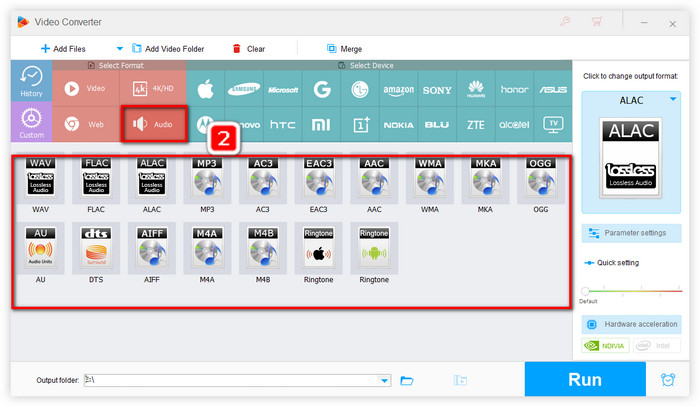 Select iTunes Supported Format
Step 3 - Start FLAC Files to iTunes Conversion
Target your output folder path and hit "Run" button to convert your FLAC files to iTunes in batches. The whole process will be complete in the shortest time.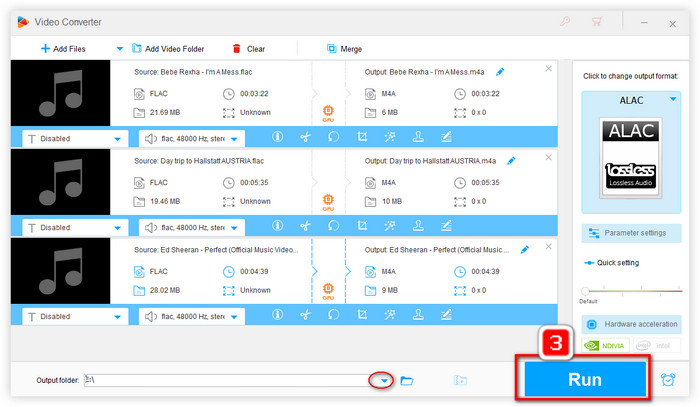 Batch Convert FLAC Files to iTunes
Optional - Modify Audio Parameters
Before starting conversion, advanced users are allowed to modify audio parameters. Open Parameter Settings Window, you can change audio bitrate, encoder, audio channel, sample rate, increase audio volume or disable audio.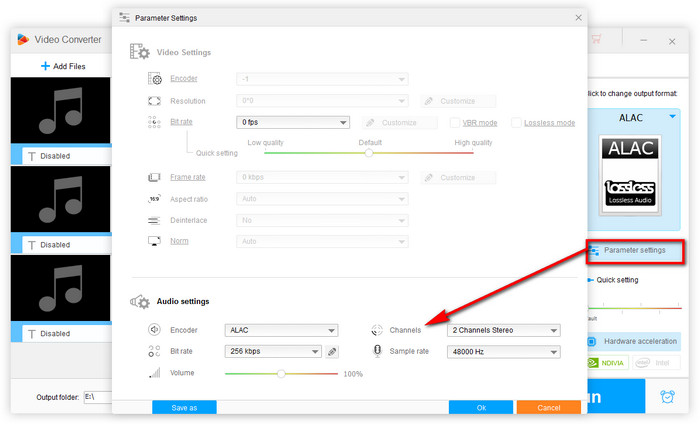 Modify Audio Parameters
After done, click "Open Folder" to find your output files and import them into iTunes. Then, you can successfully play FLAC in iTunes or sync FLAC to iPhone, iPod, iPad or other devices for playback with ease.
Satisfied? It's Not Over Yet!
Problem Solved? Come on, WonderFox HD Video Converter Factory Pro brings you more practical features than you might think. It still plays different acting roles.
1. This software empowers you to download YouTube videos including 1080P/4K/360-degree/VR/music videos.
2. This software works for HD video even 4K standard. You're able to convert SD video to HD, convert 4K video, compress a video to reduce video size, etc.
3. It's also a simple video/audio editor which enables you to add subtitles, rotate video, add special effect, crop/cut/merge video & audio, etc.
4. You can also make your unique ringtone with the built-in Ringtone Studio.
Why are still hesitant? Now the ball is in your court. Download WonderFox HD Video Converter Factory Pro to get started now.

Congrats, problem solved now! Why not keep the full-licensed program for
LIFETIME
now!
Still got question? Submit it to us and get answer within 24 hours.