How to Merge Multiple Video Files into One with Lossless File Quality

Merge Videos within Minutes
Please click the right button to download the right software, and then use it to merge videos as you want.
More features>
Do you like taking up camcorder to record the mirth of dribs and drabs of your love and yours? That's a wonderful thing to preserve memories of your life. Sometimes, you may need to join video files you captured to create funny short stories and to keep it in a more creative way, for example, to merge videos together to make an unforgettable anniversary or Valentine gift on some precious moments for your loved ones. It must be a much more meaningful way to commemorate your love than the unimaginative traditional gift like rose and ring. So here comes the tip of today: how to merge videos together and easily make your stunning film without loss in quality.
To combine videos together, it needs to be started perfectly with the powerful software, WonderFox HD Video Converter Factory Pro. Why do we all love this video merging tool? The reason is that it's user-friendly, reliable and useful. Every user can easily handle this software and it offers the optimized presets, different editing options to meet your kinds of demands in an easy and quick way.

Merge Multiple Video Files into One
Merge several video files into a single file and keep original quality. Create funny short stories and preserve memories in a more creative way.
More features>
Free download the program here, install it on your PC and open it to combine video files following the how to merge multiple videos into one guide below. Tested on Windows 10 64bit machine, it also works like a charm. And it can also be well compatible with Windows 8.1/8/7/Vista/XP/etc.
When opening it, you can see it has a very intuitive, clear and friendly interface. All main important functions are listed on the main panel (Converter, Downloader, Recorder, GIF Maker, and Toolbox). You can handle it perfectly, even if you are a complete newbie to such software. To merge your multiple videos, navigate to Converter.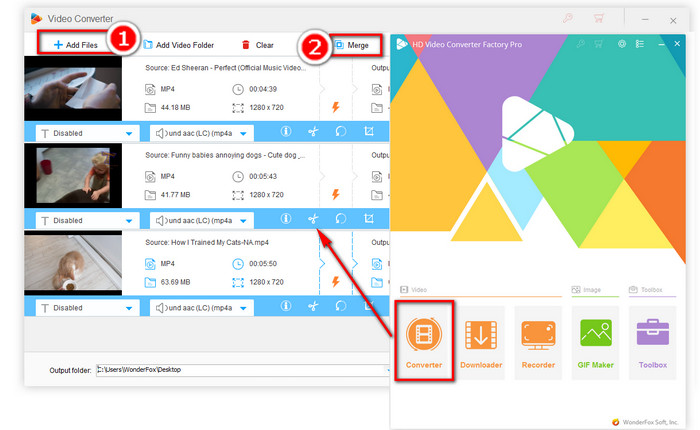 1 Add Files into the Video Merger
To join video files, press "Add Files" button in the upper left corner of the video merger to upload the desired video files. Or simply drag and drop your wanted videos into the program, which can be more convenient when you have too many videos. The software also supports batch conversion mode.
Note: This program has high compatibility with almost all video formats. So it's effective to join MP4 files, join AVI files, join other 300+ format files and even join movie files that you downloaded from YouTube or from other video-sharing sites.
2 Clip/Trim Videos (Optional)
Before you merge videos into one or, join parts of these video files, you may want to clip the unwanted video parts or segments first. After adding video, click the scissors icon in the lower place of the video task to enter the "Trim" window. Control the video period by setting the Start/End Time or drag the time axis directly, and click "Trim" to cut the part, then hit OK to save clipped file.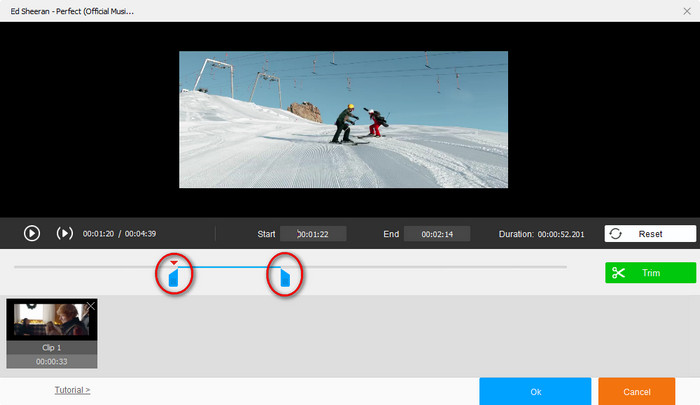 3 Merge Videos Together
By clicking the "Merge" option on the main panel of the software, the Merge window comes out. Select certain videos shown in the "Video List" box and click "Merge" in the middle of the window. Now you've created your first pack. Want to add more? Just drag other videos you want to merge into the pack. Or you're not satisfied with one single clip? Just select it and press the "Move Up" button.
Note: The merge process is human-friendly. You are able to set the videos appearing orders by dragging. After you join video files into one, click "Ok" and back to the main panel. You can create many video packs as you want. The batch mode is really awesome, which can save too much time.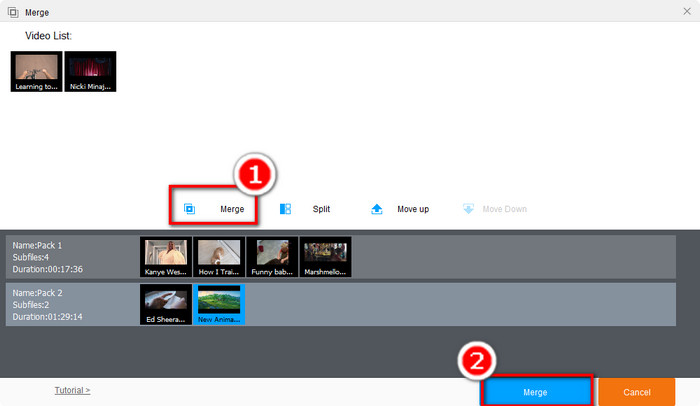 4. Start the Process
Here comes the last step of how to combine multiple videos into one whole tutorial. Before starting it, you're supported to rename your video packs for the better arrangement as well as add some sentences/subtitles to enhance the video pack effect.
WonderFox HD Video Converter Factory also works as an outstanding video converter and YouTube downloader. Click the link to download this software and follow the steps below to enjoy more features: https://www.videoconverterfactory.com/download/hd-video-converter-pro.exe
Tip: Except for that, you're supported to set output format if you want to convert your merged packs to certain file formats. Open the output format list, you'll find that not only numerous video and audio formats are provided, but all hot devices like Apple devices, Samsung GALAXY series, PS4, Xbox One, Surface Book and kinds of TV sets. See, you can convert your video pack to 4K UHD video to get higher quality and do HD editing work as well as play your merged MKV film on TV like Samsung TV, etc.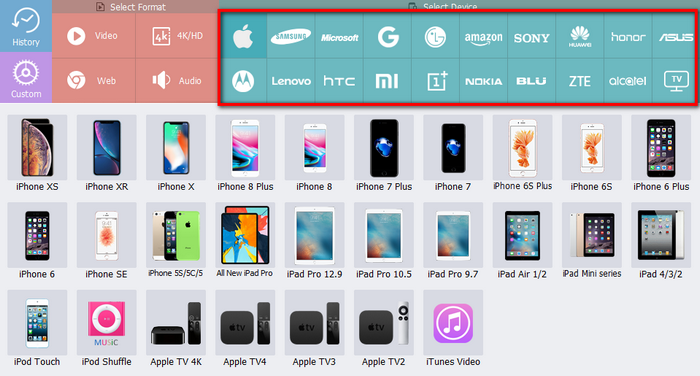 After all things are set well, click "Run". The software applies exclusive optimization tech to help you keep the best quality but with the smallest file size. Meanwhile, it supports Intel Quick Sync, AMD (ATI), CUDA and multi-core CPUs.
There you have the whole how to merge videos together tutorial! The process is pretty straightforward, only with a few simple steps. Yet it not only helps you to combine video files together with best quality and suitable size as well as merge audio files, but also downloads videos. It will spice up your video if you add some interesting online videos from YouTube or other video sharing sites.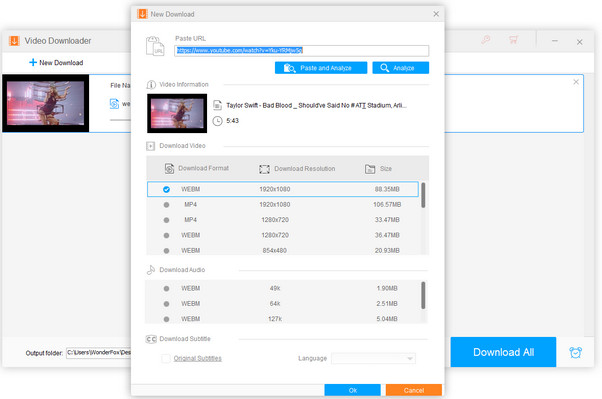 Apart from merge video files, WonderFox HD Video Converter Factory Pro enables you to compress 4K Ultra HD video file without quality loss in the right way, reduce video file with ease and lets you convert normal video to HD video with a simple click.
Another Method: How to Combine Videos into One with Online Video Merger
Some people are used to join videos online so there are relatively some methods on how to merge video files online, as well. As you know, good video merger online is requisite, that can help you to merge videos together online effectively.
Aconvert.com is a special site for merging videos. You can follow its how to merge videos online guide on the site page. WeVideo and FileLab Video Editor are also useful to edit your videos. Just search them on Google and you will find the information you need.
However, it's obvious that most online mergers are filled with ads that may be bundled with useless or malicious stuff. And those services are limited on features. For example, Aconvert only allows you to convert several video formats within 200M and the video files you added to merge must be in the same format, size and frame rate, etc. FileLab Video Editor is not available in some countries for downloading and you need to install FileLab Plugin at first.
Compared with those online video mergers, WonderFox is clearer, safer and has rich features for you to merge, edit, convert and even download videos without any hitch. It's time to download it to enrich your visual life
Submit Your Question to Us, Get an Answer within 24 hours
Related Resource