Actually, how to convert video to HD quality and optimal formats for certain devices is still a frequently asked question. Therefore, a video converter software that is able to convert videos to most of the widely and those rarely used formats is a necessity. Thus how to find a good video quality converter to convert normal video to HD video, so that video quality can be improved a lot? You'll find the best answer here after reading this tutorial.
Increasing people are not satisfied with low-quality videos anymore. They want to enjoy clearer and smarter videos on Large-screen Display, curved/4K/HDTV, iPad, Android tablet, etc. So today we discuss how to convert to HD, in other words, how to make a video HD quality easily.
Is It Possible to Convert SD Video to HD?
Several years ago, things were different. But at present, there are lots of different kinds of HD video converters or video quality converters in this field, though many video converters have their own shortcomings or problems, such as slow converting speed, low quality for the output file, input or output format limitations, etc. Among them, low output quality is the biggest problem that most of us will have concerns about. For example, we convert a normal video to HD video just for better enjoying the video on a larger screen, but the blurry output video will really let us feel disappointed and down. So we really need a converter that will convert low quality video to high quality video without any problem.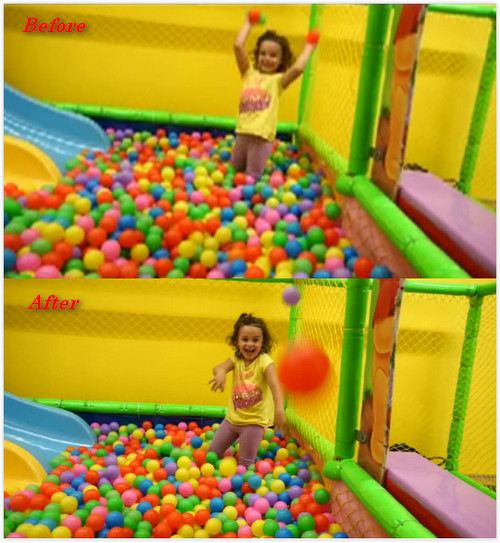 Convert video to HD 1080p
Strong recommended: HD Video Converter Factory Pro, a well-regarded tool featured with advanced video quality enhancer.
HD Video Converter Factory Pro is Real "Low Quality to HD Converter"
You cannot casually find a video conversion program to convert low quality video to HD. If you do so, nothing will change. There are many factors you need to take into consideration before you begin to do this task, like the quality of source video, output settings and a professional SD to HD video converting program. Click here to learn more about essential factors influence video quality >>
Converting a video from SD to HD means you scale up the video image to fill an HD format (always with high resolution). Many video converters can do that and some of you might also want to convert video to HD quality online, but the video quality will not change and there's a great chance it may become even worse. But a good HD video converter can push on maximum image quality and maximum bitrate allowed. With unique image enhancement technology, HD Video Converter Factory Pro will automatically add corresponding pixels to video image you blow up according to the original pixel value. And then enhance the image quality comprehensively by adjusting certain values to make sure the least loss of image quality. Furthermore, the output file size is at utmost reduced with its powerful compression ability.
How to Make Video Quality Better with HD Video Converter Factory Pro
Let's learn how to make a video HD from a normal video file with the help of the HD quality video converter. Tested on Windows systems, the HD converter has a perfect performance.
Step 1 Import Source Video File into HD Video Converter
Free download and launch HD Video Converter Factory Pro. Before conversion starts, you need to go to "Option" by clicking the Hammer icon on the top right>>move to "Convert SD Video to HD Video" and "Picture Enhancement" , and then tick the options as picture showed right. Click OK to save your settings.
After that, click on Converter icon and then click "Add Files" on the main interface to import source video files to the HD converter. Or you can drag or drop files to the software directly.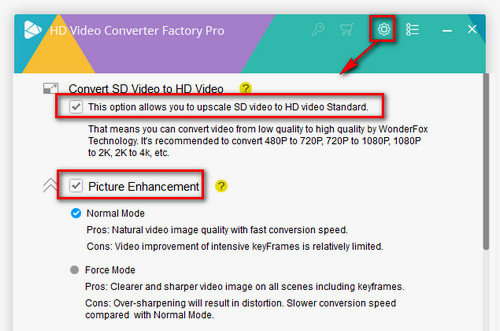 Normal video to HD quality
Step 2 Choose Output HD Format
Choose HD video formats like HEVC, VP9, WMV HD, AVI HD Video, HD MKV, HD MP4 and even 4K as "Output Format". That's it, you can convert video to 4K with simple clicks. Moreover, it enables you simply select an output device from the profiles listed on the normal video to HD converter, including different types of smart TVs, Projector 4K, Projector FHD and Projector 720P.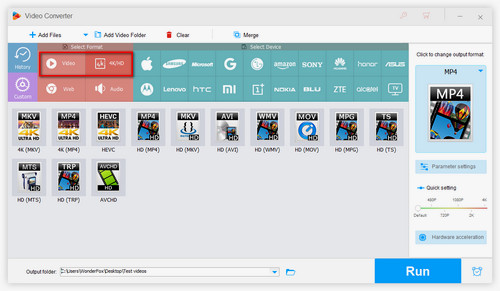 Choose a format
Note: For beginners, if you have a 4K video and want to watch and enjoy the original 4K quality, you should make sure that your devices support 4K resolution. Also the advent of 8K videos attracts a lot of attention and you can download 8K videos with this program, as well.
Step 3 Improve Video Quality to HD
There we go to the last step. Click "Run" to start fixing how to convert normal video to HD 1080p or higher resolution issue in batch. Open output folder to get the output video. Now you finish the task of how to improve video quality perfectly.
Tip: you are supported to customize video resolution (720P to 1080P, standard video to 4K video), increase bitrate and change aspect ratio or other video audio settings as well as increase original video volume by yourself on "Parameter settings" interface. HD Video Converter Factory Pro can provide the optimal output settings (Smart Fit) intelligently.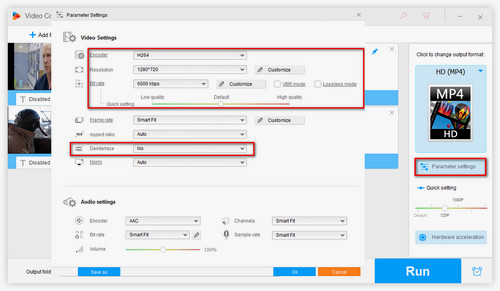 Advanced settings for HD conversion
HD Video Converter Factory Pro also supports Multi-CPU and Hyper Threading, which will make you experience fast video converting speed and help you convert a great deal of videos in a high speed.
Install HD Video Converter for PC via https://www.videoconverterfactory.com/download/hd-video-converter-pro.exe
Learn more about WonderFox HD Video Converter Factory Pro via online tutorial>>
Why Choose This Software?
1.Support converting low quality to HD Video, making your video image clearer. Allow you to play the converted video on various widescreen and larger screen, including your 8K/4K/curved TV.
2. Convert video to 500+ formats including videos, audios and hot devices. If you want to play a video on your iPad, just select "iPad" profile you will get the iPad compatible video. Ideal parameters or specs for the device have been set in advance, which will save you a lot of time. It has also added the new encoders H265, VP9.
3. Fast conversion speed and handy interface.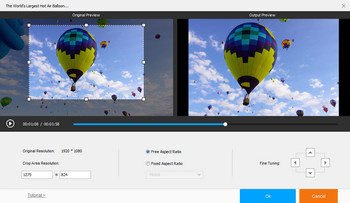 Edit the videos
More Functions to Meet Users' Needs
We have learned users' requirements and the problems of some common free video converter; we apply ourselves to get a new and real useful HD converter. So HD Video Converter Factory Pro is here.
This converter will solve most problems you are concerned about when you want to try normal to HD video conversion. It supports all popular
formats and output devices (iPad, iPod, iPhone, Apple TV, PS4, PSP, Xbox One, Blackberry, Nokia, hot types of HD/UHD/Curved TVs, etc). And new media formats and gadgets are keeping supported and added timely. By using HD Video Converter Factory Pro, you can enjoy your video with high quality freely and comfortably, and see a beautiful, vivid and clearer world, even the freckles on Kate Elizabeth Winslet's face. So wave farewell to the slow converting speed, the limitations of formats even the low quality.
Now, download HD Video Converter Factory Pro to start your job:
Have other troubles about converting HD videos? Please feel free to Contact Us >>
Related External Resource: HD video on Wikipedia
More Special Features on HD Video Converter Factory Pro
Can convert between standard video and high-definition video(8K/4K/1080P/720P/480P) with high quality
A perfect MP4 to HD converter supports 300+ output formats and devices
Batch compress video files with smaller output size to free up store space on device
Batch convert any video to HD 1080P or higher resolution to save a lot of time
Offer a built-in video editor to crop, split, merge and retouch video and boost volume
Download video of different resolutions from YouTube
Strongly Recommended: For Movie Fans Who Like Content of Better Quality
For you who have a big collection DVDs and want to enjoy real great and high quality DVD videos or expect to play the movies on other devices when there's no DVD player around you, WonderFox DVD Ripper Pro is your right choice as it is capable of converting any of your DVDs including DVDs with new copy protections and the old discs to 300+formats and devices. Make sure you can watch your favorite films on your TV, game console, HD projector and any more gadgets.