Common Problems on Playing MKV on Samsung TV or MKV to Samsung TV Issues
Q: My Samsung won't play MKV files, I've tried many ways to solve this problem but still can not work it out. So how can I stream files in MKV to Samsung TV. What are the best Samsung TV video formats?
Q: I had an MKV file that was 1920x1080. I get an error saying the file can't be played. My Samsung smart TV does support MKV. Why some MKV files can be played successfully, but not this one?
Q: I tried to play MKV files on a Samsung TV connected to my home network, but Samsung failed to play it. I changed the file extension from MKV to MP4 and AVI, but this doesn't work.
Q: How to play MKV files on TV via USB stick without any problem? Some video files in MKV format have no sound.
Q: I could really use some expert assistance. My TV refuses to play MKV files, displaying an unhelpful codes error message.
We collect many "Samsung TV MKV file can't play" related questions including some Samsung smart TV MKV playing errors from our users and forums. If you are facing the same problem, the HD video converter for Samsung TV can help you get rid of all the MKV file not playing on TV errors.
Why MKV Files Can't Be Played On Samsung Smart TV Sometimes?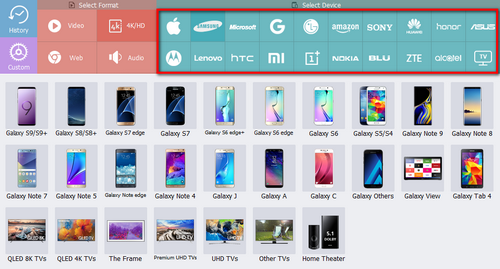 Samsung MKV playback
Though Samsung TV claims to support MKV files, sometimes we still meet the issues that Samsung TV won't play MKV. As MKV is actually a container format, it will use different encodings for video, audio and also stores different subtitles and other related data. In other words, you'll meet problems of audio codec not supported Samsung TV and video codec not supported Samsung TV. For example, Samsung smart TVs have bad compatibility with DTS audio.
To permanently solve Samsung TV play MKV issues and play MKV DTS on Samsung, we need to convert MKV DTS to MP4 AC3, or other supported encodings by Samsung Smart TV. Or find a tool to directly convert MKV to Samsung TV's exclusive formats.
Click the button below to directly download the recommended software and fix the Samsung smart TV MKV error.
Just follow this step-by-step tutorial, we will show you how to convert MKV files to play on Samsung Smart TV by using this all-powerful Samsung TV Converter.
A Simple Guide on How to Play MKV Files on Samsung TV and Convert MKV Files For Samsung Smart TV
Get started: Free download WonderFox HD Video Converter Factory Pro and launch it now. The interface is very intuitive and easy to understand and it's also compatible with Windows 11/10/8/7 and lower.
Step 1. Add Files into the MKV to Samsung TV Converter
Go to the Converter section. Click "Add Files" in the main interface to load MKV files you want to watch on TV. Or simply drag these files into the program. It can convert MKV files to Samsung TV in bulk, which will save you a lot of time.
Tip: Also you are able to convert to MP4, AVI, MOV, WebM, HTML5, VOB, HD MKV, HD MP4, HD MPG, 4K, H265, VP9, WAV, DTS, ALAC, and many more.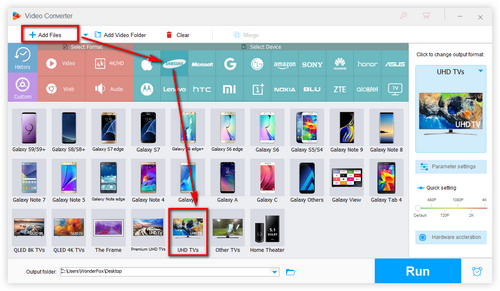 Add file to convert MKV to Samsung TV
Step 2. Choose a Samsung TV Model
Open the output format list on the right. Click "Samsung". And for example, choose "UHD TVs" as the output device. Of course you can choose other TV models.
Note: If you have other TV sets, WonderFox HD Video Converter Factory Pro provides even more options. You can find more results by pressing the "TV" button. Apple TV profiles are listed in somewhere else, you can press "Apple" icon. So is LG TV profile.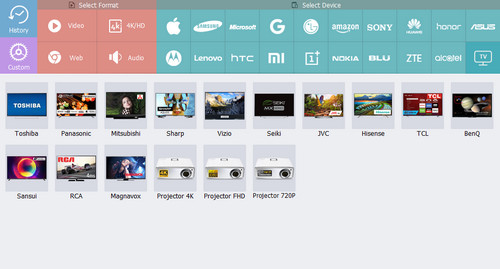 Other supported TVs
Step 3. Change File Parameters
Tip: If you're familiar with custom settings such as video and audio parameters(encoders, bitrate, frame rate and so on) and want to save your favorite settings, you can click "Settings", change video codec, bitrate, audio channel, adjust aspect ratio and more to play mkv files on Samsung TV with better effects.
Step 4 Complete Samsung TV MKV Conversion
Hit "Run" button, the video converter will transfer MKV files automatically to the format supported by Samsung Smart TV immediately.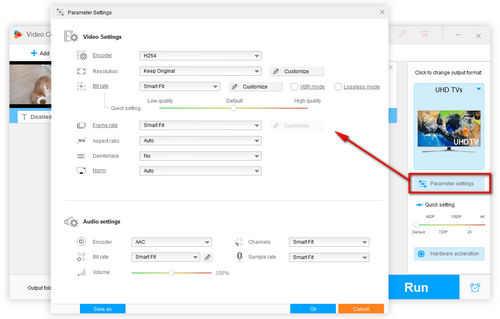 Support custom settings
Open the output folder and stream to your Samsung Smart TV via USB. The Samsung TV MKV support issue has been excellently solved. Then just enjoy your life in front of your home theater.
WonderFox HD Video Converter Factory Pro is the right Samsung TV converter which can fully meet your needs. It can convert all kinds of MKV files to Samsung Smart TV. The most advanced feature differing from many other converters is: there is no need for you to know what the best video and audio parameters for your Samsung TV or any other pop TVs like Apple TV, Android Smart TV, latest Curved/8K/4K TV, LG TV, Sony TV and even more are. Because this professional Samsung TV video converter has preset "Samsung TV" as an output format, which concludes all formats compatible with Samsung Smart TV. Even if you're a complete newbie for technical media formats parameters, this software makes it easy for you to play any MKV video or videos in any other formats on TV. So next time, if you see same questions asked by someone else like how to play MKV on TV or how to watch MKV files on TV, you can tell the right answer.
This article has told you why some MKV files do not play on Samsung TV and the best way to solve it. I hope you'll find it helpful. Also, with the same converter program, you can fix even more unsupported video format and make unplayable video playable again on your TV, PC, and other devices.
Now, please download the HD Video Converter Factory Pro to complete your jobs.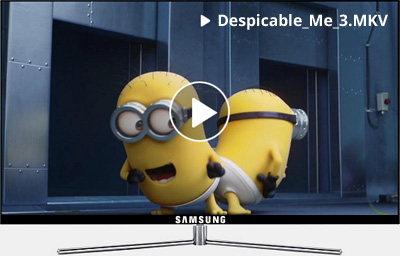 Just Enjoy More with HD Video Converter Factory Pro
Convert SD to HD Video or You Would Like to Compress Video File
Besides fixing the issue of file format not supported Samsung TV and common video conversion, this TV video converter also enables you to manage high quality conversion with better visual experience. Improve your video file quality and freely play them on your smart HD, UHD and curved TV or on almost all portable gadgets. You can use the program to convert normal video to HD or even 4K video with the advanced HD conversion tech. If you need to compress and reduce a video file size but want to keep its original high quality, you can turn to HD Video Converter Factory Pro as well.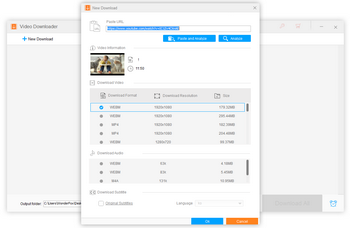 Use the built-in video downloader
Download online video to Samsung TV
Download YouTube hot video to watch on Samsung TV, LG TV, and more devices. And also you can download video from 1000+ other video-sharing sites like Vimeo, YouTube, Dailymotion, Facebook. Select the wanted file size and resolution before downloading process starts.
Edit and retouch your video before watching it on TV. Add subtitles to your video like the MKV file or sometimes remove some annoying subtitles from MKV. You're allowed to add effects to video, crop unwanted part, clip video and
merge several video files into a whole complete video, as well as use it as a 4K video player.
Free download the all-purpose software - HD Video Converter Factory Pro here: