What is Apple Lossless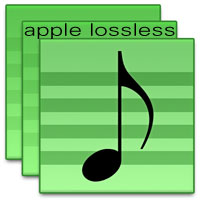 What is Apple Lossless
Apple Lossless is an audio codec developed by Apple Inc. for lossless data compression of digital music. It is also known as Apple Lossless Encoder, ALE, or Apple Lossless Audio Codec, ALAC. Apple Lossless data is stored within an MP4 container with the filename extension .m4a.
Applications of Apple Lossless
Apple Lossless is used by Apple for AAC audio data in an MP4 container (same container, different audio encoding). However, Apple Lossless is not a variant of AAC (which is a lossy format), but rather a distinct lossless format that uses linear prediction similar to other lossless codecs such as FLAC and Shorten. All current iPods and iPhones can play Apple Lossless-encoded files. It does not use any digital rights management (DRM) scheme, but by the nature of the container, it is thought that DRM could be applied to ALAC much the same way it can with other files in QuickTime containers.
The Apple Lossless Encoder was introduced as a component of QuickTime 6.5.1 on April 28, 2004 and thus as a feature of iTunes 4.5 and above. The codec is also used in the AirPort Express's AirPlay implementation.
Related Software
Apple Video Converter Factory Pro; it is the professional conversion software for Apple video/audio converting. The software supports to convert the popular video/audio files to all Apple portable players with the target formats.
Related Source
MP3 M4A AC3 WMA MKA AU AIFF FLAC APE OGG