What is AU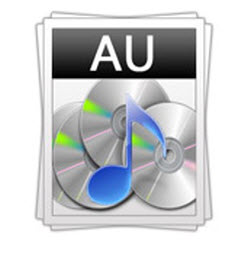 What is AU
AU is a simple audio file format introduced by Sun Microsystems. The format was common on NeXT systems and on early Web pages. Originally it was headerless, being simply 8-bit µ-law-encoded data at an 8000 Hz sample rate. Hardware from other vendors often used sample rates as high as 8192 Hz, often integer factors of video clock signals. Newer files have a header that consists of six unsigned 32-bit words, an optional information chunk and then the data (in big endian format).
Although the format now supports many audio encoding formats, it remains associated with the µ-law logarithmic encoding. This encoding was native to the SPARCstation 1 hardware, where SunOS exposed the encoding to application programs through the /dev/audio interface. This encoding and interface became a de facto standard for Unix sound.
Applications of AU
We know AU is used for making webpage. Actually, not all audio is AU format Therefore, A professional audio converter is needed. And we should follow the rules below when we choose a audio converter:
1. Converting speed is fast.
2. Support all audio formats.
3. The quality of output file is good.
Related Software
Video to Audio Converter Factory Pro is the professional converter for video to audio. These tasks can all be done with the video to audio converter, it can help you extract audios from your favorite videos or movies and convert them to the popular audio formats like: MP3, AAC, M4A, AC3, WMA, WAV, etc. It also can convert between audio formats, add an audio file and convert it to the right format that you need. What's more, it can help you merge and clip your audio, making the audio you really need.
Related Source
MP3 | M4A | AC3 | WMA | MKA | AU | AIFF | FLAC | APE | OGG | Apple Lossless