Thanks for the advanced technology we can use the HD camcorder (Sony, Canon, Panasonic, etc.) to record a romantic wedding, tourism with families or other memorable moments to videos which are in M2TS. If we want to share these M2TS videos with friends or play them on computer, we need to change M2TS to MP4.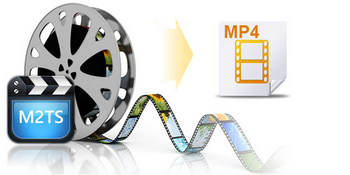 M2TS to MP4
Which is Better: M2TS or MP4?
File size: M2TS > MP4. M2TS takes larger space since it saves more memory which is with high definition quality. In order to save storage space, MP4 is better than M2TS.
Quality: M2TS > MP4. We all know that M2TS are the best known for supporting Blu-Ray DVD and the AVCHD format for the camcorders. Both of them are HD, but the quality of MP4 also can meet your basic needs.
Compatibility: M2TS < MP4. MP4 is one of the most compatible formats which can be used in any devices, such as mobile phone, TV, computer or other player. However, M2TS can only be supported with specific equipment which installs a codec for DVD playing.
In conclusion, MP4 is better than M2TS considering the above items. So it is necessary to convert M2TS to MP4 for saving storage space and widening usage. Some questions may come up with your mind: How to convert M2TS to MP4? Does it damage the quality converting M2TS to MP4?
Take it easy, download the handy M2TS to MP4 converter which can perfectly solve these problems with simple click!
Convert M2TS to MP4 within 3 Steps
This M2TS converter can convert M2TS video to MP4 with original HD quality and small size since its unique decoder technology. So you would not worry about the output quality. In addition, it can convert MTS to MP4, convert MKV to PS4, convert AVCHD to MP4 and convert other HD videos keeping its original quality. Except for video quality lossless conversion, it also supports audio conversion without quality damage. For example, convert DTS to AAC and convert FLAC to iPhone. Let's return to the point and start the M2TS video to MP4 conversion.
Step 1 Add M2TS File
Transfer the M2TS video from your camcorder to computer and launch the M2TS converter in advance. Then add the M2TS video with clicking the "Add File" button or drag videos to the main interface.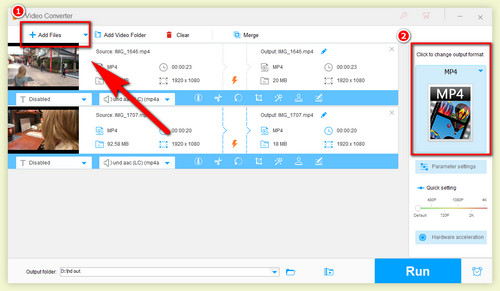 Whole Process to Convert M2TS to MP4
Step 2 Select MP4 as Output Format
Click the right "Output Format" and choose MP4 as output format. Since this converter has preset the best parameters for 50+ formats and 200+ devices, without any change can you get the best quality video/audio.
Tips: Of course you can customize the specific parameters if you are a master in encoder or are interested in encoder. For example, you can change the frame rate depending on your preference, change the resolution or reset the aspect ratio based on your equipment parameters. All these can be changed with clicking "Settings".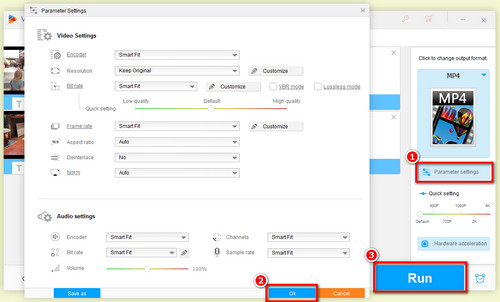 Customize Settings
Step 3 Finish the M2TS MP4 Conversion
The final step is to click the "Run". A few minutes later you can get a MP4 video with perfect quality.
Now, please download the HD Video Converter Factory Pro to complete your jobs.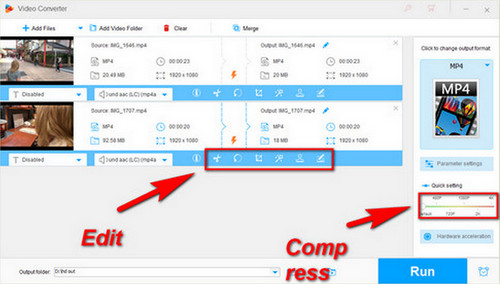 Edit and Compress
More Functions You Can't Miss
This multi-functional converter is really user-friendly which can support editing video as well. With this function, you can edit your video according to your preference. For example, you can clip the video if it is too long or cut some part that you dislike; you can add some effects (highlight, darken, bright, blur, mosaic, etc) to videos, which can make your video unique.

With simple clicks, you can make your video distinguishable. Click the scissor symbol button and you can clip the video; click the "Effect" and you can add visual effect, also you can crop the video with clicking the middle button.
In addition to edit video, this software can batch compress the video/audio size. Sometimes we need to transfer movies or TV series to tablet or mobile phone which is with limited storage space. In order to ensure the good running and saving space, we need to decrease the video size. This tool can compress videos in batch and keep the quality as perfect as possible. You can slide right or left to adjust the compress ratio.
Hopes this ultimate converter and this tutorial can make your life more colorful!
More Special Features on HD Video Converter Factory Pro
Enables you to convert M2TS to MP4 with HD quality and small size
Support 50+ output formats and 220+ devices, including iPhone, Android, H265, VP9, 4K, DTS
Offer a built-in video editor to crop, split, merge and retouch video and boost volume
Convert between standard and high-definition video (4K/1080P/720P/480P) with high quality
Download video of different resolutions from YouTube
Batch compress video files with smaller output size to free up store space on device