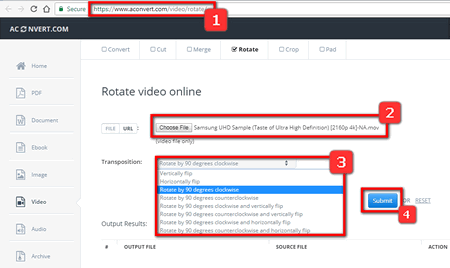 Rotating MOV Video
Step 1: Visit the video rotating page: [https://www.aconvert.com/video/rotate/].
Step 2: Choose the MOV video you are going to rotate. Here you can only import one MOV file at a time.
Step 3: On the Transposition section to select to the direction you want to rotate to.
Step 4: Then press the "Submit" button to start to rotate MOV file. You need to be patient at this step cause the server will take a while to rotate the video. And you'd better not deal with other tasks that might take up much CPUs. Otherwise, the rotate process might be failed.
Step 5: After done, click the download icon to save the final MOV video to local disk or online storage services such as Google Drive or Dropbox. Also, it supports to give you the QR code which allows you to download the video to your mobile directly.
By now, I believe you can easily rotate MOV file. Both methods can be helpful, and for you who want to rotate .mov files at a sharp speed, try the free tool, WonderFox Free HD Video Converter Factory that I recommend you at part one. Also, you can feel free to share this tutorial with more friends.