It's a cool idea to record your happy moments with cameras, camcorders or mobile phones. However, you may find that the video may work well on the shooting equipment, but it's upside-down or in the wrong direction once you transferred it to PC. Why? The reason is that the device itself has a flipping mechanism, for instance, horizontal and vertical recording. So how to rotate video 90 degrees clockwise/counter-clockwise, flip horizontal, flip vertical? Before going to turn the monitor over and go training your neck, why not find a good video rotate tool to fix this problem? Check out the following four ways to turn you video right side up easily. The recommended free video rotating software can be downloaded here:
Method 1 - Rotate Video Free with the Best Free Video Rotator for Windows 10/11
Free HD Video Converter Factory is a top-notch rotate video software that can help you rotate a video 90, 180, 270 degrees (90 degrees counter-clockwise), flip or mirror videos vertically and horizontally. With it, you can also do other basic editing like cropping audio, splitting, merging videos and applying special effects, or use it as one of the best free audio/video converters to convert between all popular formats. It's 100% free and clean. Now, free download this video rotator and see how to reorient a video with ease.
How to Rotate Videos with Free HD Video Converter Factory
Before starting to rotate your videos, download HD Video Converter Factory, install and launch it. A clean interface will come out in front of you. Select "Converter".
Step 1 Add Source Video
On Video Converter, click the "Add Files" button or drag & drop the video file you want to rotate. With this software, you're free to rotate MP4 video, rotate AVI video, rotate MKV video, etc. Different from video rotator online, you can import almost all video formats to fix how to rotate video without losing quality.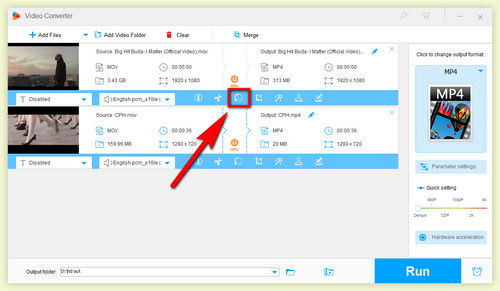 Add Source File
Step 2 About Rotate Settings
Press the "Rotate" icon on the main panel to bring up the video rotate app. Here you can rotate a video 90 degrees clockwise or 90 degrees counter-clockwise, flip horizontal and flip vertical. Click "OK" once you finish adjusting your video.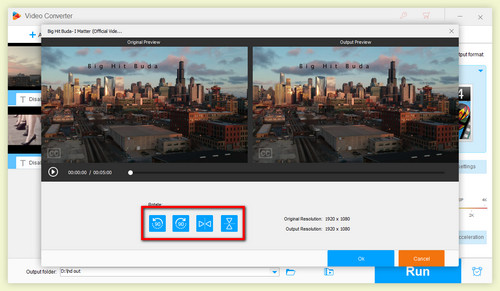 Rotate Setting
Step 3 Start to Rotate Your Video
Set an output folder and press the "Run" button to start the process of how to rotate a video.
Optional - Select your required video format or devices on the right by clicking on the profile image. There are up to 500 formats and devices choices.
Tip: You can even customize parameters by clicking the "Parameter settings" button, such as change aspect ratio, resolution, bit rate, encoder, etc.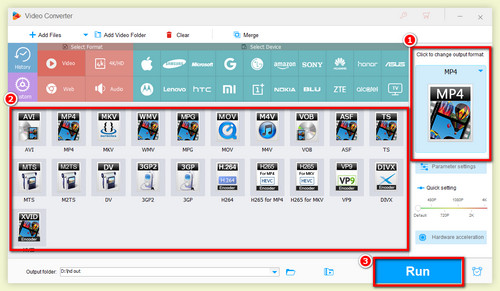 Output Format and Device
So simple, isn't it? And this free video converter can also let you do more other tasks.
Hot search: Compress 4K Video | Videos Rotate Software | Split Video Files | Free Video Joiner l Rotate GoPro Video
Now, please download the Free HD Video Converter Factory to complete your jobs.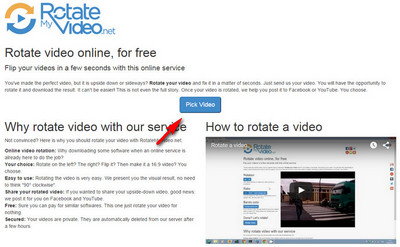 Site for Rotating Videos
Method 2 - Rotate Video Online
There are numerous simple applications to help rotate or flip videos with a few clicks, such as rotatemyvideo.net, rotatevideo.org, etc. With those tools, you can easily rotate video online free.
Step 1. Add video
Click the "Pick Video" button in the middle of the page and import the video you want to rotate.
Step 2. Rotate video online
Press the left or the right arrow button in the Rotation section to rotate video online. Then click the "Rotate" button after done.
Step 3. Download the rotated video
You can download the rotated video to local hard drive or share it when the process completes.
That's easy, and you can share it on social media platforms. However, rotating video with websites always has file size limitation with fewer formats and devices support. Uploading and downloading speed depend on your network condition. What's more, some sites always lead to unknown plug-ins or even malware. There are many free online video converters and video rotator that have these disadvantages.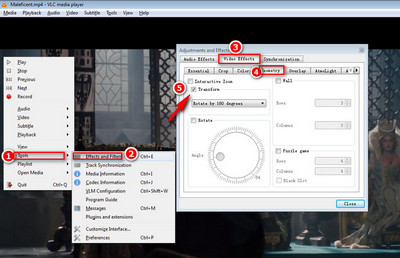 Rotate with Media Player
Method 3 - Rotate Video with Media Player (Not Permanent)
Up to this day, except for free online video rotator, almost all media players are equipped with the feature of rotating video. Let's see how to do this task with this frequently-used media player - VLC Player. Different media players have different operating steps.
1. Right click on the video
2. Select "Tools" and go to Effect and Filters
3. Go to "Geometry" under the "Video Effects" tab
4. Check the "Transform" box or the "Rotate" box
But remember, rotating a video with media player has no real effect on the displayed file, that means the video is still sideways or upsidedown if opened with another program.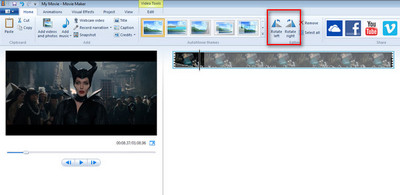 Rotate with Movie Maker
Method 4 - Rotate Video with Windows Movie Maker (Discontinued)
Step 1. Add video to WMM
Open Windows Movie Maker and import the video you want to rotate.
Step 2. Rotate the video in WMM
Step 2, Click the "Rotate left" or the "Rotate right" button for rotating video in 90° increments.
Step 3. Save the video
Save your changes by clicking "Save movie" under the Home tab. Then choose your desired setting and output folder to save your video in MP4 or WMV format. If you need more, you can change video format saved from WLMM.
Starting with Windows 7, Windows Movie Maker no longer comes pre-installed with the OS. It's now part of the Windows Live suite that is available as a separate. However, Windows Movie Maker is still the most popular video editor despite the fact it doesn't offer a lot of options for output.
All of the 4 methods above have been tested. So choose one to deal with the wrong orientation problem after transferring recorded video to PC. Considering the supported input formats, file size and other related limits you may come across with video rotate online service and some third-party tool like VLC, certainly method one is highly recommended for it's a real all-in-one tool and can rotate any video permanently. Download this free video rotate program to rotate your videos with ease.
More Special Features of Free HD Video Converter Factory
Rotate any videos with its built-in video editor
Support various media formats, optimized profiles for 500+ hot devices
Download video from YouTube. Freely select output video size before downloading
Extract soundtracks from film/video
Can compress video with the best quality but smallest size
Fastest conversion speed, 30X speed up supported