Beware not to leak your personal information while using these online editors.
The List of Free Online Video Editor No Watermark:
Clipchamp - Edit Video Online Free No Watermark with the Fastest Speed
Clipchamp's in-browser editor is probably the most convenient editing application among all online video editors, for you can edit your video directly without the hassle of uploading it onto this platform (video formats are restricted to MP4, MOV, and WebM). It is extremely easy to use as well given that all the basic editing functions are displayed intuitively on the main workspace. You can freely use it to trim, split, merge, flip, rotate, crop, and add special effects like filters and transitions to your video which will be exported only in 480P (SD) resolution (a fair quality for the free version). Clipchamp also boasts an extensive library of audio and video stocks, yet they are only available in paid versions. One more shortcoming of this editor is that it requires the latest version of Google Chrome or Chromium-based Microsoft Edge to support every operation you made on Clipchamp. In an overall view, Clipchamp will promise you an upper editing experience for sure.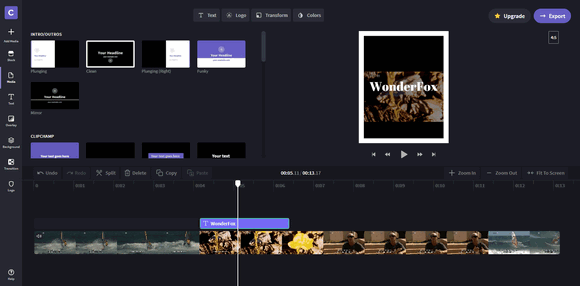 Pros:
Free with no watermark
No uploads and easy to use
Cons:
Export only in 480P (SD) quality
(Update: The free version supports exporting 1080p video now. )
Google Chrome or Microsoft Edge based on Chromium required
FlexClip - Best Free Online Video Editor No Watermark for Instagram Video Making
This cloud-based video editor FlexClip is an ideal choice for both seasoned professionals and fresh beginners to edit video online free no watermark as a plethora of ready-to-use templates (sorted into various specific categories) are provided with easy access. You can start with one preferred template or create your project from scratch. There is a massive set of editing tools to your option so you can either cut, join, and rotate video, or add a vibrant background, logos to personalize your videos. The coolest thing about FlexClip is that it offers numerous free high-resolution images and commercial-free videos for use, saving you time and dime to find for yourself. Weak points of FlexClip are also evident as there are too many restrictions over the type and length of the imported video and the accepted browser is Google Chrome solely. In all, if you are to edit videos for Instagram, FlexClip can best suit your needs.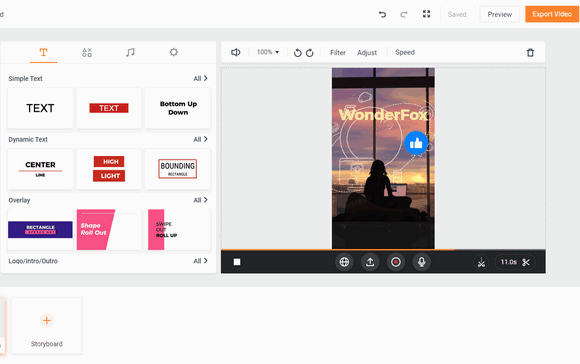 Pros:
Free with no watermark
A huge collection of royalty-free music, videos, and pictures
Cons:
Export in 720p quality
Video file should be in MP4 format and less than a 1-minute length
Compatible with Google Chrome only
Hippo Video - Perfect Online Video Editor with No Watermark to Make Basic Edits to Large-size Video
Hippo Video brings you a clean and smooth page to make basic edits like trimming, cropping, adding text, emoji, and images to your video. The highlight of this online editor is that you can record a video from your webcam right away if you suddenly get an inspiration. You can also import source materials from Gmail, Google Suite, Google Drive, and other cloud-based storage apps. The supported video formats are varied from MP4, FLV, and 3GP to MPG and MKV, and the video size limit is expanded to 1G max. If you want to make some personal touch on your large-size video, do not throw away your shot on Hippo Video.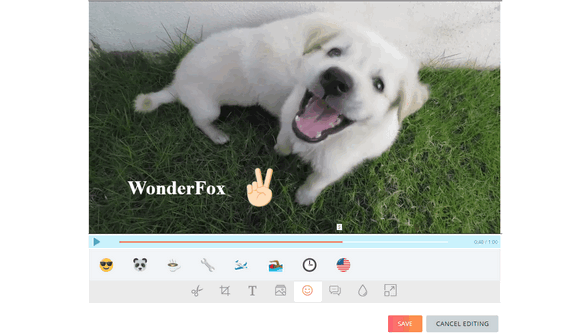 Pros:
Completely free with no watermark
Directly record material from webcam
Support video size up to 1G
Cons:
Limited editing features
Slow processing
Movie Maker Online - No Registration & High Output Quality
Movie Maker Online is a free online video editor no watermark that needs no registration. It has a simple interface with all the editing tools presented on the home page and all your edits are to be done within the same page. Similar to other online video editors, Movie Maker Online is also featured with regular functions like trim, merge, rotate, mirror, plus special effects like blur, transition, cross-fade, etc. The best part about this online editor is that it provides with you lots of royalty-free music and free stock photos (though of not-that-high quality) and you can customize them in your video. One more thing that makes Movie Maker Online outshine others is that it supports exporting videos in HD quality free. Yet the price for everything free is that you might be distracted by loads of ads on this site.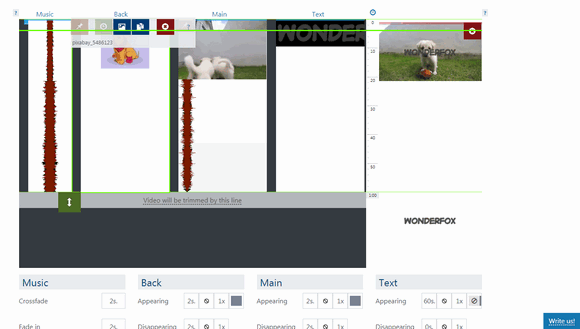 Pros:
Free with no watermark, no registration
Export video in HD quality
Free music and photo stock
Cons:
Contain ads
Loading can be very slow
Kapwing - Edit Videos for Instagram
Kapwing is an all-purpose editor for videos, GIFs, and images. It has different tools specialized for different content and its Studio is the main workspace for any content creation. For example, you can create memes, make video collage, and, of course, edit your video in the Studio. The editing features provided are relatively complete and easy to use. Also, the free plan offers users stock templates to start video creating from scratch. There are some free video effects and transitions available for using. By the way, the accepted video is MP4, AVI, FLV, 3GP, and maybe some other edge file types. But the upload file should not exceed 250MB in size and the export video length is restricted to 4 minutes. Besides, you can only get 720p outputs for free. The good news is that it is compatible with every browser so you can access it more freely.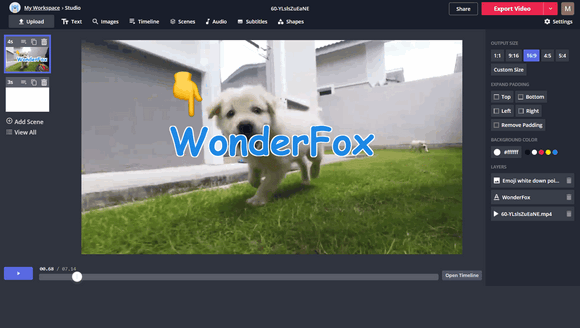 Pros:
Free video effects and transitions
Stock templates free to use
Cons:
250MB file upload limit for free users
4-min video export length
Only get watermark-free video in premium
Online Video Cutter is one of the sub-tools of 123APPS and it is lite-featured that you can only use it to cut, crop, and rotate (by only 90, 180, or 270 degrees) your video. On the good side, it's registration-free and compatible with every browser. The editing process is extremely smooth and clear as well. After you imported your video (from Dropbox, Google Drive, URL, or your local drive) to this site, there are only one or two simple clicks away to get your work done. Also, it supports almost every video format out there and lets you remain the original quality when exporting video. The only downside is that you can't upload videos over 500MB. Anyway, this is the place where you want to cut small video files online.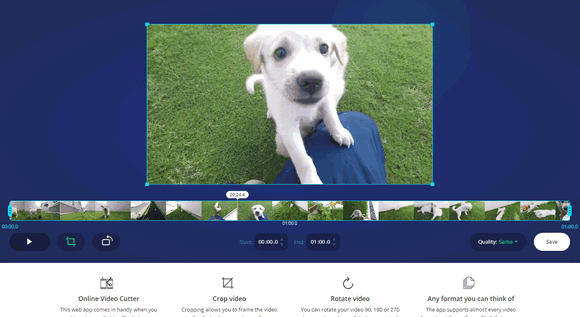 Pros:
Completely free without watermark and registration
Various formats supports
Export in the same quality as the original video
Cons:
Lack of editing features.
Videos over 500MB cannot be uploaded.
Video Toolbox - Cut, Crop, Merge Large Size Videos
VideoToolbox has a super cool interface yet with an over-limited set of functions for free users. It only allows you to cut, crop, merge, and add an audio stream to your videos. And the usability of these functions I find is not as good as the above online editors for this editor does not offer a real-time editing display. The only thing good is that you can upload files up to 1500 MB to this site for editing.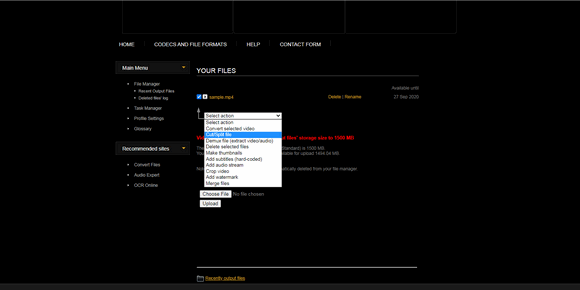 Pros:
Free with no watermark
Accept file size up to 1500 MB
Cons:
Registration required
Limited editing features
Marvelous HD Video Editing Software
WonderFox HD Video Converter Factory Pro can assist you in trimming, cropping, merging, and adding special effects to your video. Making videos from photos is also made easy with this software.
2 Paid Online Video Editors No Watermark:
WeVideo - Get a Smooth and Seamless User Experience
WeVideo is a cloud-based editing and video creation platform that makes editing easy and fast. First of all, due to its cloud-based nature, it enables you to customize your video cross-platform anytime and anywhere. Second, it has a straightforward layout of modern editing tools that allow you to make basic edits like trim, crop, add text overlay to your video, as well as advanced edits like green screen and slow motion to better your video effect. There is also a large media library that stores millions of built-in images, videos, and music that are commercially licensed and free for use in paid versions. Add to the charm of this editor is its superb and unique technology WeVideo JumpStart, which lets you edit video instantly while uploading it to WeVideo. In a nutshell, this online editor is an excellent choice to make brand promotions.
Price: $4.99 to $29.99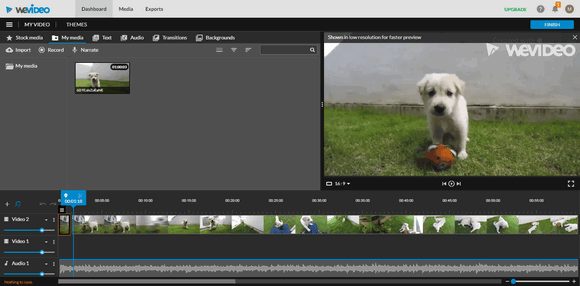 Pros:
Smooth and seamless editing experience
WeVideo JumpStart technology
Massive video, image, and music stocks
Cons:
Quite costly
Adobe Spark Video - Best Online Video Editor for Educators and Small Businesses
Adobe Spark is an integrated suite of media creation applications. There are three separate utilities under Adobe Spark, namely, Spark Post, Spark Page, and Spark Video and it is in the Spark Video where you edit your file. Yet, unlike the traditional video editors which offer you direct timeline and menu-tool for editing, Spark Video aims to lead you to a narration-oriented model, which is making a story for your video first and then make additional edits to the video. Meanwhile, these editing features are relatively simple compared to WeVideo but this flaw has been made up with rich exclusive premium templates. The video files accepted are those in MP4, MOV, and M4V containers encoded by H264 video codec and MP3 or AAC audio codecs. And the whole service is supported on Windows and Mac, as well as on Chromebooks. If you are an educator, entrepreneur, or the person who wants to share ideas and stories, you can't miss Adobe Spark Video.
Price: $9.99 for individual, $19.99 for team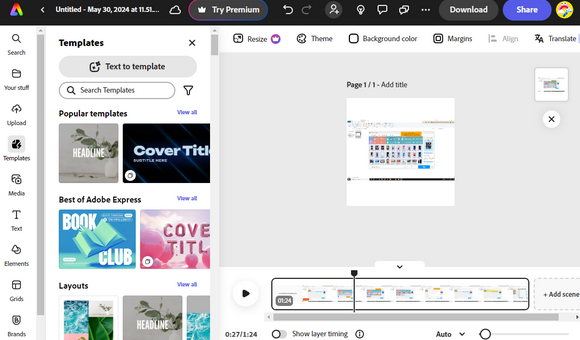 Pros:
Easy to use
Exclusive templates offered
Auto-sync projects in Spark Video across platforms
Cons:
Not many editing features