Apart from merging MOV videos, HD Video Converter Factory Pro allows you to merge videos in different formats (such as MP4, MKV, etc.). And you can trim the video, add special effects, watermark the video, and even compress it if it's too big.
Option 2. Online Video Merger
Free and no installation are the two merits of online video mergers. Sometimes they can be easy to handle as well.
There are also some in-built defects of online video mergers. First, they cannot work without internet connection. Besides, they restrict the size of the video you upload. Last but not least, the whole process will take much more time than desktop converters. If you want to merge large videos, it may take forever to upload them download the mergef file. Therefore, this method is not recommended for merging large videos.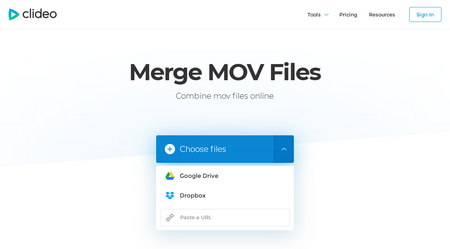 Load Source Videos
First, open the online merger at https://clideo.com/merge-mov
Step 1: Upload Source Files
Click the Corresponding Button to Load Source Videos from Computer, Dropbox, Google Drive, URL.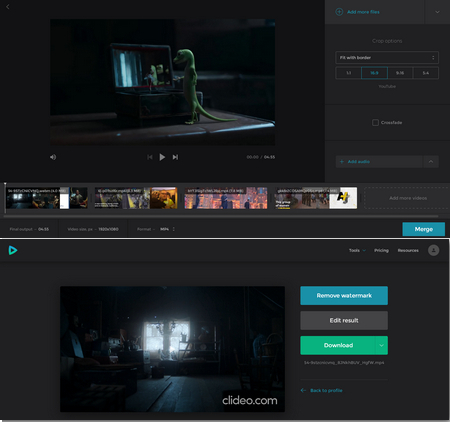 Customize Parameters
Step 2: Customize Parameters and Order Setting
(1) Choose an output format.
(2) Decide whether to employ a crossfade effect.
(3) Enter a file name.
Then Click the "Merge" Button.
Step 3: Download the Output Video
Click the "Download" button to save the combined videos on your computer.
Note: This method will leave watermark on the merged video and you need to pay to remove the watermark. Besides, it doesn't allow you to alter the order to merge.
Now you have learned how to merge MOV files with software and online, choose the one that works for you by weighing the pros and cons.
Personally, I highly recommend HD Video Converter Factory Pro. As an MOV joiner, it's simple for beginners and it's multifunctional and efficient for experienced users.
Extended Reading:
What Is an MOV File and What Can I Get by Merging MOV Files?
MOV is QuickTime video format, a video format of multimedia container file developed by Apple Inc. Mostly used by Apple devices, like the videos shot by iPhone. By the way, if you were an Apple enthusiast with lots of Apple devices, converting all the videos you own to MOV format would be a good choice for the sake of compatibility.
Hot search: Convert MKV to MOV l Convert WebM to MOV l Convert MPG to MOV
By merging MOV files, you'll get a bigger and seamless video integrated with the video segments that you shot or download.
In that case, you'll acquire an uninterrupted viewing enjoyment instead of viewing the segment one by one, which is troublesome and frustrating.