Top 9 Free MP3 to M4A Converters
In addition to WonderFox HD Video Converter Factory Pro, there are also several free MP3 to M4A converters available. Here are some of the best free options below, both desktop and online.
#1. Free HD Video Converter Factory
WonderFox offers a free version of their full-featured converter called Free HD Video Converter Factory. It contains the core video and audio conversion capabilities of the Pro version. It can also convert MP3 files to M4A format as easy as 1-2-3. Simply import your MP3 files, choose the M4A output format, and click the "Convert" button. The software handles the rest, saving you time and effort. The batch processing allows multiple MP3s to be queued up and converted together.
It also provides various output options, including customizable bitrate, sample rate, and audio channels, giving you the flexibility to tailor the conversion settings to your preferences. The only limitations are a little bit slower speeds, and lack of certain advanced features. But for basic MP3 to M4A conversion needs, Free HD Video Converter Factory is a superb free option.
Additionally, it supports music download from YouTube and 500+ website, and basic editing functions, such as trimming, splitting, and merging, are also supported.
==> Get the Free MP3 to M4A Converter Download==> Get the Free MP3 to M4A Converter Download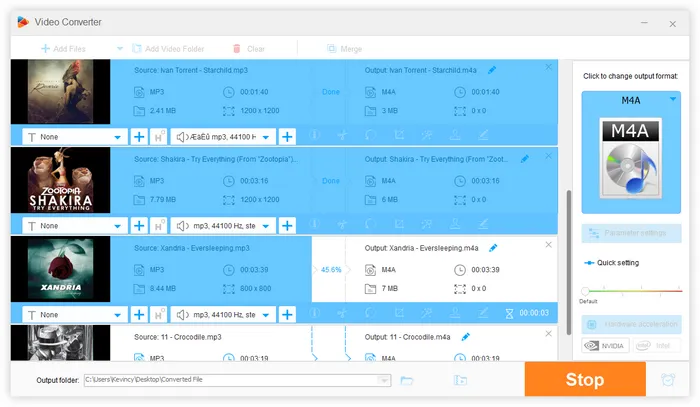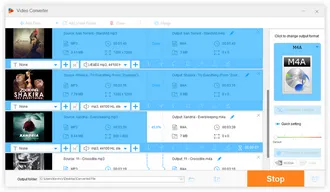 #2. MediaHuman Audio Converter
MediaHuman Audio Converter is another free MP3 to M4A converter that is easy to use and supports batch conversion. With this software, you can convert your MP3 files to M4A in just a few simple steps. The user-friendly interface and customizable settings make it a popular choice.
The free version comes with some limitations like file name templates and audio effects. But for most basic audio format conversion needs, the free version should suffice.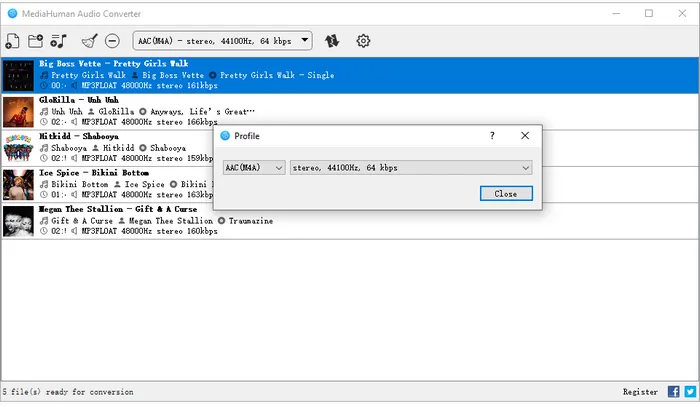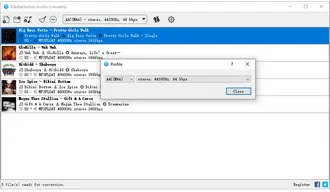 #3. iTunes
While not designed as a dedicated converter tool, Apple's iTunes software does provide free MP3 to M4A conversion capabilities. It can import MP3 files, add them to your iTunes library, and then right-click and select "Create AAC Version" to convert and save them as M4A with no loss of quality.
The process is a bit more hands-on than automated conversion tools, but it works in a pinch. iTunes uses Apple's proprietary AAC codec for excellent quality M4A output. The downsides are needing to add the MP3s to your library clutter, slow individual file conversion compared to batch tools, and iTunes' clunky interface. But it's a no-cost option for iTunes users.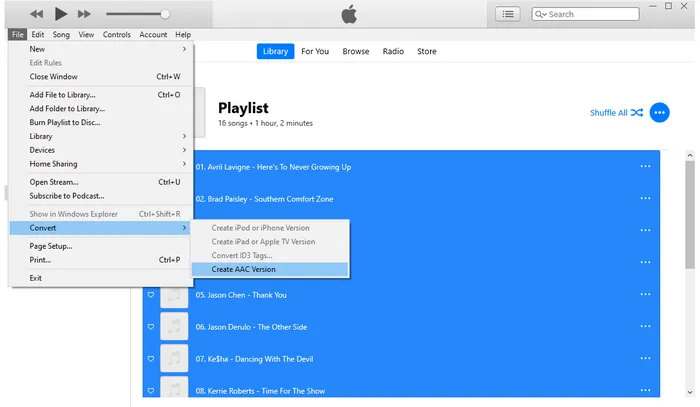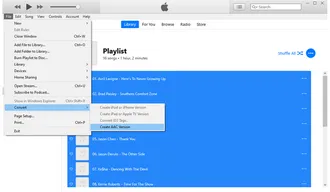 #4. Audacity
Although primarily known as an audio editing software, Audacity also offers the capability to convert MP3 files to M4A with FFmpeg library installed. This open-source program provides a comprehensive set of audio manipulation features, making it a versatile option for audio enthusiasts. With Audacity, you can not only convert MP3 to M4A but also apply various effects, split audio tracks, and enhance audio quality. Its intuitive interface and extensive documentation make it accessible to both beginners and advanced users.
The process involves opening your MP3 file, make some editing work if desired, and then exporting as M4A. This gives you some control over the conversion. On the downside, Audacity isn't designed for streamlined format conversion the way dedicated tools are. You have to run each file individually. Audacity is best for light audio format conversion needs.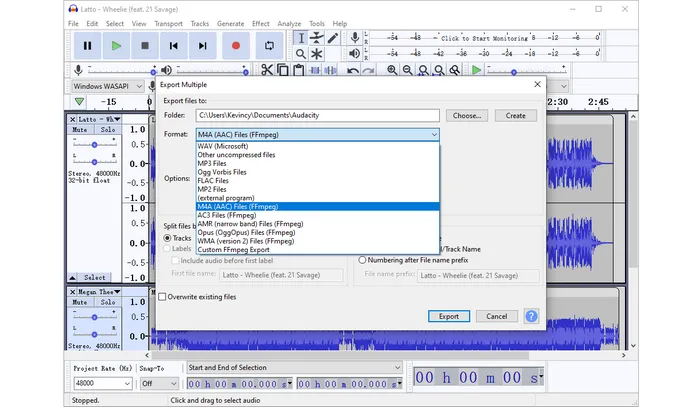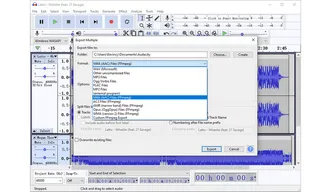 #5. fre:ac
fre:ac (formerly BonkEnc) is a free audio converter and actively updated that contains the essentials for converting MP3 to M4A using either FDK-AAC encoder or Core Audio AAC/ALAC Encoder. It has an intuitive interface with support for batch conversion. The basic settings provide decent quality results.
It also provides advanced options for experienced users, such as customizable output settings, metadata editing, and CD ripping capabilities. Whether you need to convert a single MP3 file or a large batch, fre:ac provides a reliable and efficient solution.
The simplicity is nice for casual format conversion needs. Do note that extremely large files and batches may cause fre:ac to choke up. But it works fine for most MP3 to M4A conversion needs.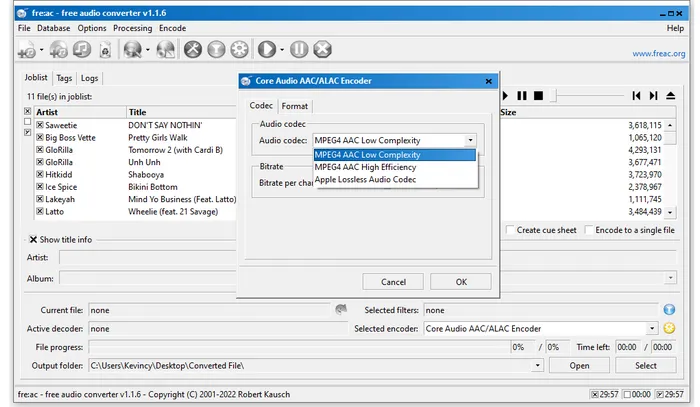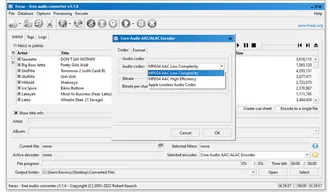 #6. foobar2000
foobar2000 is a popular free audio player application for Windows that can also convert audio formats from MP3 to M4A. To enable conversion features, you need to install the optional Encoder Pack with AAC support.
Once configured, the highly customizable foobar2000 provides a Converter add-on component that can convert individual files or batches of MP3 to M4A format. To convert MP3 files to M4A, simply add the files to your playlist, right-click, and choose "Convert".
The interface is basic and technical compared to dedicated converters. foobar2000 is a decent option if you already use it for music playback, but more casual users may find it overly complex.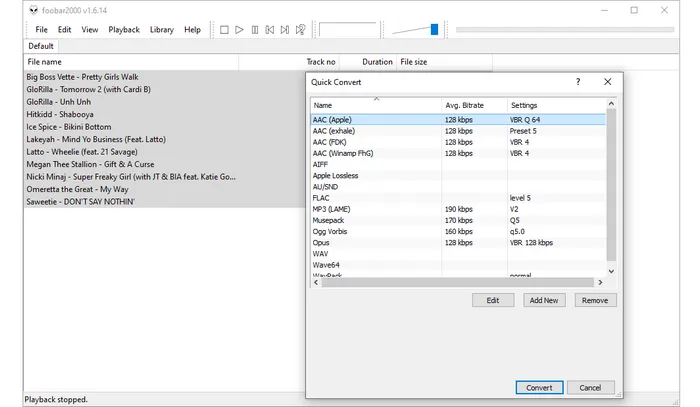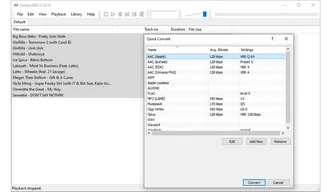 #7. WinFF
WinFF is a free open source conversion tool that utilizes the powerful FFmpeg command line utilities for format conversion. Under the hood, WinFF makes the FFmpeg complexity more accessible through a GUI interface. It's a bit dated looking but simple enough to use.
To convert MP3 to M4A, WinFF presents the conversion options in a grid-like interface. Simply add your MP3 files, choose Audio and MPEG4 Audio options for the conversion work. It can work for basic MP3 to M4A needs, but setting everything up takes more technical skill compared to dedicated converters with easier workflows.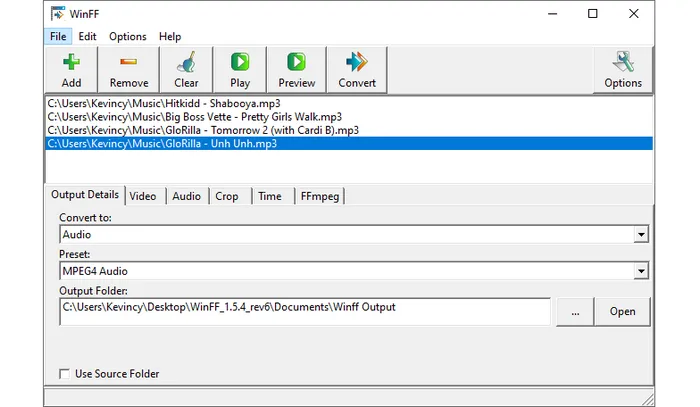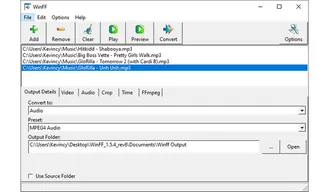 #8. XMedia Recode
Lastly, XMedia Recode is a free audio and video converter for Windows. It contains the necessary encoding components needed to convert MP3 files into the M4A format. The conversion process involves selecting the input MP3, defining the M4A output format, and running the batch conversion.
The interface is dated and not very user-friendly, but it gets the job done. XMedia Recode also offers advanced options for adjusting audio bitrate, sample rate, audio channels, and other parameters to achieve the desired audio quality.
The downside is slow conversion. XMedia Recode works in a pinch for simple format conversion tasks. But more advanced users with large libraries to convert may find it frustrating.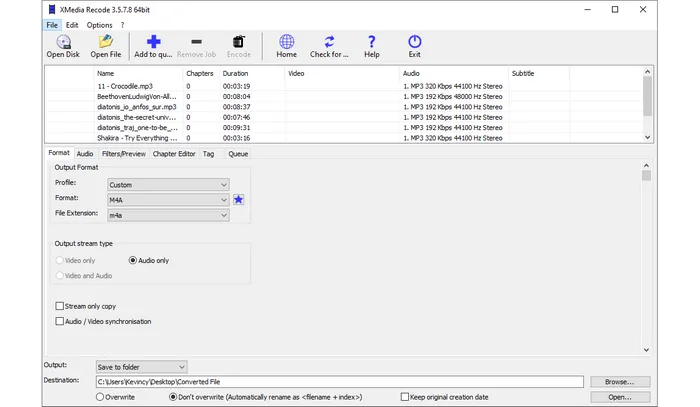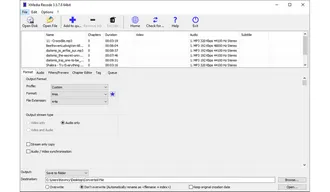 #9. Online Converters
If you don't want to download any software, there are a few decent online MP3 to M4A converters you can use for free. Basically, what you need to do is, add your MP3 files > choose M4A as output format > configure settings > start uploading and processing > download M4A files. Some popular options include: Online-Audio-Converter.com, CloudConvert.com, Convertio.co, FreeConvert.com, Zamzar.com, etc.
The advantage of online converters is quick access with no software to install. However, you have to upload your files which takes time and they often have restrictions, such as file size limit, lots of ads, and more. For converting large batches of MP3s, a desktop app is much more efficient.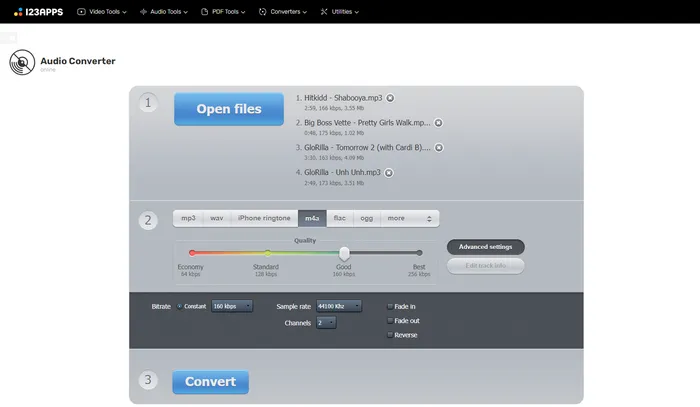 Q1: Can I convert MP3 to M4A without losing audio quality?
A: Yes, converting MP3 to M4A does not result in any loss of audio quality. M4A is a lossless audio format, meaning it retains the original audio quality of the source file. However, it's important to note that the quality of the converted file depends on the quality of the original MP3 file. If the MP3 file has a low bitrate or is of poor quality, the resulting M4A file may not offer significant improvement in audio quality.
Q2: Is converting MP3 to M4A lossless?
A: No, neither MP3 or M4A are lossless formats. Both use lossy compression that discards some audio data to shrink file size. However, M4A provides near-transparent compression quality at a smaller file size compared to lossy MP3. By the way, M4A can also contain the lossless audio format ALAC, but it doesn't make sense to convert lossy MP3 to lossless ALAC-encoded M4A.
Q3: Can I convert M4A files back to MP3 if needed?
A: Yes, it is possible to convert M4A files back to MP3 if the need arises. Many audio converters, including the ones mentioned in this article, support the reverse conversion process. By selecting MP3 as the output format and following the same steps, you can convert M4A files back to MP3 without significant loss in audio quality. However, it's important to note that converting between lossy formats (such as MP3 and M4A) may result in a slight decrease in audio quality due to the compression algorithms used.
Q4: What are the recommended output settings for converting MP3 to M4A?
A: If you wish to customize the output settings, here are some recommended options:
Bitrate: For optimal audio quality, a bit rate of 256 kbps or higher is recommended. Higher bitrates will result in larger file sizes but better audio fidelity.
Sample Rate: It's recommended to keep the sample rate consistent with the original MP3 file's sample rate to avoid any unnecessary upsampling or downsampling. Generally, a sample rate of 44.1 kHz is standard for most audio files.
Audio Channels: For stereo audio, choose the 2-channel option. If the MP3 file is mono, you can select the 1-channel option to maintain the original audio configuration.
Remember, these settings may vary based on your personal preferences and the specific requirements of your audio files.
Final Words
Converting MP3 files to M4A can be an effortless process with the right tools. This comprehensive guide has introduced you to the best MP3 to M4A converters, both free and paid, to cater to your unique needs. Experiment with these converters to find the one that suits your needs and preferences best. Enjoy your music in the optimal audio format and make the most out of your digital audio collection. Cheers!